MyProtein Protein Flapjacks Review
Eating Myproteins Protein flapjacks is a treat. Perfect, for anytime of day. Grab and go breakfast? post-workout meal? mid-afternoon snack time? Flapjacks are always the answer.
So if you want to know
how to get a no cheat treat?
what they taste like?
what their nutritional values are?
And how to get hold of some yourself – then keep reading…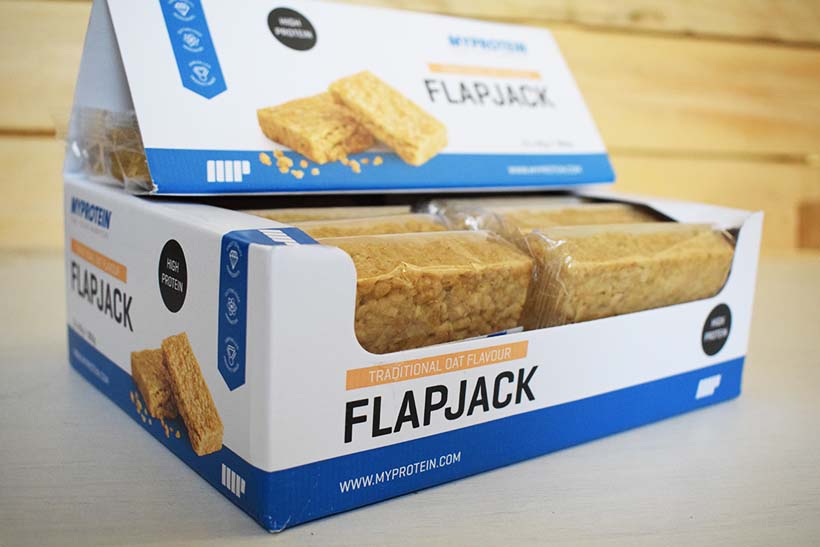 Protein Flapjack overview:
Myproteins protein flapjacks come in two different flavours:
And
The bars weigh 8og each and contain a whooping 20g of protein.
They are a tasty way to top up your macros because they are bursting with carbs and fibre meaning they're a perfect post weight lifting snack.
Buying the flapjacks in packs of 12 individually wrapped bars means their easy to transport daily and can easily be slipped in a handbag or briefcase for the journey to work.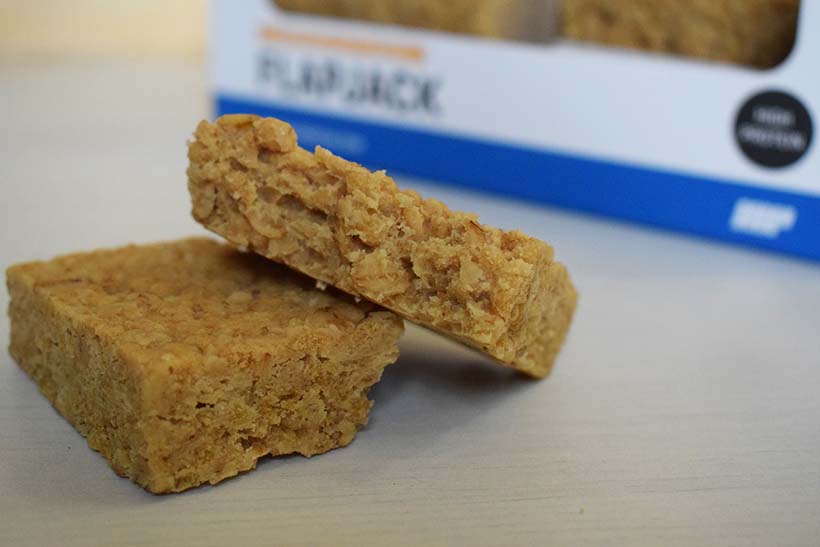 My thoughts:
"These bars are massive", I exclaimed after opening the large box from Myprotein. I wasn't joking. The bars are approximately 9x6x2 cm. Way bigger than any bar I usually buy from the supermarket, even though supermarket bars seems to have more calories and less protein – go figure!
I'm not new to the protein flapjack game, I've previously tried MyProtein's Christmas special flapjack pack and I loved them, so I had high hopes for these.To which, I wasn't disappointed.
As someone following a vegetarian/flexitarian diet, I'm so thankful there are products like this out there for me, meaning I don't have to struggle daily to hit my protein goals – next step is for Myprotein to make these vegan and I'll be even happier – although they do have a recipe for vegan flapjacks on their blog.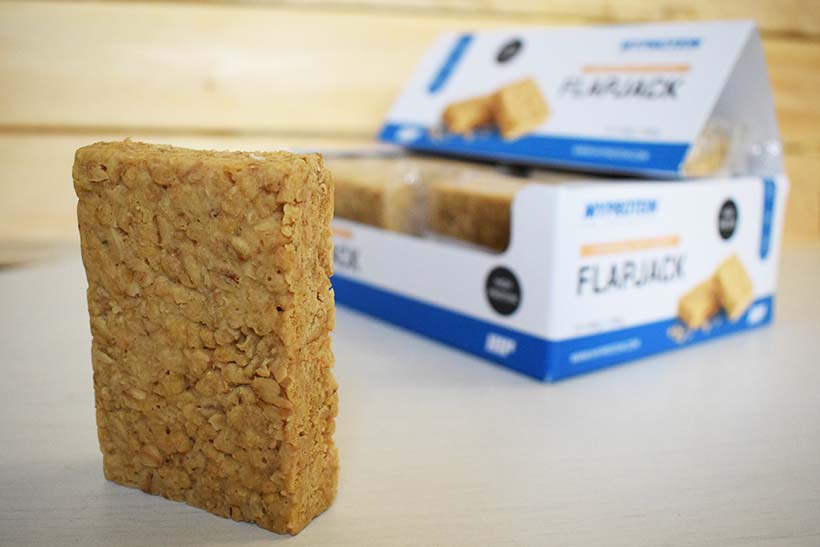 Taste wise, I really love that the bars aren't overly rich and sickly. They have the perfect sweetness and texture while being totally tasty and filling.
Overall I recommend these for anybody looking to up their protein, have a healthy post-workout snack, or for any flapjack lovers out there.
Protein Flapjack Nutrition:
With soy proteins, whey proteins and oats, you're getting 3 high protein ingredients in one. Giving the flapjacks a great macro ratio, for people following a high protein, high carbohydrate diet.
Macros per 80g bar:
Protein = 20g
Fat = 12g
Carbohydrates = 32g
Per 100g

Per flapjack (80g)

Energy

1726kJ/412 kcal

1381 kJ/329 kcal

Fat

15 g

12 g

of which saturates

7 g

5.6 g

Carbohydrate

41g

32 g

of which sugars

24 g

19 g

Protein

25g

20g

Salt

1.1 g

0.88 g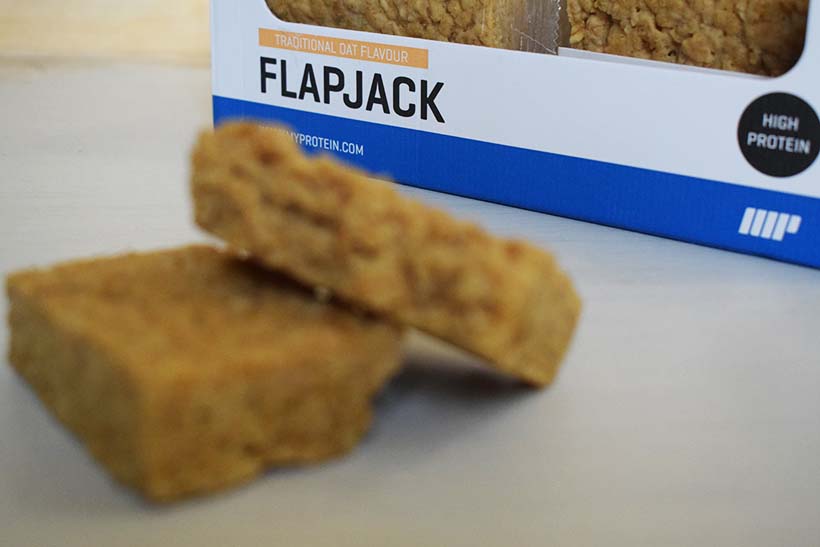 These flapjacks are a great way to hit your nutritional goals, without going overboard on fats.
Other tasty alternatives:
Myprotein are known for their inventive protein delights ranging from hot protein drinks like mochas, lattes and hot chocolate all the way to protein mug cakes, brownies and muffins. We've reviewed quite a few which you can check out – or head straight to the website by clicking the button below and find out what sweet treats are suited to you.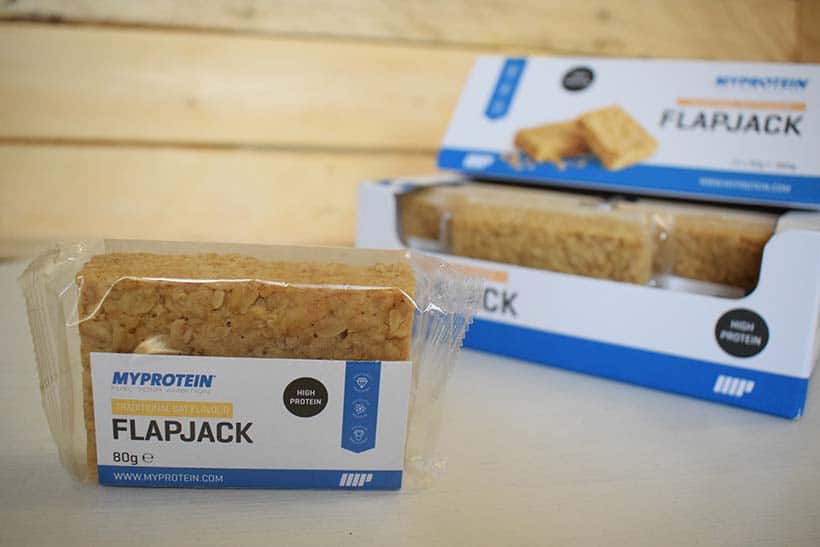 Due to us being a top discount site, we get great, exclusive deals to offer you. Do not hesitate to check out our MyProtein deals and discounts page to ensure you get the best promotions out there.
* as of writing this review
The current price of a 12 pack of MyProtein flapjacks is £13.99 – but with current offers you could get these for just: £9.79!!
Click the button below to find out more now.