MyProtein Peanut Butter Review
Nut butter is one of life's greatest creations. You can:
Smear it on your toast

On your pancakes

Mix it in your protein shakes

And even blend it in with some yogurt
It's so versatile, yet so delicious. MyProtein has a whole host of nut butter ranging from the standard peanut butter all the way to a triple nut butter containing cashews, almonds and peanuts.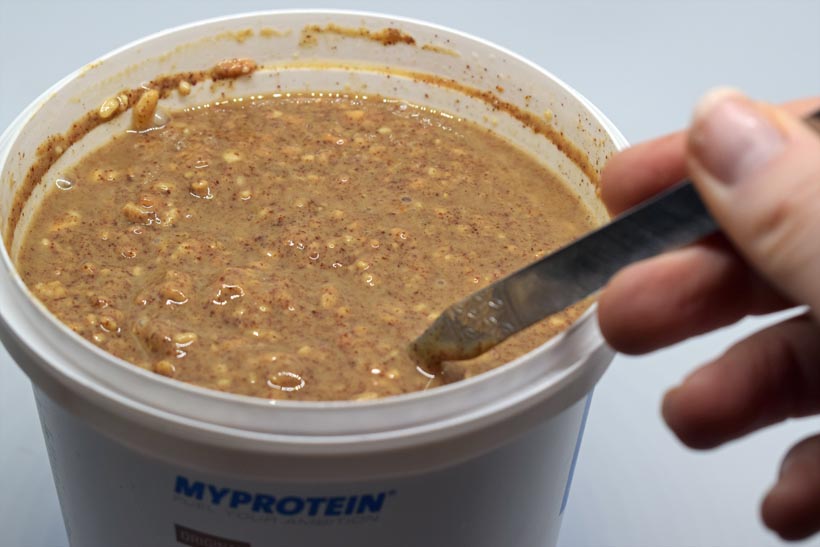 Personally, I'm totally in love with Almond butter, but not so in love with the price tag (although, MyProtein is the cheapest place I have EVER found it). So, we tend to stock up on the next best thing, crunchy peanut butter.
MyProteins Peanut Butter
Filled with healthy, natural fats Peanut butter is one of those products that make people freak out! Either due to the fact that they are totally in love with its nutty deliciousness or because they're on some faddy diet and the calories scare them. Yes, it's high in calorie – but it's high in healthy fats and high in protein.
In fact, just 2 tablespoons of peanut butter can provide you with around 200 calories.
Dieting?
it's probably not the best product for you to eat daily – but you shouldn't completely eliminate it from your diet. There are so many benefits to MyProteins Peanut Butter…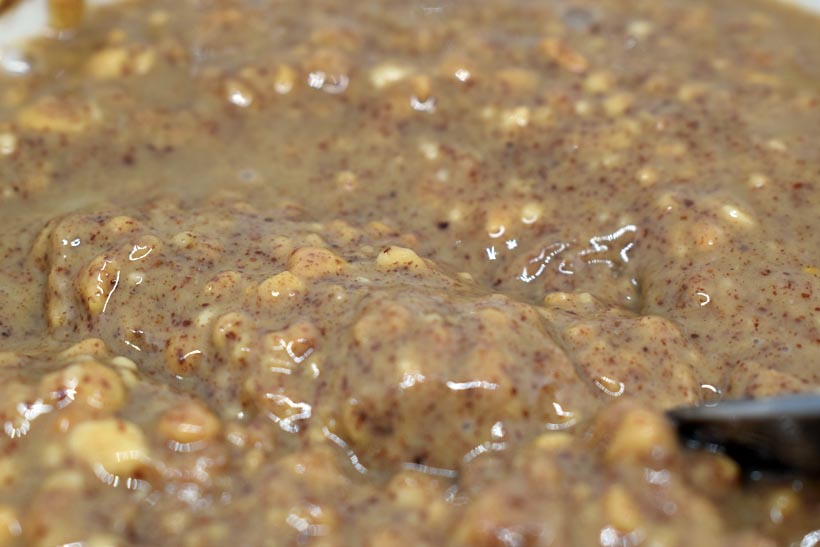 No matter what sort of diet you're on, your body requires healthy fats to run effectively and MyProtein's peanut butter can give you exactly that.
The Benefits Of MyProtein's Peanut butter:
Due to its high fat and high protein content, peanut butter is an appetite suppressant. If you're on a low-calorie diet, MyProteins peanut butter can actually help control your hunger pangs.

It contains Niacin which is linked to

reduced Alzheimer's disease and cognitive decline

It's full of heart-healthy fats and peanuts which

reduce the risk of death from coronary heart disease

MyProteins peanut butter contains absolutely NO added sugar or salt

There is no palm oil in MyProteins peanut butter – an oil which is linked to deforestation

It's completely vegan and vegetarian-friendly

There are no sneaky additives and preservatives in its contents

It's a rich protein source and can assists with your training goals and help maintain lean muscle mass

The magnesium contents can help reduce tiredness, fatigue and supports your metabolism

It can help you poop, due to it being a great source of dietary fibre

And a personal benefit – it tastes so much better than store-bought peanut butter.
Nutrition:
With one of the smallest ingredient lists known to man, MyProteins peanut butter contains:
100% skin on peanuts – THAT'S IT!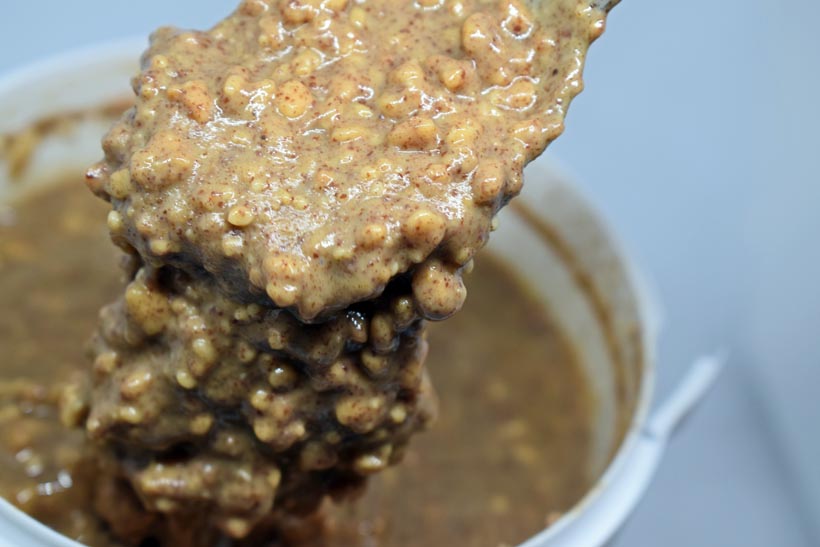 For two tablespoons (15g each) of peanut butter your macro profile will look like this:
Protein – 8.9g – 20%
Carbohydrates – 3.5g – 8%
Fats – 13.8g – 72%
Full Nutritional values:
Per 100g

Energy

2402 kJ/579 kcal

Fat

46 g

of which saturates

8.2 g

of which mono-unsaturates

21 g

of which polyunsaturates

14 g

Carbohydrate

12 g

of which sugars

5.9 g

Fibre

8.5 g

Protein

30 g

Salt

0 g

Per 100g

*RI

Vitamin E

3.8 mg a-TE

32%

Magnesium

180 mg

48%
Don't believe it? Check it out for yourself…..
My thoughts:
It's no lie, I absolutely adore this stuff. But, it does take some getting used to. It's completely different from shop bought peanut butter. The first time I ever tried this, I wasn't that keen. I was so used to the sugary, salty taste of the shop bought stuff that this "natural" peanut butter seemed boring. You see, the supermarkets tell you their peanut butter doesn't contain added sugar and salt, but one quick look on the back of the label and you'll see they 100% do.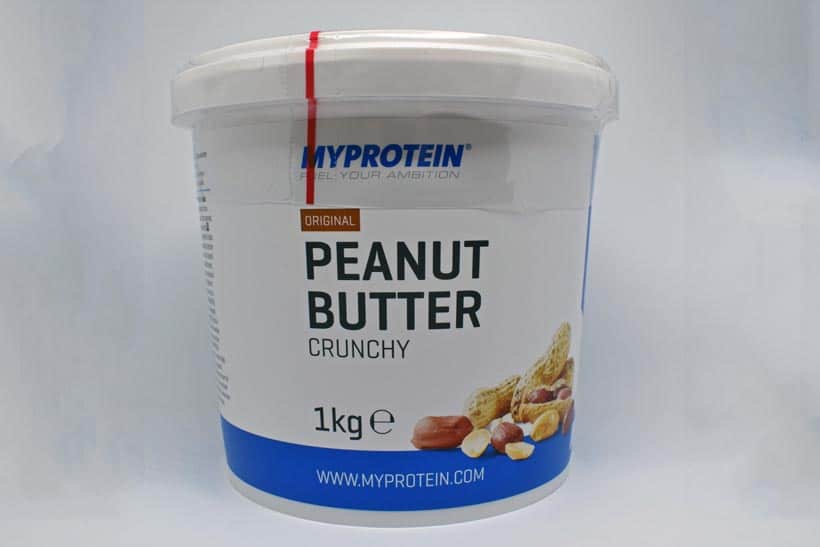 Now, I'm so used to MyProteins peanut butter that we once ran out and I had to buy some shop stuff while I waited for our order – it was disgusting. I tried to find the most natural "organic" and faffy one I could find, thinking it was more likely to mimic the taste, it didn't. Then I bought some standard Sunpat brand, and the saltiness was so strong. I couldn't wait for the order to arrive. PLUS the shop bought crap is so expensive! For a tiny jar I paid around £3-£4.
You'll notice too when you open the tub some oil separation will have occurred, that's completely normal just stir it back in and you'll get the normal, deliciously gooey texture you should have. I normally store mine (pre-opening the seal) upside down in the cupboard so the separation sits underneath and it's easier to stir in.
Review Conclusion
The MyProtein All-Natural Peanut Butter is incredible. I advise you to get the crunchy version and not the smooth as the crunchy version is so much better. It tastes great, I am hugely impressed. It's versatile as it can be used in cooking, as a snack, or as part of a protein shake or smoothie. 9/10 from me, will definitely buy again.
Serving suggestions:
Peanut butter is such a versatile product. I recently went to a Thai restaurant and ate Pad Thai and it had a great peanutty flavour, which made me realise I tend to forget about adding it to lunches and dinners.
It can be used to make satay chicken, stir fry, a whole host of Thai meals, you can even make a peanut hummus.
PLUS you can't forget the sweet stuff, use it on pancakes, in your porridge, on your rice cakes
or a personal favourite of mine:
Two teaspoons straight from the tub to mouth.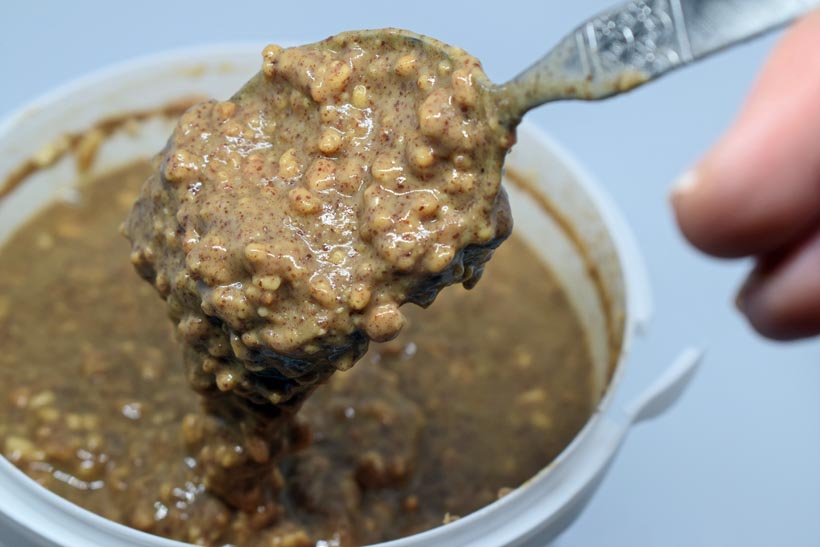 Price and deals:
**As of Writing** A 1KG tub of peanut butter will set you back just £5.99 which is amazing value. I usually buy around 4 tubs a time. As with the majority of MyProteins best sellers, there's usually tonnes of offers to get money off too. In fact, I managed to blag A tub for £4.19 thanks to the great offers on our MyProtein discount codes page. Why not check out what offers we have in store for you today.