MyProtein High Protein Bar Review
Grabbing a Myprotein High Protein Bar on your way out of the gym, may not be everyone's ideal post-workout meal, but there's no disputing this is a handy, convenient way to achieve your post workout protein targets on the go.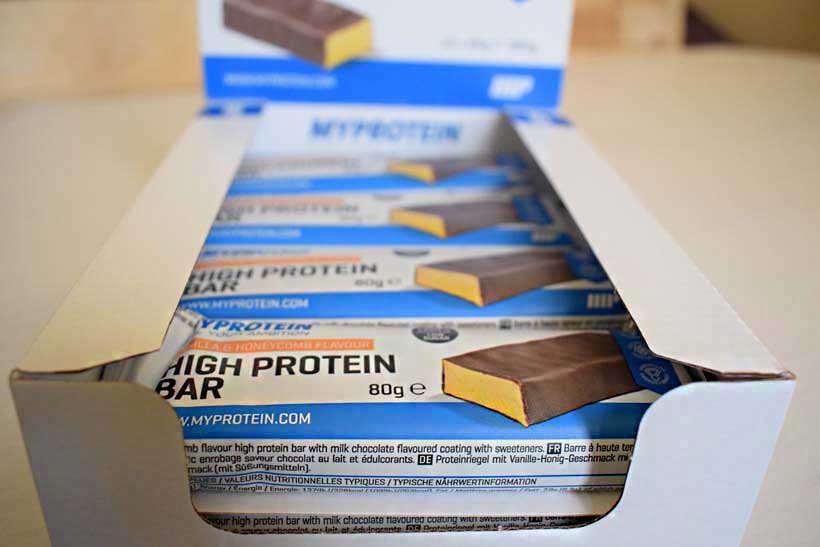 So if you want to know..
How to get a no cheat protein treat?
What they taste like?
What their nutritional values are?
Exactly how much protein is in one of these handy bars?
And how to get hold of some yourself – then keep reading…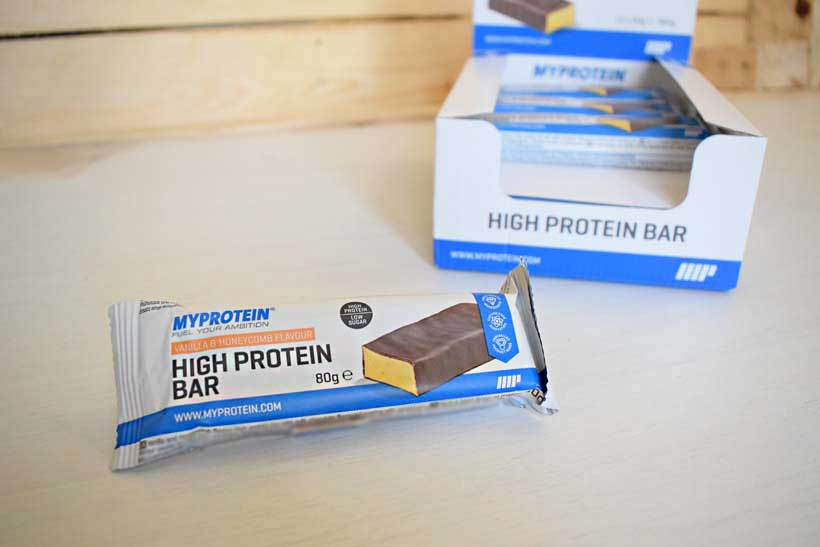 High Protein Bar Overview:
If you're looking for a handy grab and go snack bar, without cheating on your diet. Then you needn't look any further. These 80g bars contain 30g of muscle repairing protein. Unlike your usual post workout protein bars, Myprotein have formulated the perfect recipe. Containing less sugar than the competition, Myprotein have made it easier for you to get that extra nutritious protein into your hectic, fast paced life, without the extra carbs.

These bars come in 5 different flavours:
And
Buying the High Protein Bars in packs of 12 individually wrapped packs means they're easy to transport daily and can easily be slipped in your gym bag, for a post-workout protein hit.
My Thoughts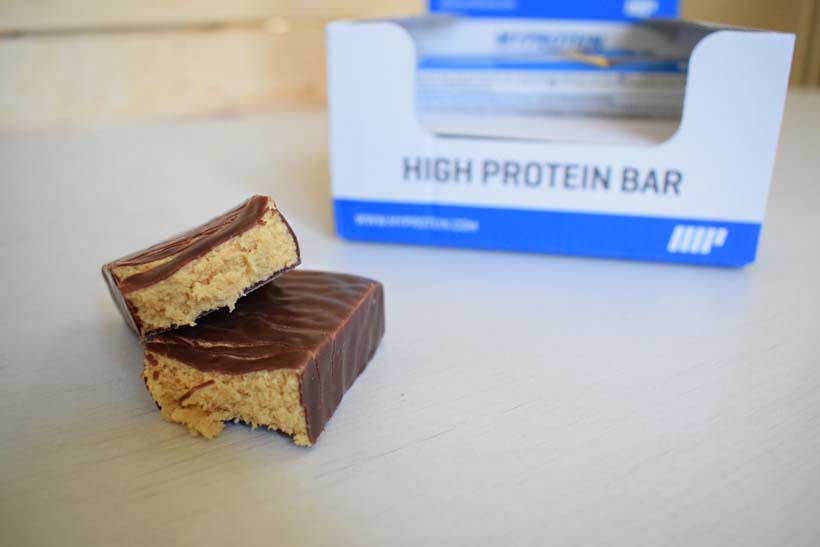 Trying my fair share of protein bars, I've got a lot to compare these too. Unlike your standard shop bought chocolate bars, Protein bars are a lot chewier, and these are no exception. For some, that's a good thing, for others, it's not so. It totally depends on your preference. For me, a chewier bar lasts longer and keeps me fuller for longer, so I'm pretty happy with the chewy texture.
Taste wise?
We tried the Honeycomb and vanilla flavour, which was nice, but I can't help but feel like there was something missing. Maybe, I was secretly hoping for a crunchie style honeycomb hit, but instead it was more like eating a fudge bar (which I definitely still enjoy).
Overall, I'd rate them pretty highly for their good value, good texture and convenientness. They made the perfect snack to chuck in my gym bag ready for the post-weight crash.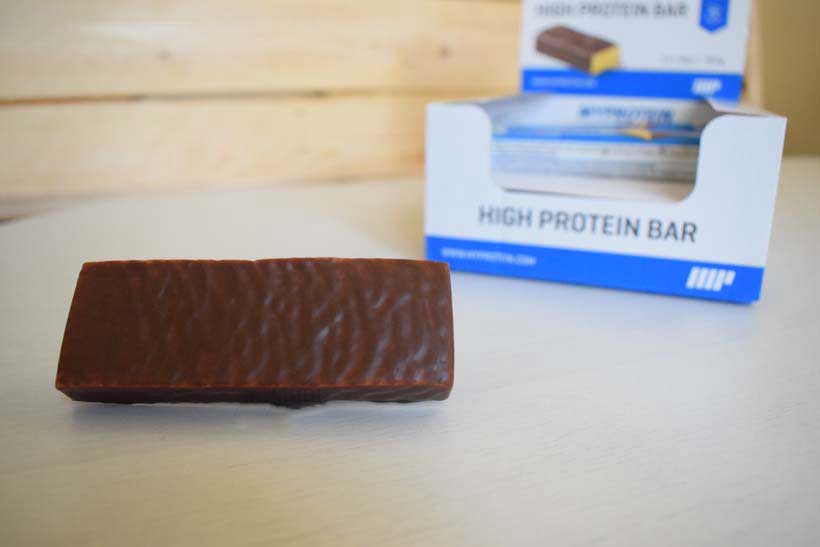 High Protein Bar Nutrition
With great macro ratios, these tasty bars contain 30g of Protein, but what about the rest?
Protein: 30g
Carbohydrates: 24g (10g of which are from fibre)
Fat: 6.3g
Per 100g
Per flapjack (80g)
Energy
1347kJ/328 kcal
1099kJ/263 kcal
Fat
7.9 g
6.3 g
of which saturates
5.1 g
4 g
Carbohydrate
29g
24g
of which sugars
4.7 g
3.8 g
Protein
38g
30g
Salt
0.7 g
0.56 g
These High protein bars are a great way to hit your nutritional goals, without going overboard on sugar.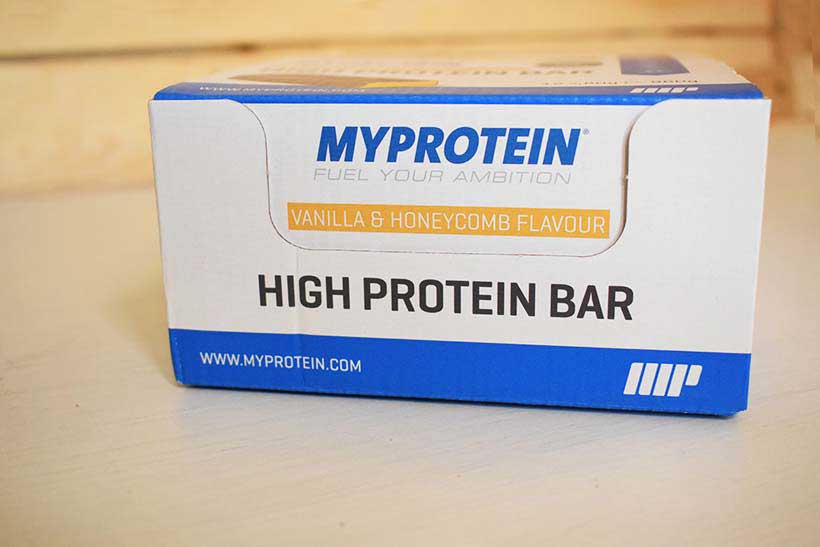 Other tasty alternatives:
Myprotein are known for their inventive protein snacks and meals ranging from hot protein drinks like mochas, lattes and hot chocolate all the way to high protein cakes, brownies and muffins. We've reviewed quite a few which you can check out – or head straight to the website by clicking the button below and find out what sweet treats are suited to you.
How and where to buy Myprotein High Protein Bars:
Due to the nature of our site, we get great, exclusive deals to offer you. Do not hesitate to check out our MyProtein deals and discounts page to ensure you get the best promotions out there.
* as of writing this review
The current price of a 12 pack of MyProtein High Protein Bars is £20-30 – but with current offers you could get these for less than £20.00 if you use our Myprotein discount code that gets you 35% off.
Click the button below to find out more now.