Myprotein Impact Whey Protein Review – What's The Best Myprotein Flavour?
MyProtein's impact whey is probably the best value protein to buy online (and is currently on offer here).
You'll probably be wondering which are the best Myprotein flavours to buy (and which you need to avoid!).
We've nearly tried them all…
What Flavours Should You Buy?
Not banana!
Seriously, we accidentally bought a 5kg bag of that at the beginning of the year and it's not budged since.
Don't make the same mistake as us….

Do yourself a favour and buy a sample sachet here first (let's just say it won't break the bank!).
If you like it then you can buy a bigger bag for next time.
Best Myprotein Flavour List For 2023:
I'd rate the
best myprotein flavours
as
Chocolate Smooth
,
Strawberry Cream
and
Vanilla
. They mix well and are easily some of the best flavours to have with water. In the reviews on the impact whey page, on reddit, and on online polls, it seems like
chocolate mint
and
chocolate brownie
are also top recommendations.
A firm favourite amongst protein lovers. This was one of the first I ever tried. It's not too sweet and it mixes really well. I usually have a spare bad lying around for those days where I fancy something other than one of the sweeter flavours.
I used to buy this in 5KG bags at a time! You can't go wrong with this – it reminds me of drinking strawberry nesquick milkshakes as a child! It definitely goes better with milk. I use almond milk – around 300ml per scoop of protein.
Vanilla is probably the second most popular of all the flavours, and certainly of those that I've bought over the years.
It tastes nice, mixes very well and isn't too sweet or sickly. It's ideal for using with a smoothie or as part of a bulking shake.
If you throw in fresh or frozen fruit, peanut butter, nuts or anything else into your shakes, then Vanilla is ideal as it doesn't overpower the other flavours but is subtle enough to make the difference.
A slightly less sweet than the next one on the list, the natural chocolate is good to get in a sample if you're torn between this and some of the sweeter ones.
I dread to think how many sacks of this I've gulped down in the last ten years since finding MyProtein.
It was the first flavour I ever bought and one I will always continue to buy. It tastes nice but not too sweet. It mixes excellently, in both water and almond milk. This was expecially handy when I was trying to shed a few pounds ahead of my wedding – as I could get in that nice hit of 20g protein without any excess calories.
This is probably the sweetest of my recommendations and one I was quite suprised at how much I liked. I thought it might be too sweet. Don't get me wrong, it is sweet, but not so much that it would put me off. I advise you just get a sample sachet or a small bag to try out, it might not be one you want to be necking every day!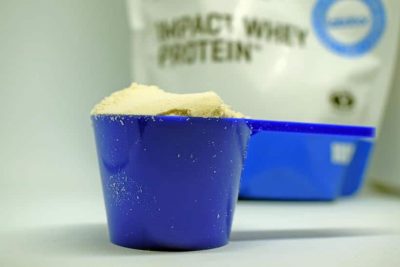 In a thread on reddit there were some other recommended flavours that came out well in a public poll.
I've tried some of them and really liked them, enough to buy a big sack.
I got this by accident one time instead of chocolate smooth – but it's decent! It has a slightly darker flavour to it and isn't as sweet as the chocolate smooth, so i'd definitely recommended it.
I've only tried this in a sample and liked it. Not sure I'd want loads of it in a row, so I just buy a sample of two every now and again when I want a sweet treat.
I have friends that sweat by this! It's so weird to describe – it kind of has a hint of vanilla and strawberry jam filled cake with a hit of sweet sprinkles thrown in. I simply cannot explain it, you need to buy a sample and see if you like it or not!
I really liked this, it's not as sweet as I was expecting but probably sweet enough for me to not want to have it every day.
For those of you that love salted caramel, you'll probably like this. I found it to be quite sweet and probably prefer the chocolate flavours mentioned above.
This is a solid flavour and one I'd definitely buy again. I was buying the protein dessert in this flavour for years until they discontinued it.
I'm not a huge blueberry fan, but this is a top notch flavour. It doesn't taste artificial, it tastes quite natural and mixes in a shake well. There's also a blueberry cheesecake flavour for those who want a slightly sweeter and thicker tasting shake.
You can also buy one of these flavours in a little sample sachet here to make sure you like it before getting a bigger bag.
Flavours To Avoid
Some that I'd steer well clear of, despite how nice they might sound:
Only you can decide which flavour you'd prefer, but hopefully these lists can give you a few ideas.
Impact Whey Overview
MyProtein Impact Whey is an 80% concentrate powder. It's one of the fastest absorbing protein types and they recommend that active people drink this 30-60 minutes post-workout as this is when your body's metabolism is working at it's best. However, it isn't vital to take it then, and many people believe that this is absolute rubbish and an unimportant window.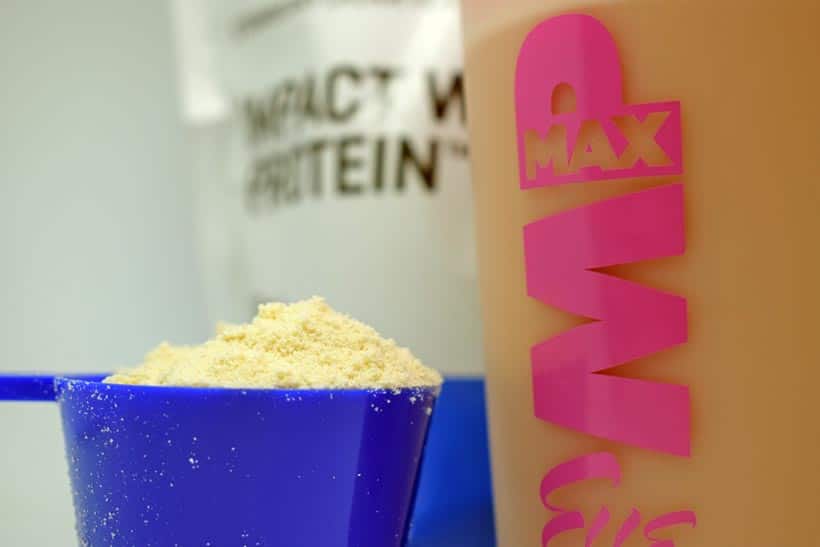 Impact Whey Protein is one of MyProtein's best selling products and it's easy to see why. It comes in a pouch packet instead of a tub which makes it great for transporting around and fitting in cupboards. And, as I will detail later it's amazing value.
It is created from 100% premium whey protein concentrate and has 20g of protein per serving. it comes in a whopping 51 different flavours and 3 different pouch sizes from 1kg – 5kg.
And to top it off, it's rated Grade A on LabDoor.
Nutrition
Although the nutritional values can change dependant on flavours, the unflavoured version has a macro profile per serving (25g) of:
Protein – 21g
Fats – 1.9g
Carbs – 1g
Nutritional Information
Per 100g
Per Serving
Energy
1740 kJ/412 kcal
435 kJ/103 kcal
Fat
7.5 g
1.9 g
of which saturates
5.0 g
1.3 g
Carbohydrates
4.0 g
1.0 g
of which sugars
4.0 g
1.0 g
Protein
82 g
21 g
Salt
0.50 g
0.13 g
In every pouch you will find a blue MyProtein scoop, this should fill to 25g but it can be off by a few grammes so if you want to be dead strict on measurements I'd suggest weighing it. Although 25g is the suggested serving size, many people use 2 scoops (50g).
Taste and Blend-ability
The taste will vary depending on the flavour you buy.
If you're buying an unflavoured version you may want to spruce it up with some of MyProtein's sugar-free flav drops otherwise you'll be drinking a very bland dusty tasting drink.
I normally use the chocolate smooth, as do many people I know.
The taste is great and it blends perfectly. It's basically like drinking a Nesquick, but a bit more beneficial.
Unlike the vegan protein & pea protein I've tried, there is no gritty, dirty taste. It's smooth just like the packet says.
But with over 50 flavours to choose from how do you know which ones to try?
Price and Current Offers
A 1kg pouch of unflavoured whey protein is £13.89 and 1kg chocolate smooth is £15.79.
However, as we always like to grab a bargain and help you find one too, you will NEVER have to pay full price for these.
Head over to our Myprotein discount codes to get money off your order. We search the database for every Myprotein deal on a daily basis so we can offer you the best offers around, so head there now and see how much money you could save.
What Exactly Is Protein Powder?
Protein powder is a food supplement.
Developed for people who suffer from nutritional deficiencies and those who do not get enough protein from everyday life. It's mainly used for people who attend the gym often, athletes, bodybuilders, vegetarians and those with poor diets.
It works on the same principle as a vitamin tablet. Take vitamin C for example. A vitamin which we take ourselves, we give to our children and we recommend it to others. Why do we take vitamin C? Because we don't get enough of it in our diet. It's the same with Protein. The only difference is that Vitamins are a micronutrient and protein is a macronutrient.
Macronutrients are the structural, energy giving, components of our diet. You'll be familiar of these as they are carbohydrates, proteins and fats. They are all vital components of a healthy diet. A deficiency in any of these areas could cause unbalance to your digestive system, body and mind. Which is why adequate amounts of protein are vital to your diet.
Of course, having the real thing from whole foods like lean meats and fish is a better way to get these nutrients, but that can be expensive, time-consuming and just pretty inconvenient. Nobody likes the guy who takes a pot of smelly tuna to work for his elevenses snack.
We've got more information about the best protein powders to buy over on this page.
Why Do People Who Exercise and Body-build Require More Protein?
It's a common misconception that "protein builds muscle". It doesn't. It's not a miracle powder with the effects of popeye's spinach. However, if combined with adequate exercise it can "assist" with muscle growth.
Protein is an essential part of any active persons diet. During exercise, your muscles are strained and damaged. Protein is there to help repair and rebuild those muscles after your workout. It's also helpful for post-workout recovery.
Your required amounts of protein depend on your activity levels. For example, a sedentary person would only require 0.36 to 0.6 grammes per pound of body weight. Whilst those trying to actively build muscle would require around 1g of protein per pound of bodyweight. So you're required protein intake wholly depends on your activity levels.
How Do I Get My Protein?
As someone who is fairly active at the gym, but not a "bodybuilder" per se, though I do lift weights 3-5 times a week. I aim for 147 grammes of protein for my 171lb bodyweight making my intake around 0.85g per lb.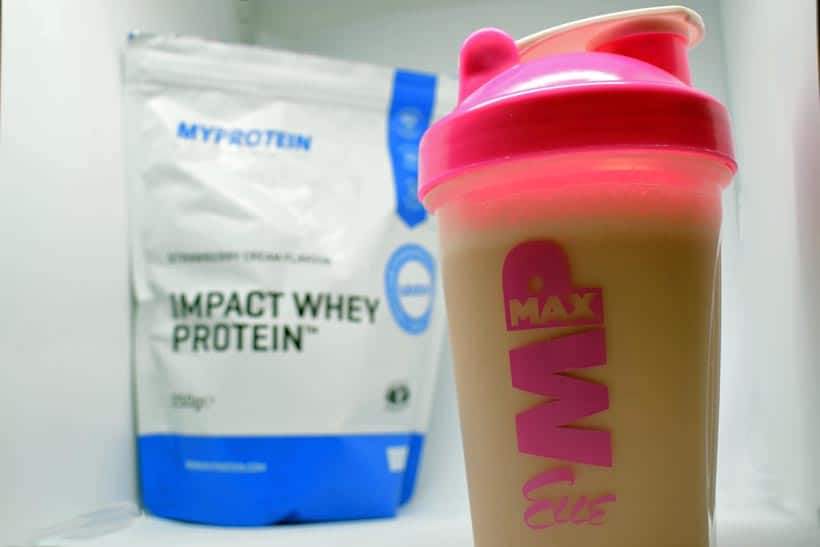 The majority of my protein is from Chicken, quorn and fish. Due to red meats like steak being also high in fats, I struggle to fit them in with my macronutrient requirements. Which is the reason I substitute with protein powders.
I've tried my fair share of different whey protein from some of the top brands but I always go back to the same company. I'm a creature of a habit and also love a good bargain. Which is why I will always use and recommend MyProtein impact whey to just about anyone.