MyProtein Vegan Blend and Pea Protein Isolate Review
In an effort to encourage people to live a "healthier" plant based diet Myprotein have provided their customers with a couple of alternative protein sources – Vegan Blend and Pea Protein Isolate.

I decided to give these two protein powders a try, to let you know the score!
Pea Protein Isolate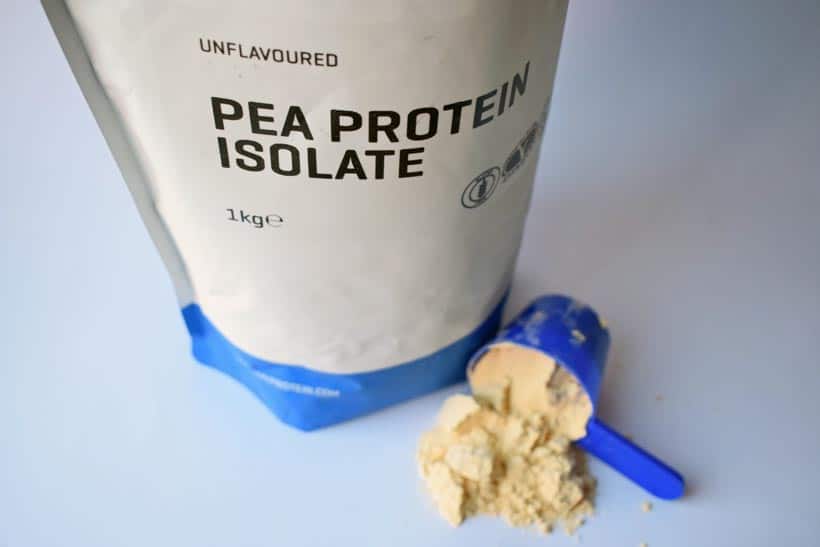 Free from lactose, dairy and gluten this protein source is developed from vegetable sources creating a very comprehensive nutritional profile. It's perfect for vegans and vegetarians looking to increase their daily protein without using dairy products.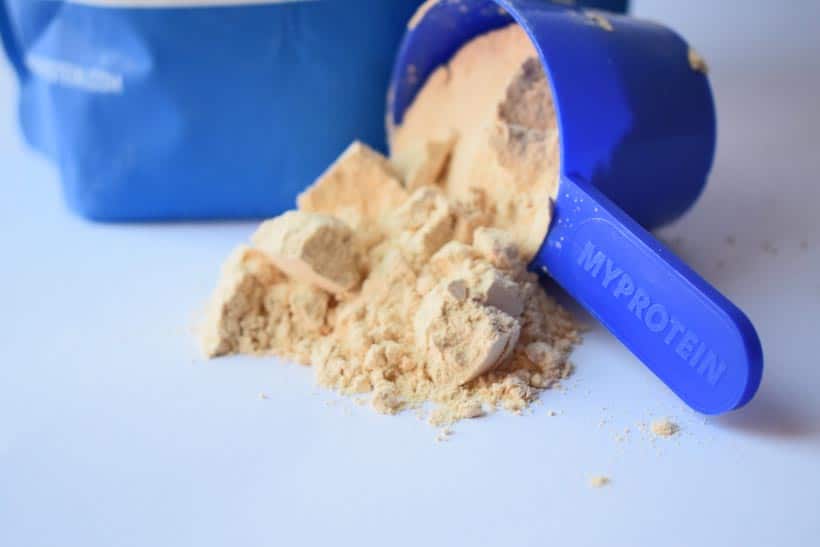 Not only good for vegans but people who suffer from certain intolerances like wheat, gluten and lactose. In fact, this product is suited to anybody who wants to increase their plant based food.
Nutritional overview:
The MyProtein website and pea protein packaging don't make the ingredients very clear, apparently, the ingredients are just: Pea Protein Isolate (100%)…. Which I can only assume means it's literally JUST the protein from normal peas – with nothing added, which sounds pretty awesome.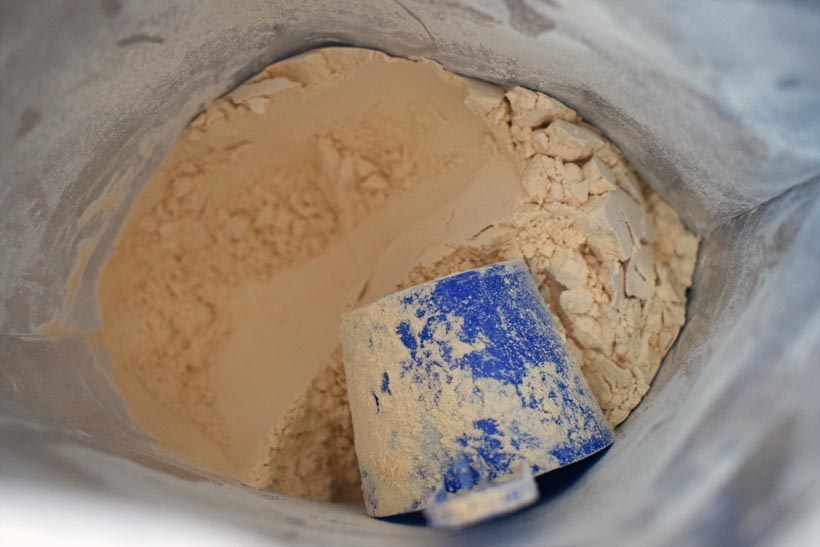 The macro profile for 30g of pea protein is:
Protein: 23g – 85%
Carbohydrates: 0.9g – 3%
Fat: 1.5g – 12%
Nutritional Information
Per 100g
Per Serving
Energy
1511 kJ/357 kcal
453 kJ/107 kcal
Fat
5.0 g
1.5 g
of which saturates
1.9 g
0.6 g
Carbohydrates
3.0 g
0.9 g
of which sugars
0 g
0 g
Protein
75 g
23 g
Salt
2.5 g
0.75 g
In comparison to normal whey protein isolate, Pea protein isolate has slightly more fat, carbohydrates and has the same amount of protein.
My Thoughts
Honestly? I'm not a fan. I mixed one scoop of Pea Protein Isolate with 400 ml of water and I also tried it with 400 ml of almond milk. Personally, I found the taste rather gritty. As I purchased unflavoured I decided to add Vanilla FlavDrops to my shaker, but even this couldn't mask the grittiness.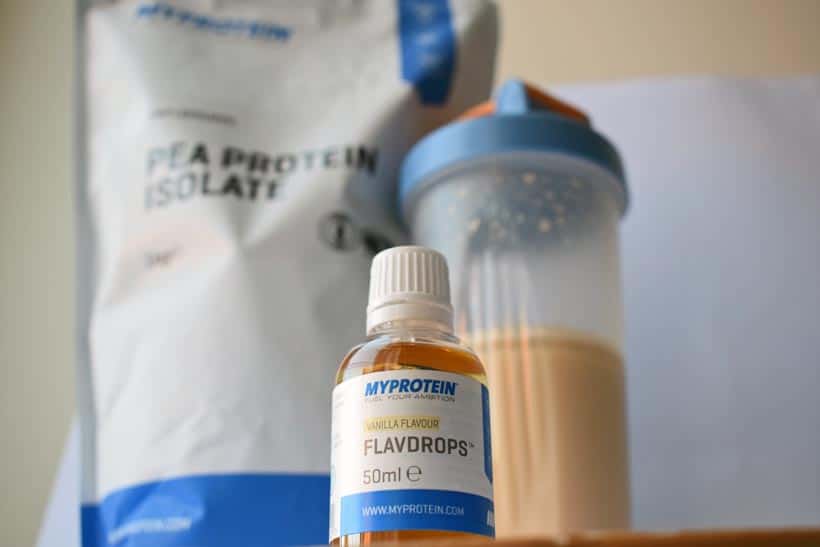 The taste was ok, nothing special, but the gritty texture really did ruin it for me. In fact, I found it undrinkable – which is a big shame, as I was really looking forward to finding an alternative to normal whey protein.
However, based on the reviews on the MyProtein product page, many customers have got past the texture and really enjoy it. I think if I wasn't already a whey user I may have been able to adapt to it.
Maybe it's an acquired taste?
Maybe other people aren't phased by the texture? I don't know. All I know is Pea Protein Isolate just isn't for me, even if it does have such a great nutritional profile.

At the end of the day, you're going to find a lot of people who will tell you that the taste or flavour of a protein powder doesn't really matter – and to some extent, I can agree. It all depends on whether the benefits of building and retaining lean muscle mass whilst following a more plant based diet outweigh the bad taste. Only you can decide, but keep reading till the end and we will offer some alternatives…
Vegan Blend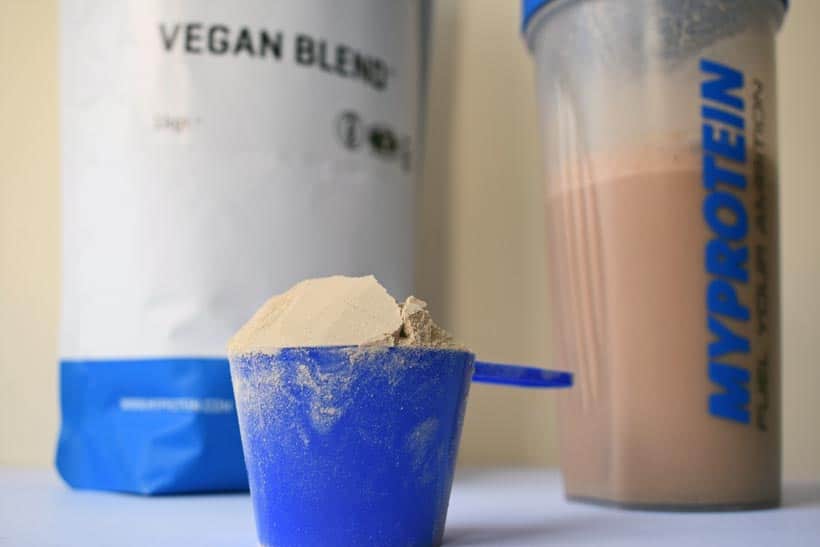 Similar to pea protein, vegan blend – as I'm sure you can tell by the name, is another vegetarian/vegan protein source.
Developed using:
Brown rice protein,
Pea protein
And hemp protein
the blend has a full range of essential amino acids to provide your body with the nutrients it requires, without having to resort to dairy protein sources.
Nutritional overview
Unlike the pea protein isolate, the vegan blend contains a few more ingredients.
The unflavoured version contains mostly:
Pea Protein Isolate,
Brown Rice Protein Concentrate,
Hemp Protein (which makes up over 70%)
and then branch chain amino acids.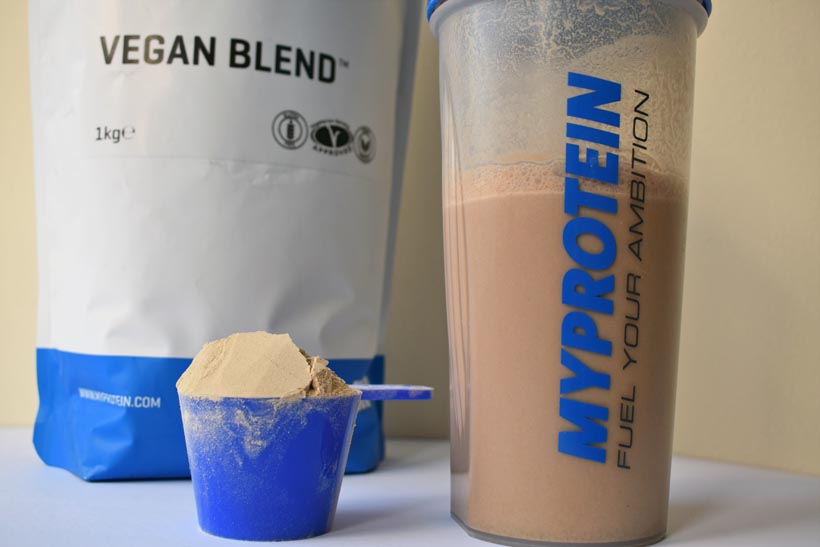 The macro profile for 30g of vegan blend is:
Protein: 21g – 74%
Fat: 1.5g – 12%
Carbs: 3.9g – 14%
Nutritional information
Per 100g
Per Serving
*RI
Energy
1692 kJ/400 kcal
508 kJ/120 kcal
6%
Fat
5.0 g
1.5 g
2%
of which saturates
1.6 g
0.5 g
3%
Carbohydrates
13 g
3.8 g
1%
of which sugars
1.0 g
0.3 g
0%
Protein
73 g
22 g
44%
Salt
1.3 g
0.39 g
7%
My Thoughts
When I first opened the bag and gave it a sniff, I wasn't feeling hopeful. The bag smelt a bit like soil, even though I had a flavoured version, the smell was off putting.
Similar to the pea protein isolate I found the texture rather gritty. However, I seemed to be able to adapt to this better. The first time I tried it I mixed it with just almond milk – I have the chocolate smooth flavour so I didn't need to add any FlavDrops to it.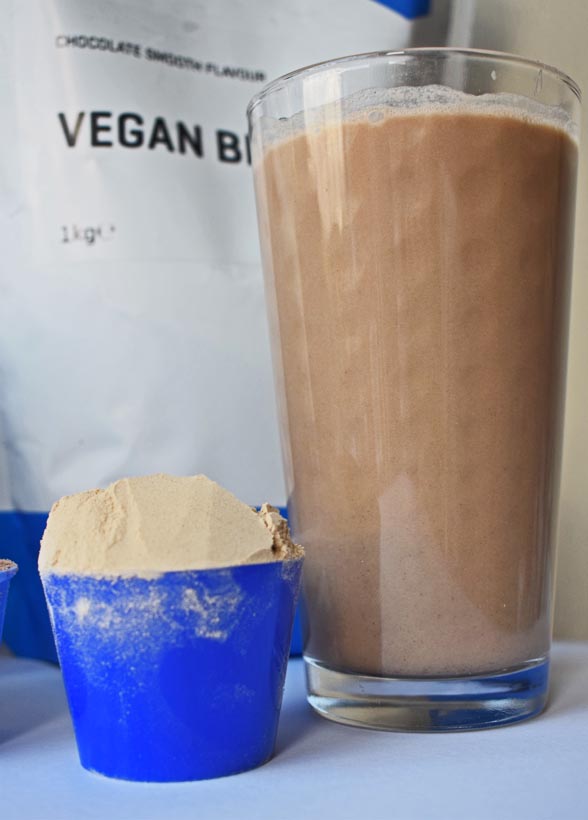 At first, I wasn't too keen, but I managed to drink it all anyway. The second time I decided to blend the Vegan Blend with a banana and more almond milk, in the hopes that the blender may reduce some grittiness. It didn't. BUT mixed with a banana, the vegan blend really worked. I started to forget about the grittiness and just drink it – I found it strangely enjoyable.
Admittedly I definitely still prefer whey protein. However if given the choice between vegan blend and pea protein I would choose the vegan blend.
Prices and deals

Like all MyProtein products, both the vegan blend and pea protein isolate are priced well and are pretty much ALWAYS on offer. To use our exclusive 10% off of MyProtein products or see our other exclusive discounts, then head over to our deals page today. Otherwise, **As Of Writing** the normal price for 1kg of pea protein isolate is £11.49 and the normal price for 1kg of Vegan Blend is £17.99.
Alternatives By MyProtein
For other vegan and vegetarian alternatives there are:
Whilst non-vegans will find a massive range of dairy proteins by visiting Myproteins protein powder list
Other Alternatives
By far the best Vegan Protein I've tried is:
However, The Protein Works Range does contain soy.