The following promo codes have been checked each day to ensure they are up to date and offer you the best savings on your Muscle food order.
Current Muscle Food Discount Codes, Vouchers & Weekly Special Deals
| Discount Details | Offer Type | Discount Code |
| --- | --- | --- |
| Get A £5 Discount Code For Your Order For Both New Customers & Existing Customers | Exclusive Discount Code | Get Voucher |
| Get Free Delivery Code When You Spend Over £75 | Ongoing Promotion | Claim Deal |
| 4 FREE Muscle foods Chicken Breasts | Coupon | View Offer |
| New Year Super Lean Selection Pack Now Just £55 Promo Code | Coupon | Get Voucher |
| New Customer Lean Meat Selection Voucher £75 With Free Delivery | Coupon | Get Deal |
| 56 Piece Best of British Selection Bundle (Premium Chicken, Meatballs, Rump, Steak Haches, Mince, Sausages & More) Reduced To Only £55 | Coupon | Claim Promotion |
| 100 Piece Ultimate UK Slimming Lean Hamper Only £79 With Free Delivery | Coupon | Claim Promotion |
| Great British Grillstock Steak Selection Now Only £19 | Coupon | Get Voucher |
| Muscle Mousse Snickers 2 For £29 (Save £9) – Perfect For Making Your Own Protein Desserts Or Protein Bars | Coupon | View Offer |
| Super Lean Smokehouse Hamper Pack JUST £19 | Special Offer | View Offer |
| Musclefood LiveClean ready meals starting From £4.50 | Special Offer | View Offer |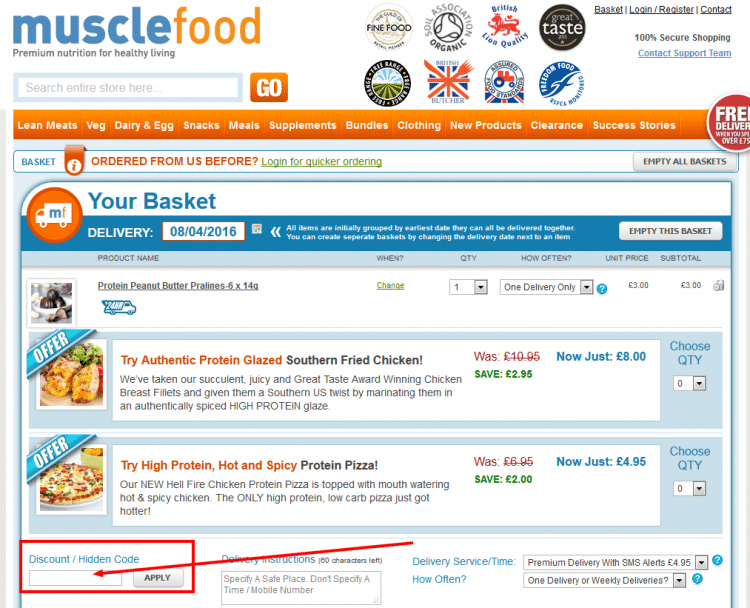 How To Enter A Discount Code On The Muscle Food Site
Claiming an offer with Musclefood is easy. We've listed their weekly deals, some new promotions along with their best sellers. Our exclusive voucher codes are also listed at the top of the page, including our favourite £5 off your order coupon code.
1. Find a MuscleFood Deal/Promotion You Like
Click the green button to either reveal the voucher code, or head straight to Muscle Food if it's just a deal that you wish to claim.
2. Your Coupon Code Or Deal Will Open In a New Tab
Clicking one of the green 'Reveal code' buttons will open a new tab, with a box showing the discount code and a link to continue on to Muscle Food. You need to click the link in order to activate the code. If it's just a 'Claim This Offer' button that you clicked then you don't need to worry about copying any codes.
3. Choose Your Muscle Food Items and Proceed to Checkout
Pick the items from MuscleFood that you're interested in purchasing, along with the products on offer. Proceed to the checkout once you've done your shop!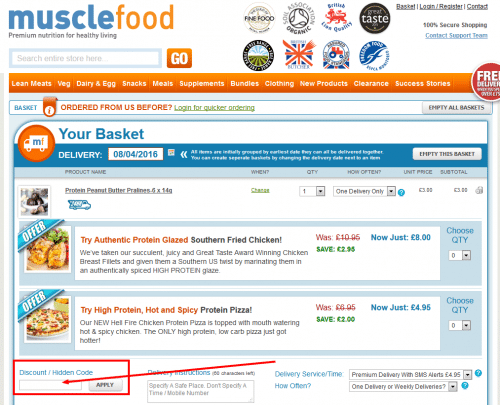 4. Paste Your Code In The 'Discount/Hidden Code' Box
When viewing your basket, there's a small box on the left-hand side for "Hidden" codes.
Paste the voucher code that you copied from us into the box and click the 'APPLY' button.
Your exclusive offer should be activated and you should see the reduced basket total.
What To Buy With My Discount?
We went shopping with Muscle Food and tried each of their best selling products. We've reviewed them in detail and included several photos, recipe ideas and their nutritional information. Check out the links below!
Submit your review

Submit

Cancel
Average rating:
7 reviews
Dec 23, 2016
Got some chicken from Musclefood with free delivery included. Service and quality of chicken were both excellent!
Dec 12, 2016
I love MuscleFoods Chicken. I always buy in bulk from them as they are loads better than the supermarket, and cheaper. They also sell loads of syn free stuff that's great for Slimming World too. Win, Win.
Jun 2, 2016
Awesome Chicken Breasts
Musclefood was a site that I'd never heard of until a mate at work told me about it. They've got loads, could absolutely fill my boots with all the cookies. snacks and pizzas that they have. Just got some pre-workout and some chicken. Will be back next month for more!
May 22, 2016
I found Musclefood through their Facebook adverts and instantly became a fan. Bought the muscle mousse protein to make puddings with, and kept going back for more. The peanut butter protein bars are awesome, bit pricey as I end up eating the whole box in one sitting!
May 5, 2016
A friend recommended that I try Muscle Food out. Got some chicken, a pizza, some flapjacks (bit dry) and a free shaker thrown in. Really impressed, will definitely be buying from them again. So much cheaper than protein in the supermarket is.
How To Get Your Deals & Codes
Click claim offer to go to Musclefood and check the current offer is in stock.
Click reveal code to show the coupon code for this deal.
A box will appear with your code and details of how to copy it on your PC, laptop, tablet or mobile device.
Discount By Shop
Search For Promo Codes