The following musclefood discount codes and deals have been checked each morning to ensure they are valid, up to date and offer you the best savings on your Muscle food order today.
Current Muscle Food Discount Codes, Vouchers & Weekly Special Deals
| Promotion Details | Code/Deal Type | Discount Code |
| --- | --- | --- |
| Get Free Delivery Code When You Spend Over £75 | Ongoing Promotion | Claim Deal |
| 4 FREE Muscle foods Chicken Breasts | Coupon | View Offer |
| New Year Super Lean Selection Pack Now Just £55 Promo Code | Coupon | Get Voucher |
| New Customer Lean Meat Selection Voucher £75 With Free Delivery | Coupon | Get Deal |
| 56 Piece Best of British Selection Bundle (Premium Chicken, Meatballs, Rump, Steak Haches, Mince, Sausages & More) Reduced To Only £55 | Coupon | Claim Promotion |
| 100 Piece Ultimate UK Slimming Lean Hamper Only £79 With Free Delivery | Coupon | Claim Promotion |
| Great British Grillstock Steak Selection Now Only £19 | Coupon | Get Voucher |
| Muscle Mousse Snickers 2 For £29 (Save £9) – Perfect For Making Your Own Protein Desserts Or Protein Bars | Coupon | View Offer |
| Super Lean Smokehouse Hamper Pack JUST £19 | Special Offer | View Offer |
| Musclefood LiveClean ready meals starting From £4.50 | Special Offer | View Offer |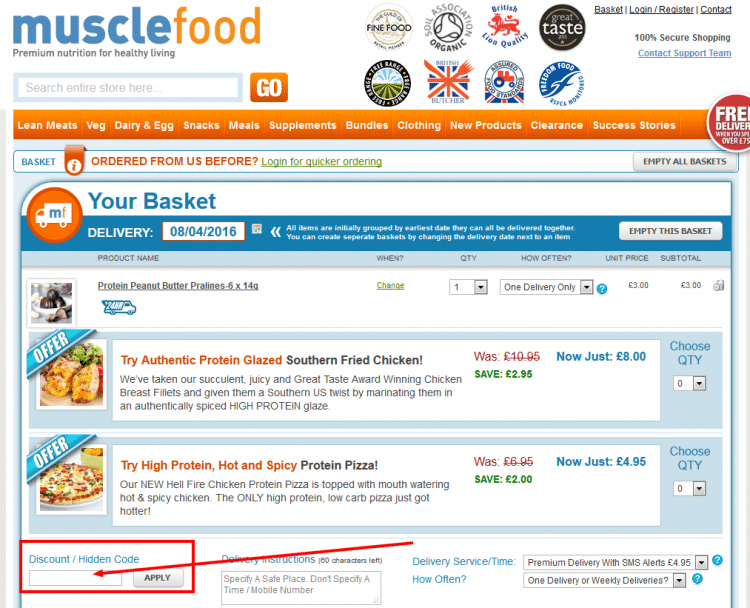 How To Enter A Discount Code On The Muscle Food Site
Claiming an offer with Musclefood is easy. If you've ever shopped with MyProtein and grabbed a voucher there then you'll know exactly what to do here. Musclefood's codes work in the same way.
We've listed their weekly deals, some new promotions along with their best sellers and vouchers. Our exclusive deals and voucher codes are also listed at the top of the page, including our favourite £5 off your order coupon code.
1. Find a MuscleFood Deal/Promotion You Like
Click the green button to either reveal the voucher code, or head straight to Muscle Food if it's just a deal that you wish to claim.
2. Your Coupon Code Or Deal Will Open In a New Tab
Clicking one of the green 'Reveal code' buttons will open a new tab, with a box showing the discount code and a link to continue on to Muscle Food. You need to click the link in order to activate the code. If it's just a 'Claim This Offer' button that you clicked then you don't need to worry about copying any codes.
3. Choose Your Muscle Food Items and Proceed to Checkout
Pick the items from MuscleFood that you're interested in purchasing, along with the products on offer. Proceed to the checkout once you've done your shop!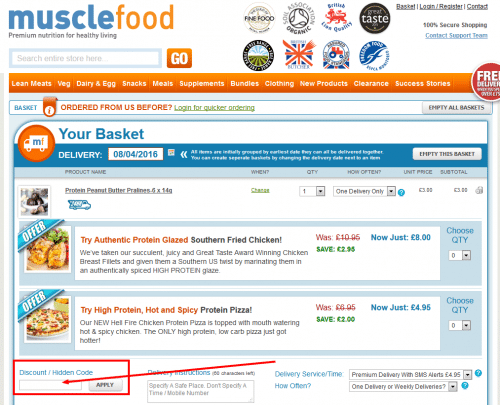 4. Paste Your Code In The 'Discount/Hidden Code' Box
When viewing your basket, there's a small box on the left-hand side for "Hidden" codes.
Paste the voucher code that you copied from us into the box and click the 'APPLY' button.
Your exclusive offer should be activated and you should see the reduced basket total.
What To Buy With My Discount?
We went shopping with Muscle Food and tried each of their best selling products to make sure our discount codes were working! We've reviewed them in detail and included several photos, recipe ideas and their nutritional information. Check out the links below!
Submit your review

Submit

Cancel
Average rating:
7 reviews
Dec 23, 2016
Got some chicken from Musclefood with free delivery included. Service and quality of chicken were both excellent!
Dec 12, 2016
I love MuscleFoods Chicken. I always buy in bulk from them as they are loads better than the supermarket, and cheaper. They also sell loads of syn free stuff that's great for Slimming World too. Win, Win.
Jun 2, 2016
Awesome Chicken Breasts
Musclefood was a site that I'd never heard of until a mate at work told me about it. They've got loads, could absolutely fill my boots with all the cookies. snacks and pizzas that they have. Just got some pre-workout and some chicken. Will be back next month for more!
May 22, 2016
I found Musclefood through their Facebook adverts and instantly became a fan. Bought the muscle mousse protein to make puddings with, and kept going back for more. The peanut butter protein bars are awesome, bit pricey as I end up eating the whole box in one sitting!
May 5, 2016
A friend recommended that I try Muscle Food out. Got some chicken, a pizza, some flapjacks (bit dry) and a free shaker thrown in. Really impressed, will definitely be buying from them again. So much cheaper than protein in the supermarket is.
Why Choose Musclefood For Your Nutritional Needs
There are many reasons why you could have ended up on this website, but the vast majority of our readers visit us because they are passionate about the quality of food they put into their body, and of course want a good discount code or voucher! They want to be confident that they are buying the best quality products, from a company that has built a reputation for top quality food, matched to first class customer service.
Musclefood demand and ensure that you get the leanest cuts of meat, by demanding the highest standards from the birth to table. All of their meats have nothing added to them including water, salt or additives. When you buy any of their meat, you will get the finest cuts, with the fat removed at source. Whether you are eating to gain an edge when playing sports, build muscle bulk and shopping with Bulk Powders, or trying to lose weight this 2017, Musclefood delivers the best quality tasty food straight to your door every single time along with the best coupons, latest promo offers and allows you to save money with their active and popular daily codes.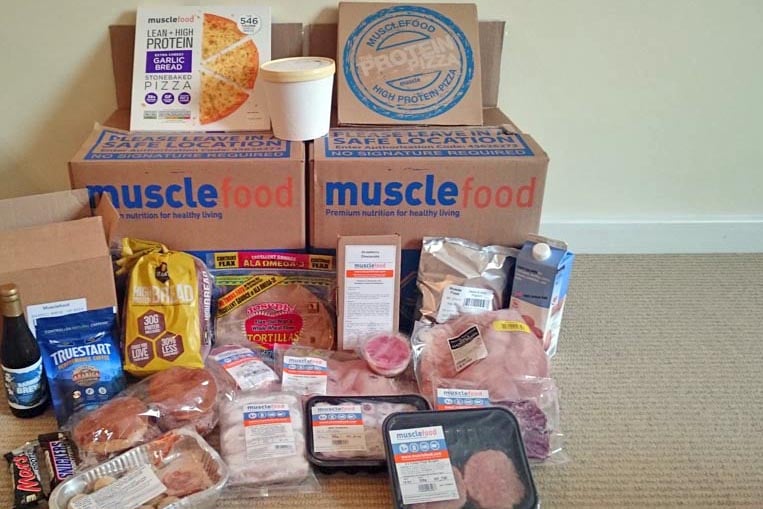 Whatever your meat of choice, chicken, turkey, pork, lamb or duck, Musclefood demands the same attention to detail and top class quality, and it shows in their hampers. Once our customers have experienced their produce, most people are surprised at just how great real meat can taste. You cannot imitate quality, and you can be totally confident that you are providing your body with the best nutrition possible.
Musclefood are an online supplier of nutritional products, like LA Muscle, which means that they have substantially lower overheads that their competition. This translates to ultra-competitive pricing which the company passes on to its customers. This gives you the opportunity to enjoy the finest quality custs of meat at fantastic prices, every week.
The other real benefit that Musclefood brings to the table is their knowledge, passion and focus on proper nutrition. Similar to GoNutrition who always have the customer's goal in mind, this is a company that has a laser-like vision; they do not dabble in other household items or products that have no proven nutritional benefit. If you are focused and determined to feed your body with the best quality in food, then Musclefood is the company you need to be purchasing your food from.
Don't just take out word for it, however, visit the Musclefood reviews site, and read all of the glowing testimonials from hundreds of satisfied customers on hotukdeals too. When a company receives so many glowing testimonials, it speaks volumes about the quality of their products. They're the don of online meat!
Musclefood understands that for those lean athletes who are training, while chicken may be your main source of nutrition, even the most dedicated of athletes enjoys a bit of variety in their diet. The people behind Musclefood don't just sell their food, they consume it as well, so they fully understand the importance of variety to ensure the motivation remains. As a consequence, Musclefood offers a wide variety of options, which we shall look at now.
Chicken
Even though we mentioned the variety of options available, Chicken is and always will be most body builders premium meat of choice. So let's start with the cost and value of the chicken from Musclefood. At the time of writing this review, in June, the total cost for one full chicken and 5 KG of premium chicken fillets was a mind blowing £31.00. And believe it or not sometimes when the company runs their various promotions, you can get your chicken fix even cheaper than this. Amazing! £24 for 5KG of chicken is far superior to any discounts/savings that you can get elsewhere, even when the supermarkets are selling it discounted.
If we compare this with a certain supermarket in the UK, the total cost for the same amount of chicken comes to £37.00; this might only be six pounds but remember every little helps! These savings allow you to enjoy spending your money elsewhere, like towards a musclefood hamper as a gift.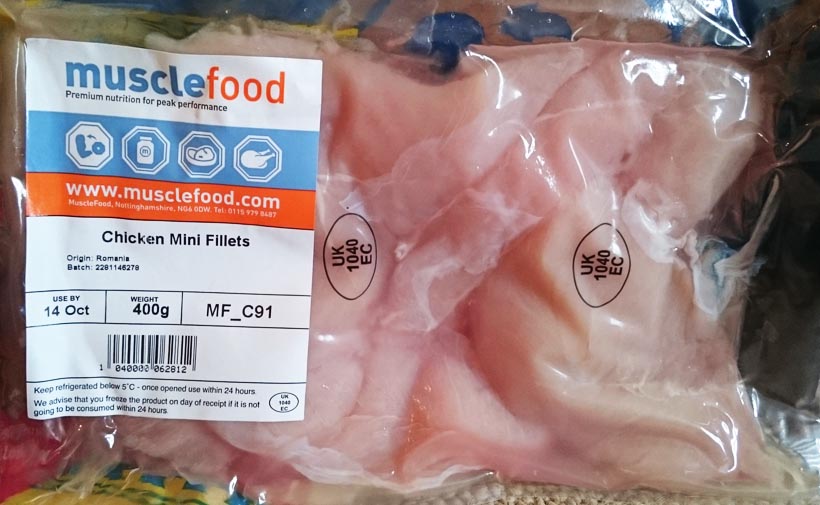 Obviously, the taste and texture of the meat is subjective, and due to the lower pricing structure, many people might imagine that the lower price will correspond with a similar drop in quality. In our opinion, the chicken from Musclefood looked and tasted superior in every way, and having regularly ordered for the past five months, the quality and standard of the meat has always remained top notch – lean and fresh. As you might have gathered our entire family have been suitably impressed with our new chicken supplier, and we have introduced our friends to the company as well, so confident are we in the quality.
The size of each breast has to be seen to be believed, so much so that in our house it has become a tradition to weight each one before cooking. Discount codes and dealson sites like hotukdeals or couponarea aside, we have yet to find a chicken breast that is under 200g, try finding one of those in your local supermarket. One obvious sign of cheap chicken that has been beefed up (excuse the pun) with added water is that when cooked the size of the chicken will miraculously shrink. Well, needless to report that has never happened in our kitchen, and even though my wife might claim that is due to her culinary skills, I prefer to believe it is due to the quality of the ingredients.
Obviously, I have no way of knowing the size of your family or how often you decide to enjoy chicken for your main meal, but in our case, the 5kg pack plus the one full chicken is more than enough to last the whole month. I simply cannot stress the value or quality you are getting here enough; it will blow you away.
The Red Meat Bundle Is An Absolute Cracker
I frankly don't care how dedicated to your healthy diet you are, and how beneficial chicken is, everyone loves a large portion of red meat when watching sports. After all, there is nothing as satisfying as a big lump of steak cooked to perfection being set down in front of you. And what makes this even better is that MuscleFood even delivers the package direct to your door, before 5Pm at the latest. Now if only they stayed and cooked it for you then all would be perfect in the world.
The pack I tested came with Rump steak, British Hache steaks, and a big dollop of sausages. Much as I like the odd sausage, the minute my package arrived steak was on the menu for that night.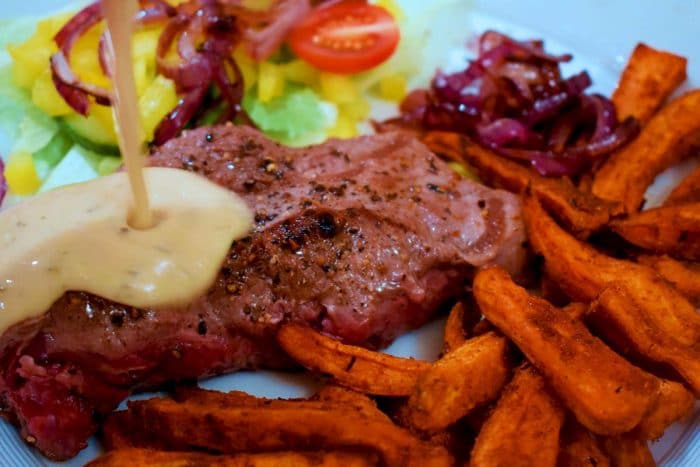 Ten steaks all weighing between 6 to 7 oz and matured for 35 days. The cost of all these steaks was £29.00 which for those who are mathematically challenged equates to about 2.90 per steak. Try going to one of our local supermarkets and getting a piece of steak of this quality, taste and size for £2.90 and you could be gone for some time.
The taste is stunning, and even well done, the meat just exudes flavour and melts in the mouth. The only real negative to these steaks is that they taste so darn good, you will probably want more than one, but at these prices, it won't break the bank. Use one of our £5 off discount codes and save yourself some money on your latest shop.
Sausages
I am a big fan of sausages, but always concerned that they are stuffed with poor quality meat, lots of fillers, and are probably not the best source of protein for my body. At £3.20 for six these compared reasonably with a supermarket price, but that was about the only place where there was any comparison.
First and foremost these sausages are made from 70 percent pork, with just a tad of seasoning added. If ever you fancy a portion of sausages to kick your day off, this is the healthy and tasty way to do it, and certainly a better option than popping into your local greasy spoon.
Great British Hache Steaks
Before these arrived I had no idea what a Hache steak was, I have never been particularly interested in all that poncy food that looks good, but is gone inside two bites. So let's be brutally honest here, as far as I am concerned these are burgers. Damn good burgers, but there is no need to try and create a new name for a good old fashioned burger.
These Hache Steaks are up there on the same level as a top quality burger restaurant, but a damn site cheaper. Even more so with the deals that musclefood run each week. Each burger provides approximately 35.7g of protein, 1.53g of Carbs and 17g of Fat. They are 94 percent beef, and what impressed me the most was the fact that they don't shrink at all when cooking. Such a bargain to get in June 2017 when the price of everything else seems to be creeeping up. Coupon shopping is massive at the moment, but deals aside the size of the food on my plate is what matters too. I don't know about you, but nothing pisses me off more when you cook a burger than ends up half the size it started.
For the majority of people reading this page, this may be the proverbial teaching you how to suck eggs but bear in mind that these burgers will naturally contain more saturated fat, than a steak or whatever, so are much more suited to those looking to bulk up, rather than lean muscle mass.
While nearly every fitness fanatic extols the virtues of chicken, you simply cannot eat that every single day. Even if you're churning your way through the latest round of chicken offers and vouchers, you need something different in your diet. I have been hunting high and low for a quality supplier of red meat, that wasn't overly fatty, tasted great and was reasonably priced. Grab a voucher and get yourself some of these, especially in July or August when it's barbeque weather.
It took a lot of hunting, but I am delighted with all three of the red meat products I tried, and I have already ordered some of their bacon. I know bacon isn't perhaps the best meat for our lifestyle, but everyone is entitled to a treat now and then.
The fact that the company delivers their packages direct to your door means that you don't have to waste so much time walking around the supermarket, and let's be honest that's a huge bonus as well, along with the original discount on your order.
Kangaroo Steak
In terms of sheer quantity and value for money these Kangaroo steaks are amazing. On a positive note, Kangaroo steaks offer one of the best nutritional profiles on the market, and they certainly tasted fine to me.
If you're anything like me you will be shocked to discover, that 2 five oz steaks will only cost you six quid. It could also be quite fun to cook the other steak for your partner and see if they enjoy it before telling them where the meat came from. The scores on the doors are as follows:
Energy 131.3kcal.
Protein 29.8g.
Carbs 0.13g.
Fat 1.4g.
Take a close look at those figures again; it's like the perfect meat, 98 percent fat-free and very low in cholesterol. Provided you have no affiliation to Skippy or Kangaroo's, in general, this could quickly become one of your favourite sources of nutrition..
What About Protein Pizza?
If we are totally honest, everyone loves to eat crap. I like nothing better than a steaming hot cheese laden spicy pizza, but my determination to achieve a better body shape means that I have had to make certain sacrifices, and until I discovered MuscleFood, abstaining from pizza was one of those challenges.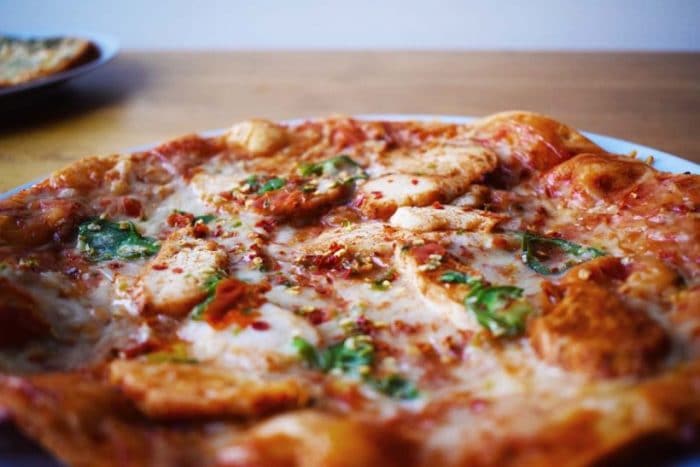 As soon as I saw pizza on their website, I was hitting the order button within seconds. After all, Musclefood is an online store offering top quality nutritional food, so I was pretty confident that this pizza must be good enough to put into my body.
I don't even know how they managed it, but protein pizza is low calorie, contains 70g of protein and has five times fewer carbs than ordinary pizza. It felt like all my Christmases had come at once, and when I tasted one, the reality was even better than I had hoped for.
What's more, there are loads of really tasty flavours, especially for those who enjoy spicy foods. At the time of writing the pizza's which each cost £4.95 come in the following options
Pulled Beef Protein
Mighty Meat High Protein
Spicy Beef And Jalapeno High Protein
Hell Fire Chicken Protein
Chicken And Pepper High Protein
Hot Peri Peri Chicken Protein
Pulled Pork Protein Pizza
Lemon And Herb Chicken Protein
Ham And Mushroom High Protein
What's more, they even offer a gluten free cheesy garlic bread, how awesome is that? Now it has to be said that these pizzas are not quite as tasty as the calorie filled junk of a takeaway version, but they are much much better for you, and for those of us who miss the naughty stuff they offer the perfect compromise.
Conclusion
Choosing a healthier lifestyle, especially one that is focused on building body mass, and cutting out fat can be boring, expensive and challenging. Not only do you have to plan your meals properly, but you also have to find a shop that provides good quality food, at a reasonable price, in your local neighborhood. Thankfully muscle food solve all these problems, and with their vast range of discounts, coupons and voucher codes, you're bound to come away feeling satisfied.
Musclefood solves every single one of these challenges in one hit. You get excellent food time after time, supplied by a company who understands and aims to provide high-quality nutritional food. They offer a wide and varied range of options, and to top it all off; they deliver your order direct to your door.
If you were to sit down and write out a list of all of the things you would want in your perfect food supplier, then the offering from Musclefood is pretty much perfect. It is hard to explain in a review just how delicious the meat tastes; it actually left me a little frustrated and angry at the quality of the food I was buying previously.
You can control many things in your life, your exercise regime, your sleep pattern, your recovery period, but the food you eat is to a certain extent out of your control. All you can do is do your due diligence, and find the best quality food money can buy.
I have been so impressed with everything I have tried from Musclefood, so much so that I have even recommended them to all of my friends and family and I have also taken the time and effort to write these reviews.
In my honest opinion, I have never tasted meat of such high quality, and I have absolutely no hesitation in recommending Musclefood for all of your meat requirements. The prices are extremely competitive, and the customer service is amazing.
If you've been struggling to find a good quality supply of meat, then give Musclefood a try, I will be shocked if you are not as delighted with your experience as I have been. If you look higher up the page, you will also find some vouchers that will give you extra discount making your purchases even more of a bargain.
How To Get Your Deals & Codes
Click claim offer to go to Musclefood and check the current offer is in stock.
Click reveal code to show the coupon code for this deal.
A box will appear with your code and details of how to copy it on your PC, laptop, tablet or mobile device.
Discount By Shop
Search For Promo Codes