MyProtein Low-Fat Protein Cheese Review
High Protein Cheese without the fat. Made the same way as normal cheese, except the fat is removed while it's still in milk form.
So with less fat, there is loads more room for protein.
With 40% more than supermarket brand cheeses – Myprotein's high protein cheese is exactly the way to hit your goals.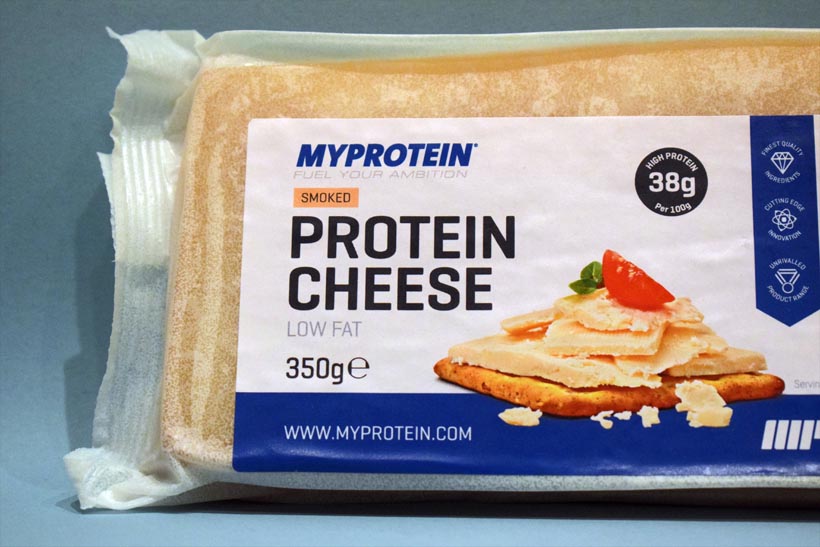 Normal cheese is super high in fat, and even if you're not on a low-fat diet it's easy to eat too much. With a high-protein alternative like this, it's simple to ensure you're hitting macro goals without over-eating the fat.
High Protein Cheese is essentially just normal supermarket cheddar with the fat removed, made with completely natural ingredients and no nasty fillers, it's a perfectly real dairy cheese.
Slimming Benefits
Unless you are vegan or are following a low protein diet – and why would you ever – this product is perfect for you.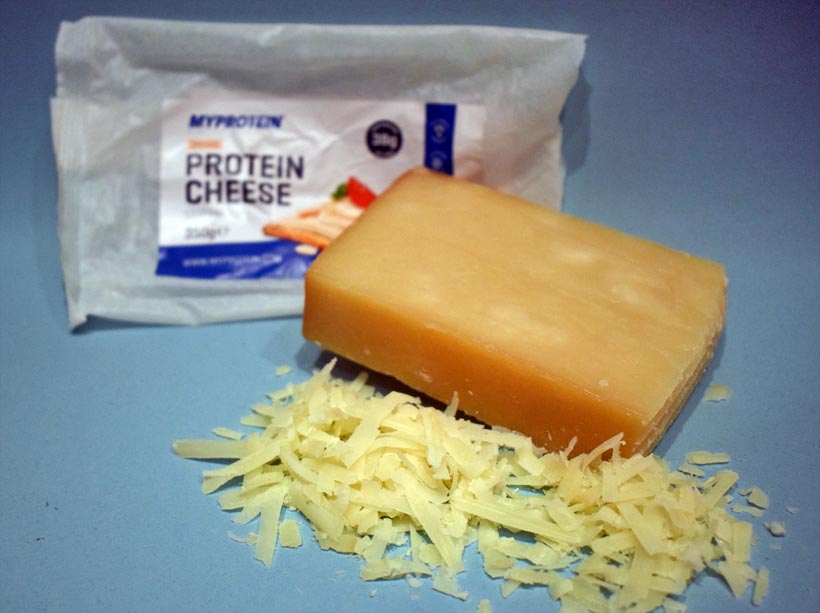 MyProteins High Protein Cheese has 169 calories per 100g. With 37 grams of protein and JUST 2g of fat, it's easy to see why this product fits so well into any healthy diet. In fact, many popular diet plans such as Slimming World and weight watchers regularly recommend their clients to favour High Protein Cheese over regular cheese.
It's clear to see why.
Clients who follow Slimming World can have 70g of High Protein Cheese as their Healthy Extra A (HEXA) as opposed to the usual 30g of standard cheddar or 40g of reduced fat cheddar.
And with weight watchers, you can have 26g of High Protein Cheese for ZERO points. WOWZER!
There are many slimming benefits when following a high-protein/low-fat diet. One being hunger suppression. Protein is known to keep us fuller for longer, whereas fat, which has more calories, can easily be over consumed.
It's a lot easier to eat a 100g packet of peanuts in one sitting and waste 607kcals than it is to eat 607kcals worth of chicken ( that's more than 2 large breasts). The same with the high-protein cheese, it's easy to stay fuller for longer.
MyProtein Protein Cheese Nutritional Information (with Macros)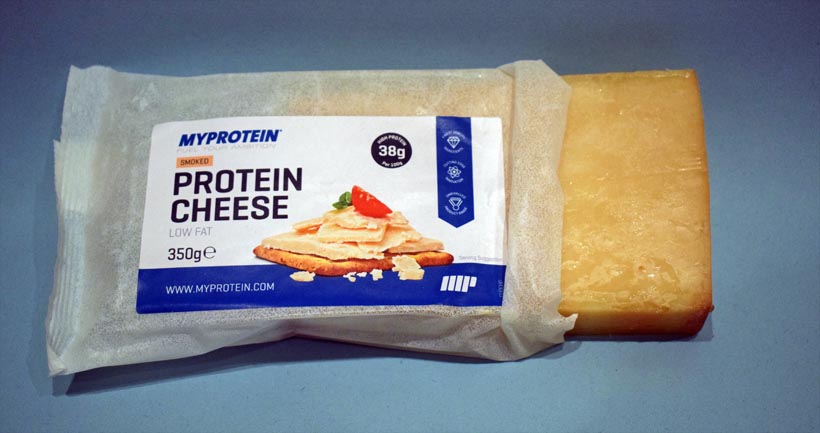 Ingredients: 2% Fat Cheese (Milk)
Macros per 100g:
89%

– Protein –

37g

,

11%

– Fat –

2g

and

0%

Carbohydrates.
Nutrional values

Per 100g

Energy

715 kJ/169 kcal

Fat

2.0 g

of which saturates

1.3 g

Carbohydrate

0 g

of which sugars

0 g

Protein

37 g

Salt

2.0 g

Calcium

990 mg (RI* 124%)
My Thoughts
We bought the smoked flavoured High Protein Cheese, because who doesn't like smoked cheese? Initially, I was a little disappointed, I think I expected it to be super creamy like normal cheese, but who was I kidding, that creaminess is just PURE FAT, of course, it's not as creamy.
Cheese is something I've only recently started to like and if I was asked to write this review last year I would have refused as I absolutely hated cheese. It's an acquired taste, and just like normal cheese, so is this High-Protein cheese. It does take a bit of getting used to especially if you eat cheese often as it does have a slightly thicker, plastic texture, however, this isn't unpleasant.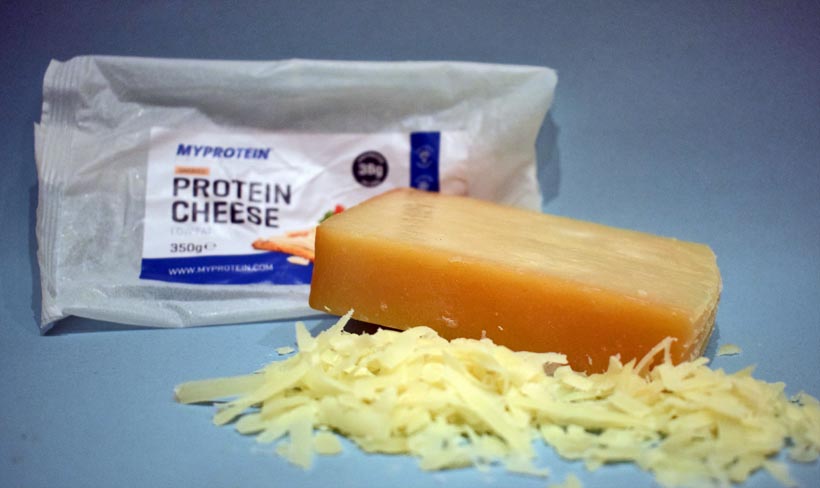 Once you've got past the initial transition period you learn to enjoy this stuff. It's just as versatile as normal cheddar, you can add it to a sandwich, grate it on your chilli or eat it alone as a snack.
I did notice the cheese is slightly harder to grate, due to the texture, but it is possible and adds great flavour your meals.
I would definitely buy it again as it's a great low-fat replacement, however, I do still favor normal cheese.

Serving Suggestions
MyProteins Low Fat/High-Protein cheese is perfect served any way you would serve normal cheddar.
Whether that's in a sandwich, wrap, toastie or burger.
Grilled on toast, on top of stuffed pepper, or in a bacon bread roll.
Oven cooked on a pizza, lasagne or quiche.
It's just as versatile as any other cheese.
Why not make a quick, easy High Protein Mac 'n' Cheese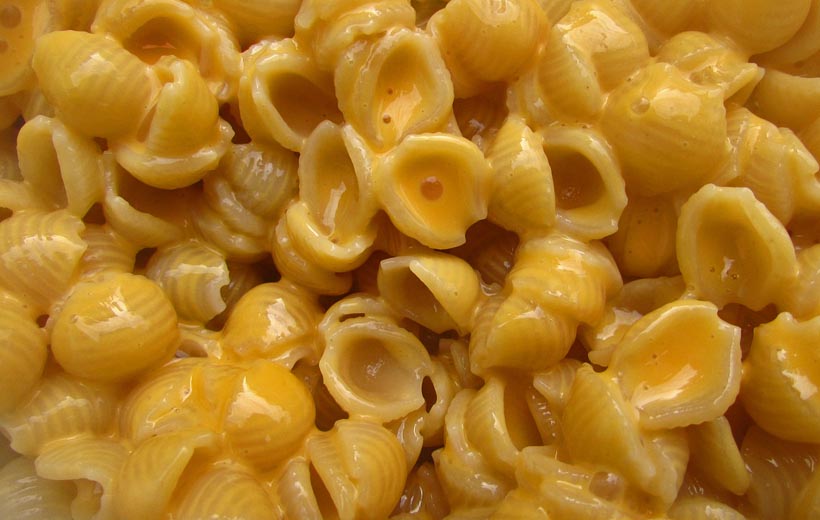 Using these ingredients:
Macaroni

Low Fat Butter

Flour

Skimmed Milk

Salt & Pepper

Paprika
Directions:
Turn on the oven to 180

° whilst boiling the macaroni in lightly salted water filled pan. Stir and cook until the pasta is cooked, but still firm.
Melt one tablespoon of butter with the two tablespoons of flour. Slowly add the cheese and milk. Stir over a low heat until the cheese has melted and the sauce is creamy and thick.
Mix the macaroni into the sauce and pour into a baking dish. Grate a bit more cheese to cover the top.
Season with Paprika, salt and pepper and place in the oven for around 25 minutes.
Price & Deals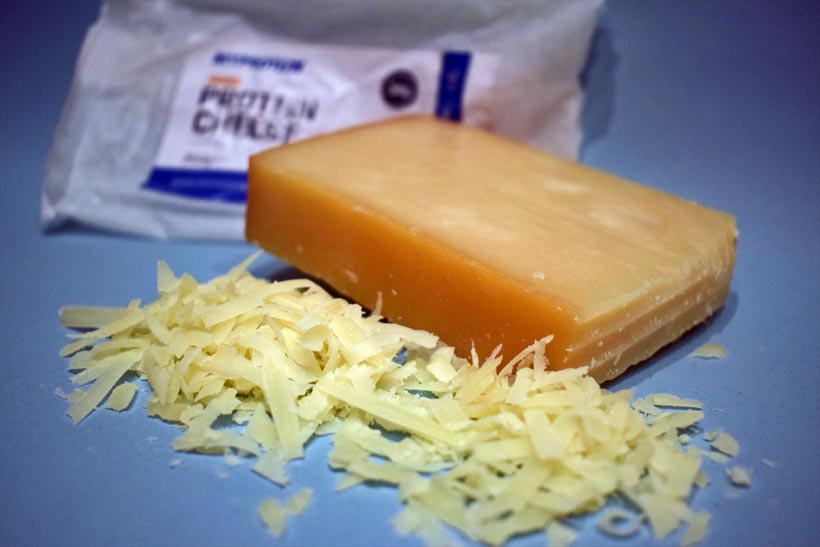 **As Of Writing** For MyProteins High Protein Cheese you'd be looking to pay £3.99, however, we paid £2.74 thanks to the awesome offers Protein Promo get with MyProtein. Why not head over to our MyProtein offers page to find out what fantastic offers we have for you today.