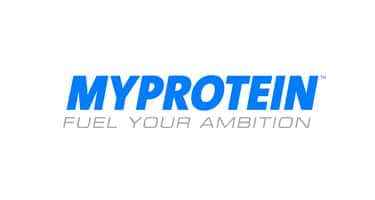 MyProtein offers the best range of protein, supplements, gym gear and just about everything else to satisfy your nutritional needs. We've listed their current deals and discount codes that can save you a HUGE amount on your weekly shop.
We Dislike Out of Date Vouchers As Much as You!
We have many discount codes listed, including free delivery codes, 10% discount codes and plenty of other referral codes such as those specifically for students.
Our voucher codes and deals are checked every morning to ensure they are active and working.
Myprotein has loads of offers for new customers on their first order. They give away free gifts that are actually useful – like a free protein sample or a free shaker.
All these deals will save you a fortune on your order. Perfect for 2017 and your New Year's fitness goals.
We Only Pick The Best Promotions
Using our My Protein promo codes and offers couldn't be easier. We're continually listing their best offers, voucher codes and new promotions to ensure we're the most up to date site around.
All the offers are categorised in order to make it easier for you to find. Whether you're looking for an exclusive offer (at the top), bundle offers (in the middle) or any deals on MyProtein's best selling products you'll easily be able to find JUST what you're looking for.
How To Enter a Code & Get Your Discount:
1. Find a deal that takes your fancy
Click the green reveal or claim button. If you click "claim" you will be taken directly to the Myprotein page
2. Your Promotion Code Will Open In a Box
If your chosen offer requires a code, your page will refresh and the offer code will load up in a new box on top of the original one. There will then be instructions on how to copy and paste it.
3. Copy The Code & Go To MyProtein.
Once you have followed the instructions on copying your code you will need to click the "Continue to Myprotein" to be taken to their website. Depending on which deal you selected, you'll be taken to either the specific product page or a current sales page where you have a range of products to pick from as part of the promotion.
4. Choose Your Products & Proceed To The Checkout
Pick all the items that take your fancy (including those in the promotion) and proceed to the checkout. From here you will be able to insert/paste your discount code as shown below.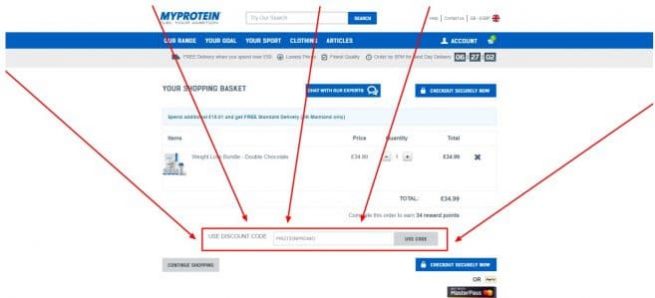 5. Paste Your Code Into the "USE DISCOUNT CODE" Section At the Bottom of Your Basket
When viewing your basket you will clearly see the discount code box directly below your products. Paste the voucher code copied from our website and click the "USE CODE" button. Your exclusive offer will then be activated. ]
You will see your discount has been taken from the total price. Time to checkout!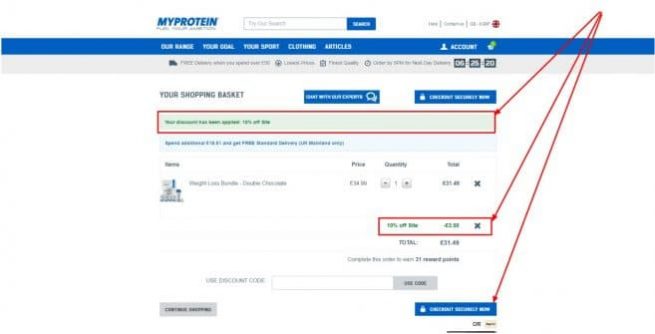 We Reviewed MyProtein's Best Selling Products of 2017:
What My Protein Stands For
My Protein stands out amongst other sellers of such products simply because they are not brought in from independent sellers. My Protein manufactures its own products with its own in-house development team.
Strong quality assurance teams are ready to step in to ensure that all new protein products coming off the rack meets the high standards set by professional athletes. You know you are getting nothing but pure protein. Protein that is not stuffed with sugar and other unnecessary chemicals.
Every penny goes towards pure, unadulterated protein.
Student Discount & Offers

University doesn't have to all be about partying! Protein, healthy fats and good sources of energy will help keep your mental health and wellbeing in check. This is in addition to your recovery, sleep, and physical state following your rigorous routine of studying, working out and socialising. MyProtein have exclusive deals that are only available to students.
Only Quality Products
Why do My Protein protein products stand above the rest?
Range – You are guaranteed to get something that works for you. Even if you just prefer flavoured or unflavoured protein, you will find something that does the business and is a pleasure to consume.
Tested – All protein products like the imact diet whey are pure and have been tested to the high standards put in place by professional sporting bodies.
Accreditations – My Protein comes with the prestigious HFL accreditation. It's also credited as Athlete Approved Nutrition.
Try Before You Buy
For young athletes and athletes who are looking to try a different type of protein, it can be an expensive process. You do not whether you will like it, whether it will react well with your body, or whether it will give you the results you need.
My Protein allows you to try before you buy. It features samples from all its major products. So if you're unsure about the vegan or pea protein, for a small fee you can order a small batch of any product to try. If you like it, buy a full order and go from there. It is entirely up to you.
This is because My Protein believes in its products.
Dedicated to Sport
Unlike other companies, you can shop via sport. Many of their customers play sport at a professional level. Nevertheless, despite what the so-called experts say, it is not enough to guzzle enough protein as possible and hope it gives you what you want.
Every sport requires a different blend. A bodybuilder requires the type of protein mix that builds mass. A mass gainer like those sold at LA Muscle is different from something designed to enhance sporting performance, as you would have in football.
Runners, for example, require lots of lean muscle. They don't want to bulk up because it would negatively impact their sporting ability.
This is why My Protein products are superior to simply eating lots of spinach and hoping for the best. The protein products available here are dedicated to helping you reach your goals. Just like GoNutrition, they offer the ability to shop by goal when browsing their site.
Batch Tested Range
Competing in sport at a semi-professional or professional level. It's your responsibility to know what goes into your body. As many recent high-profile cases have shown, it does not matter if you accidentally ingest something prohibited. It's your responsibility and yours alone.
However, unless you happen to have a way of testing every type of protein at home, it is impossible to know.
MyProtein's products are used by the pros because they feature a batch testing range. Their protein products in this category are tested at elite standards. You can be sure that nothing prohibited by your sport will ever make it into your digestive system.
Women's Fitness
So many fitness experts fail to mention the differences between men and women. Men and women in sports have vastly different nutritional requirements. Like the offers at Protein World that cater for women, MyProtein have a great range of products that are specifically designed with women in mind. They need different levels of protein and a whole range of products just for them.
They are in luck when they work with My Protein because they have an entire section of their store dedicated to women's fitness. Sports Direct offer the clothing range, but MyProtein has been making huge leaps in progress lately on their fashion lines and accessories.
Something for Everybody
Some of the goals My Protein cater to include:
Diet and fat loss.
Endurance
Muscle gain.
Performance
Regardless of what you are trying to achieve, their store is segmented into different sections to help you choose the products for you. Whether it's a protein blend or their legendary peanut butter, the products created in the My Protein labs such as their favdrops, for example, have been tested in order to ensure they do what it says on the label.
Getting You Ready to Train
My Protein is so much more than a place to purchase protein. Yes, you can get your protein food, but you can also learn how to get started with circuits, nutrition, and how to record your progress. This is the 20% in the formula to help you get a ripped and ready body.
The resources section of My Protein consists of information compiled by the experts. You can get:
Workout Plans – Choose a workout plan to suit you. Try it out with precise details on timings, exercises, and reps/sets.
Nutrition – Nutrition is hard. It is not easy to figure out exactly what you need to put in your body to make it work right way. You will find many specialist diets to help you get the fuel you need.
Gender-Specific Advice – Men and women are different. They have a number of high-class athletes from both genders to provide gender-specific information for people looking to take their workouts to the next level.
All information is available in both written and video form. Learn on the way to the gym or learn whilst sitting on the sofa at home.
Affordable and Cost-Effective
Protein does not have to cost an arm and a leg. Whether it is offering student discounts or providing free delivery on orders over £50 in the UK, My Protein aims to make health and fitness as affordable as possible for everybody.
Customers who choose MyProtein know they are working with the real deal. They are getting fully tested products developed by a company with a strong record of accomplishment of success. Are you ready to be pumped?
Submit your review

Submit

Cancel
Average rating:
2 reviews
Jul 1, 2017
Cannot fault Myprotein, usually deliver quicker than they promise and the price is incredible for the amount that I usually order! Monthly orders from me, been using them for years now.
Jun 17, 2017
Bought their chocolate smooth whey for about 5 years. Thanks for the discount voucher, saved me around £5 off my delivery!
MyProtein Reviews
Discount By Shop
Search For Promo Codes