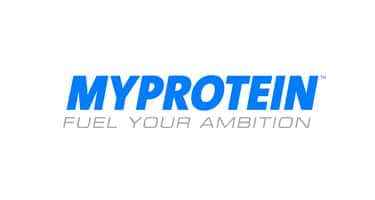 MyProtein offers the best range of protein, supplements, gym gear and just about everything else to satisfy your nutritional needs. We've listed their current deals and discount codes that can save you a HUGE amount on your weekly shop.
We Dislike Out of Date Vouchers As Much as You!
We have many discount codes listed, including free delivery codes, 10% discount codes and plenty of other referral codes such as those specifically for students.
Our voucher codes and deals are checked every morning to ensure they are active and working.
Myprotein has loads of offers for new customers on their first order. They give away free gifts that are actually useful – like a free protein sample or a free shaker.
All these deals will save you a fortune on your order. Perfect for 2017 and your New Year's fitness goals.
We Only Pick The Best Promotions
Using our My Protein promo codes and offers couldn't be easier. We're continually listing their best offers, voucher codes and new promotions to ensure we're the most up to date site around.
All the offers are categorised in order to make it easier for you to find. Whether you're looking for an exclusive offer (at the top), bundle offers (in the middle) or any deals on MyProtein's best selling products you'll easily be able to find JUST what you're looking for.
How To Enter a Code & Get Your Discount:
1. Find a deal that takes your fancy
Click the green reveal or claim button. If you click "claim" you will be taken directly to the Myprotein page
2. Your Promotion Code Will Open In a Box
If your chosen offer requires a code, your page will refresh and the offer code will load up in a new box on top of the original one. There will then be instructions on how to copy and paste it.
3. Copy The Code & Go To MyProtein.
Once you have followed the instructions on copying your code you will need to click the "Continue to Myprotein" to be taken to their website. Depending on which deal you selected, you'll be taken to either the specific product page or a current sales page where you have a range of products to pick from as part of the promotion.
4. Choose Your Products & Proceed To The Checkout
Pick all the items that take your fancy (including those in the promotion) and proceed to the checkout. From here you will be able to insert/paste your discount code as shown below.
5. Paste Your Code Into the "USE DISCOUNT CODE" Section At the Bottom of Your Basket
When viewing your basket you will clearly see the discount code box directly below your products. Paste the voucher code copied from our website and click the "USE CODE" button. Your exclusive offer will then be activated. ]
You will see your discount has been taken from the total price. Time to checkout!
We Reviewed MyProtein's Best Selling Products of 2017:
Discount By Shop
Search For Promo Codes