Protein Hot Mocha from MyProtein Review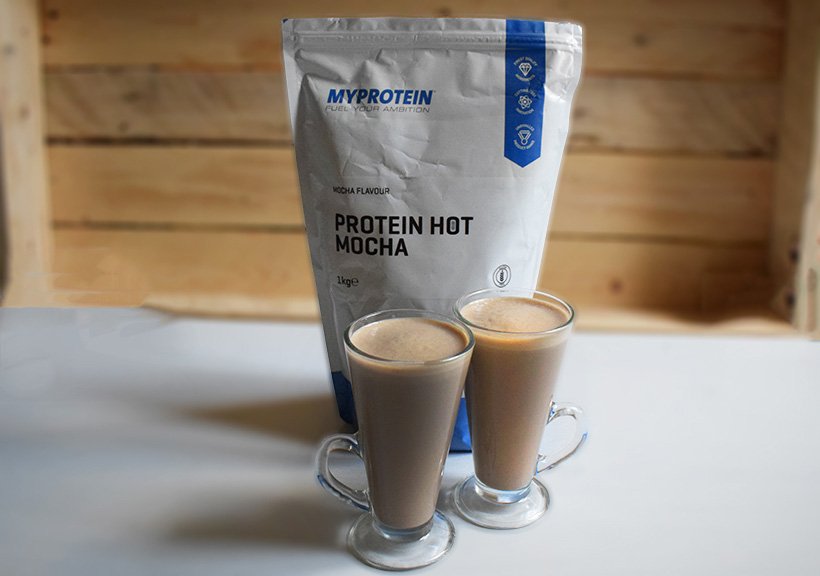 It's Winter, It's freezing cold, and your usual post-workout shake is just too icy.
So what do you do?
Sure, you could just give up…who needs goals anyway?
OR
you could try a "warmer" way to hit your macro targets.
MyProtein, known for their amazing value protein powders and bars, have your winter needs in mind. Not only do they have protein hot chocolate, but they also have this Protein Hot Mocha too. It contains ACTUAL coffee to keep your energy running on high, meanwhile the high protein content aids your recovery.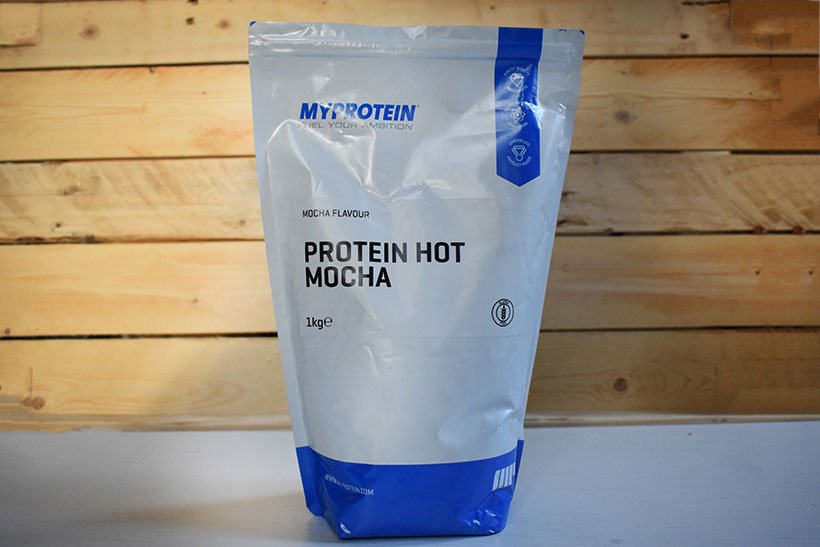 This drink is perfect for your early morning caffeine hit and your 3pm slumps, but you may want to be a bit cautious drinking it in the evenings. Caffeine before bed is never a good mix, so for night time post workout drinks I recommend the Protein Hot Chocolate.
Nutrition and Macros:
With less fat and slightly less sugar than Myproteins hot chocolate, the protein mocha could be the perfect afternoon treat. Just check out these macros:
Protein = 74% – 15g

Carbohydrates = 22% – 4.4g

Fat = 4% – 0.4
Per 100g

Per Serving

Energy

1343 kJ/316 kcal

336 kJ/79 kcal

Fat

1.4 g

0.4 g

of which saturates

1.1 g

0.3 g

Carbohydrates

18 g

4.4 g

of which sugars

16 g

4 g

Protein

58 g

15 g

Salt

1.3 g

0.33 g
Taste and Thoughts: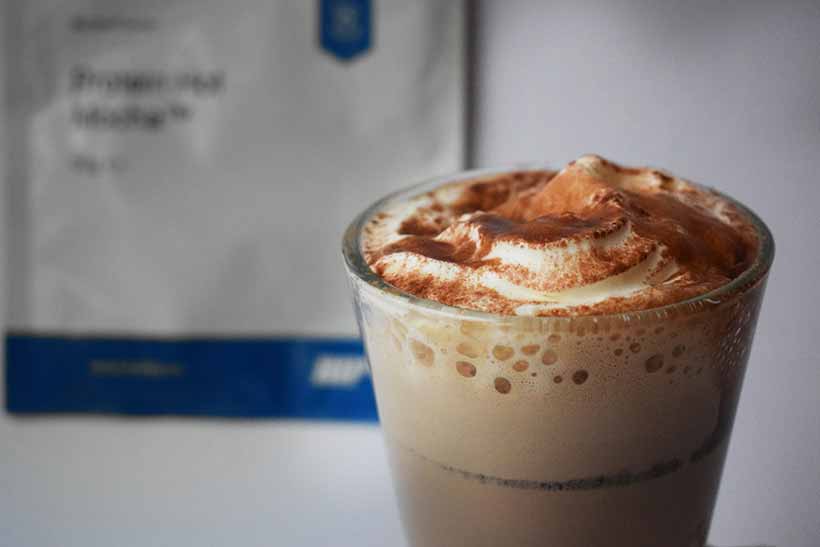 Myproteins protein hot mocha tastes just as you'd expect. A perfect blend between rich, sweet chocolate and the slightly bitter taste of coffee. It's smooth and creamy, but yet light. If you're looking for something with a bit more "je ne sais quoi", adding a sprinkle of chocolate powder, a squirt of cream and a dash of syrup turns this low calorie, high protein drink into a gourmet cafe style treat. If you like the taste of Myproteins Hot Protein Chocolate and you like the taste of coffee, then you'll definitely the taste of this Protein Hot Mocha.
The taste is great
It contains real coffee
It's got a great macro balance for high protein diets
It's HOT!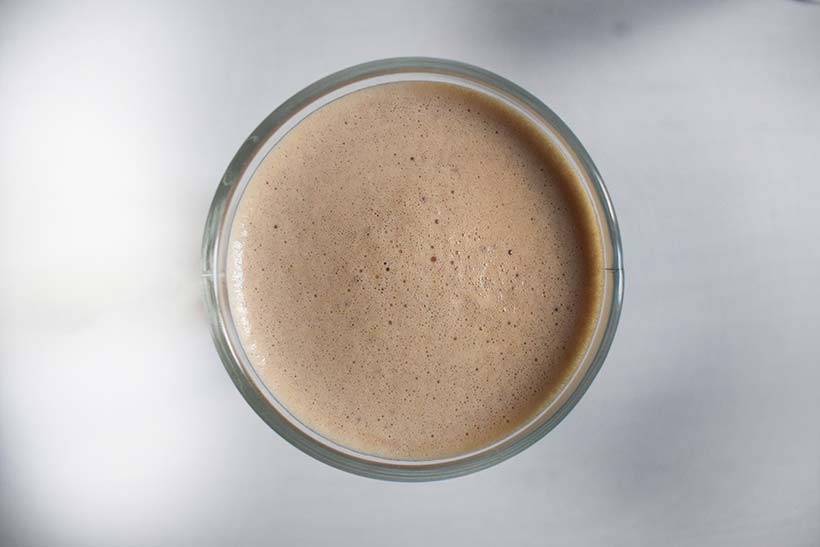 However I think my only complaint is how frustrating it is to make.
I like a good instant coffee or hot chocolate. You know? When you can just add a spoon to a mug, pour in the boiling water, stir and BAM there you have it!
This hot mocha is by no means hard to make – but it's just not as easy as that.
How To:
According to the instructions, you should mix 200ml of cold water to a scoop of Protein Hot Mocha first and then pour it in a microwaveable mug to heat. This usually takes around 60-100 seconds, depending on how good your microwave is, ofcourse.
You can always add some milk, to cream it up a little more and make it seem more coffee like or you can sweeten it up with MyProtein's sugar-free Syrups and some cream like I did.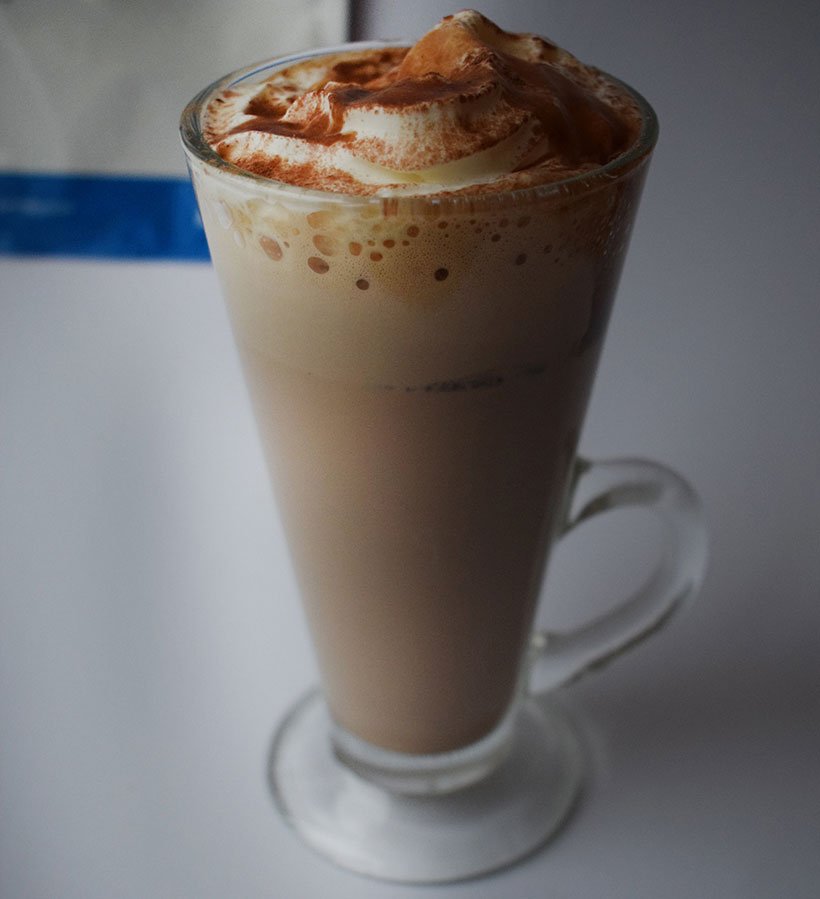 **When pre-mixing the mocha and water you may find it easier to do in a shaker bottle like this one, I find the metal blender balls really help to ensure the mocha doesn't go clumpy.
I want to buy it now:
Now you know all about it, your taste buds must be salivating. Your afternoon coffee just can't compete with the flavours and taste of MyProteins Hot Protein Mocha. During the current cold climate, you could get a lot of satisfaction from adding this energy filled hot protein drink.
*At the time of writing*
A 1kg pack of Protein Hot Mocha is £13.99 (which is also the same price as their hot chocolate too). Don't forget you can use our exclusive offers and codes to get an awesome discount on the price.
AND You can try a sample for just: 99p by clicking below.