The Protein Works : Protein Truffles Review
In a sports nutrition filled world filled with protein brownies, bars, cookies, powders and shakes – sometimes all you want is a little variety.
The Protein Works know this, that's why they've created these tasty little protein truffles for you – their customers.

They're not brownies, they're not bars, and they're not cookies.
They're a completely different type of high protein snack, meaning you won't get bored so easily.
High in fibre, low in sugar and obviously high in protein, these tasty truffle bites are 40 grams of deliciousness and only 120 calories each.
Created with a protein blend of:
Micellar Casein
Hydrolysed Wheat Protein
Soya Protein,
Hydrolysed Whey Protein
These tasty protein truffles will provide you with 12.2 grams of protein per serving.
But what flavours can you buy and what do they taste like…?
The Protein Works – Protein Truffles Size and flavours:

These protein truffles from The Protein Works come in a box of 12 and you can check the price below:
There are 4 flavours for you to choose from:
If you don't fancy buying the whole box just yet? Then you can grab yourself a sample (click the button below to see the current price)
Tried & Tested: The Protein Works Protein Truffles:
We've tried each and every protein truffle flavour to let you know our thoughts. Which is our favourite? Keep reading to find out…
Jaffa Cake:
For those post-workout snacks with a bit more punch, why not try The Protein Works Jaffa Cake flavour Protein Truffle. Sooth your sweet tooth with an orange jelly style hit…

Taste
I absolutely love this protein truffle. The flavour is spot on, maybe that's because I haven't had a Jaffa Cake in ages and I've forgotten how great the flavour is, or because it's just legit awesome. The texture is slightly dry, but I could definitely put up with it for this flavour anytime.

Rating
8/10. So close to being perfect.
Millionaires Shortbread:
Why buy your high calorie millionaire shortbreads from the local shop when you can get a much better, lower calorie, higher nutrient version right here from The Protein Works?

Taste
At first I assumed I must have confused this Millionaires Shortbread truffle with the Caramel Macchiato truffle, because it really wasn't as sweet as I expected. The flavour was a lot more subtle than I figured it would be (especially after how strong the Jaffa Cake was).
I actually really like it.
Yes, it's slightly more bitter than I expected, but I really enjoy the flavour of this. It tastes a lot more natural than I expected and although the texture is still quite dry – I definitely think the taste counteracts it.

Rating
7/10 Great subtle flavour.
Caramel Macchiato:
Take your coffee break with a side of The Protein Works Protein Truffle in Caramel Macchiato flavour. Perfectly paired with coffee and relaxation…

Taste
If you don't like coffee, I wouldn't try this. This is really strong and tastes just like you'd expect a Caramel Macchiato truffle to taste. Seconds after opening It was amazing just how much it really smelt of coffee. Personally I'm not too keen and it tastes slightly too strong and artificial for me. But, for people who are really into their coffee flavoured snacks this could be really enjoyable.

Rating
6/10 Too strong for me.
Strawberry Cheesecake Protein Truffle:
High Protein Snacks are so often in the flavours of rich chocolates and gooey caramels, which is why it's so "refreshing" to see more natural, fresh flavours like Strawberry on the market. Sure, it may be a rich Strawberry Cheesecake, but still what can be more refreshing than a cheesecake bite?

Taste
I'm not too sure on this flavour. At initial bite, I found it really sweet and too dry (almost chalky and powdery). Although, nearer the end this strawberry cheesecake truffle did start growing on me. Personally, I don't think I would try these again. The texture just wasn't what I wanted and the taste was too strong. However, my partner thinks their great and has nearly consumed a whole box in a couple of days.

Rating
5/10 – Good effort, but definitely not to my tastes.
Other high protein snacks:
We've reviewed a good chunk of The Protein works High Protein snacks so you can have your post-workout snack without the guilt. High-protein snacks are a great way to hit your macronutrient goals and still enjoy the taste. Why not read our reviews below or check out our giant list of high-protein snacks and recipes here!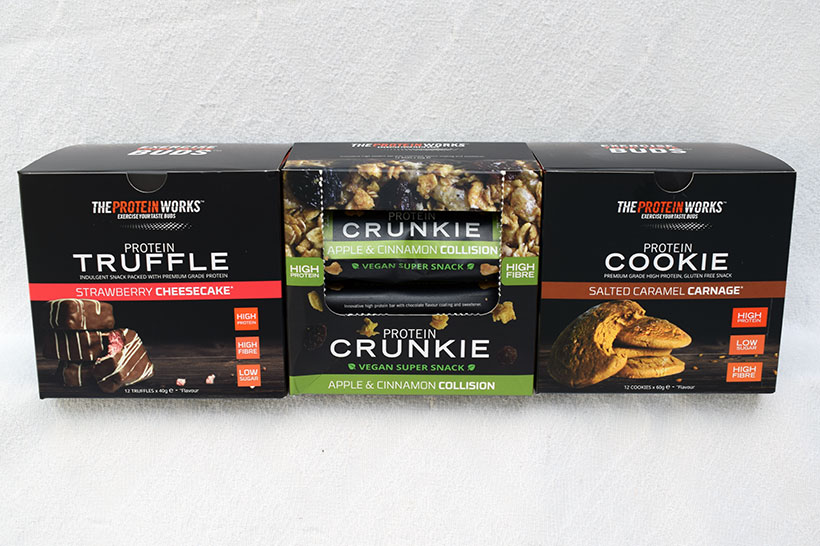 Other products from The Protein Works:
Not only do The Proteion Works provide you, their customers with a wide range of snacks and nibbles, but they're also pretty decent when it comes to protein powders and supplements too. We've reviewed a few of their protein powders, check out our reviews below, or head straight over to their website to find out more. Don't forget to check our discount page to see what offers you can get!