Get Free shipping on your incredible Vivo Life order if you spend £60+ Today!
(Enter the code above at the checkout)
Tap & hold your finger over the code, then tap the copy button that appears.
This Offer Expires in 327 days.
Close this box to view our list of currently active discount codes and deals below.

Get 15% off  New perform with reishi mushrooms offer
(Enter the code above at the checkout)
Tap & hold your finger over the code, then tap the copy button that appears.
This Offer Expires in 10 hours.
Tap & hold your finger over the code, then tap the copy button that appears.
Your code will then be copied to your device and can be pasted in the box at the checkout.
Copy your discount code in the box above or take note of it.
Proceed to the checkout once you have shopped for all the items you wish to purchase.
Paste or type the discount code into the box at the checkout. Your discount will then be applied.
Expired Deals, Offers and Codes From The Last Month
Get 10% off your Vivo Life order using our discount code.
How To Claim a Vivo Life Discount Code
All the information regarding the steps to take, the screenshots, the explanation and the final discounts will be listed here in an easy to follow formula.
Vivo Life are a sports nutrition company with a clear mission: "To transform the health and performance of 1 million people around the world". Not only that, but they're doing it with a range of completely plant-based, organic, cruelty free products.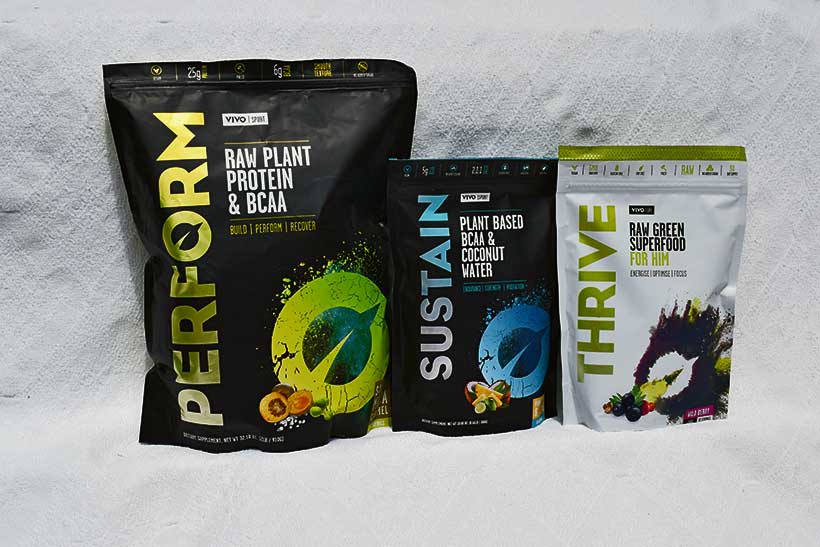 From carbon neutral delivery methods, to their brand promised Vganic trademark – this company is the cleanest in sports nutrition, and you're going to want to try them.
Vivolife don't believe that getting healthy and "sexy" should be to the cost of the environment or your bank balance. With 100% vegan products and at a great price, Vivo life have you sorted.
With by far the best packaging in the sports nutrition game, Vivolife have a wide range of products for whatever your goal and they even have male and female specific supplements to ensure youre hitting your correct macros. Great tasting, Made in the UK and cruelty free – what more could you want from your sports nutrition supplier?
 Popular Vivo Life Products Reviewed
Perform: Raw Plant Protein & BCAA
Perhaps the best selling product under vivo life's belt is their range of Plant based protein powders. Their Perform Protein Powders are of course vegan and are made with a wide range of health foods to fuel your taste buds and give you back incredible results.
There are 4 flavours to choose from:
Madagascan Vanilla (891g)
Acai & Blueberry (910g)
Raw Cacao (910g)
Salted Maca Caramel (910g)
And you can check the current price here:
Each flavour is created using Bio-Fermented Yellow Pea Protein, Cold Pressed Hemp Protein which means they are not only dairy free, but soy free too! Each flavour of Vivolife's perform contains no artificial colours, sweeteners, flavours or preservatives and each serving gives you a massive 25g protein hit.
Salted Maca Caramel Flavour:

We've tried the Salted Maca Caramel flavour to let you know what it tastes like and whether you should give it a try for yourself.
Ingredients:
Bio-Fermented Yellow Pea Protein,
Cold Pressed Hemp Protein
Pink Himalayan Salt
Plant based BCAA
Gelatinised Maca Powder
Raw Lucuma Fruit
Stevia Leaf
Turmeric extract
& Digestive enzymes.
As you can see, all natural – no nasties and 100% cruelty free protein powder.
Nutritionally, Vivo life perform Salted Maca caramel flavour packs a punch with 25g of Protein perfect for your post-workout boost or as an everyday protein supplement.
Protein: 25g
Carbohydrates: 2.4g
Fat: 0.9g
Taste:
If you've tried vegan protein before, then you're probably aware that the majority (unless soy protein) taste like crap! Seriously, they do!
BUT. THIS. IS. SO. DIFFERENT!
I was dubious, of course, I've been burnt by the "great tasting vegan protein" advertising before, so I didn't hold out much hope. But thankfully, VIVO life perform has completely changed my mind.
Vegan protein can taste great!
And this one does… I drink mine blended together with almond milk, spinach and frozen banana.
Of course, there's still a slightly gritty texture as that comes with all pea proteins, but this time it's definitely more minimal and you will hardly notice the pea-protein flavour.
What you will notice however, is the beautiful flavours of salted maca caramel. With just the right amount of sweetness, you'll discover these beautiful (and natural) flavours are the perfect blend to get your taste buds tingling.
Where to buy and VivoLife Discount codes:
The Vivolife perform protein powders are available here and you can click the button below to find out the current price. All our discount codes are listed above, for you to find and use effortlessly.
Thrive: Raw Green Superfood:

Taylored for each sex, these superfood blends contain all natural ingredients and come in a range of flavours to tantalise your taste buds. All, while ensuring you're intake of essential vitamins, minerals and probiotics are satisfied in one tasty hit.
Flavours, ingredients and nutrients:
These raw green superfood mixes contain a blend of 100% vegan and organic ingredients to support optimal health for each sex.
With flavours like:
Wild Berry
Pineapple and lemongrass
& Unflavoured
And ingredients like:
Wheatgrass,
Spirulina,
Chlorella,
Baobab
& so much more
It's easy to see why this is one of VIVOlifes most popular health food supplements.
We tried the wild berry superfood for him flavour and here's what we think:
Vivolife Thrive Wild Berry for Him
This green blend of superfood contains tons of health boosting ingredients and can be used by popping a scoop into your favourite, smoothie, juice or just about any drink you please.
Containing:
20 essential vitamins & minerals
Organic wheatgrass & moringa
Organic spirulina & chlorella
Plant based vitamin D
Organic baobab and lucuma fruit
Freeze dried blueberries & stevia extract
Gotu Kola (5:1 extract)
& a digestive health blend of 10 billion probiotics & peppermint leaf.
It's obvious that adding this supplement to your morning routine can make all the changes.
Taste:
Ok, so honestly – it's not the nicest thing I've ever tasted, but it's certainly not the worst. I tried this mixed with plain water and although not overpowering, the flavour just wasn't great. However, I generally believe this is because it's
REAL.
There are no nasty added flavours, chemicals or sweetners that are going to give this the sweet (artificial) taste you expect. It's drinkable, it's good for you and hey, maybe you'll love the flavour! Personally I didn't but I still believe the pro's outweigh the cons here.
Where to buy and do You have a discount code?
As with the protein powder – all vivo life products are available to buy here and all our current listed offers are on show above. To specifically buy the Superfood for men or the Superfood women please click the buttons below.
Why Are Vivo Life's Products Unique?
They cater for a wide range of customers with their unique blends and formulas.
Discount By Shop
Search For Promo Codes