MyProtein Protein Dessert Review
Some days you just can't face yet another protein shake. Thankfully, protein dessert is here to save the day. Whether you want it for breakfast, lunchtime or evening pudding, it's the perfect snack to spend your MyProtein discount on. And, if you're a fan of angel delight, you're in for a treat!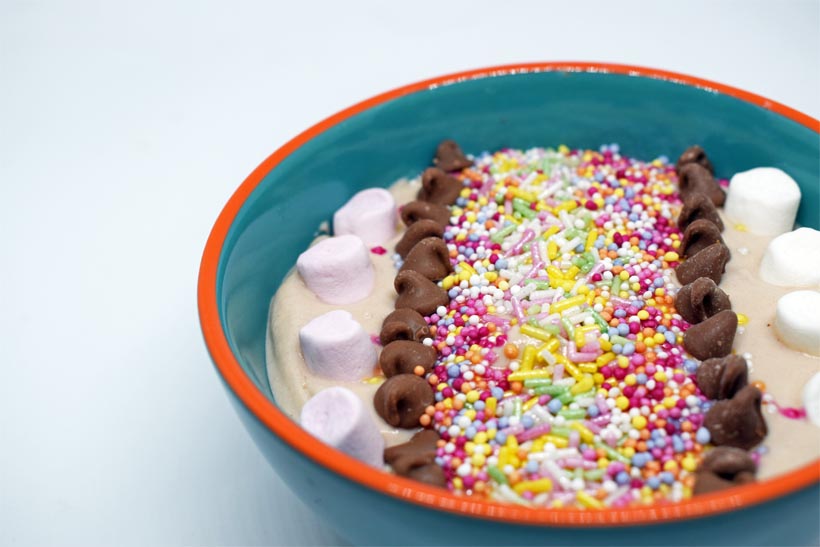 Overview:
MyProteins protein dessert is a protein powder blend, which mixes with water or milk to create a delightful, guilt-free mousse-like pudding.
Developed using a blend of:
Casein

Whey Protein Concentrate

and Egg White Powder
It's a great snack for those with a sweet tooth.
With over 30g per serving (2 scoops), it makes a great post-workout nibble. And, due to the casein, a slow release protein, it also makes a great pre-bedtime bite.
Casein protein is more effective when your body has to go for long periods without food. Unlike Whey, it's designed to release protein slowly throughout the body, preventing muscle breakdown, over a long time period.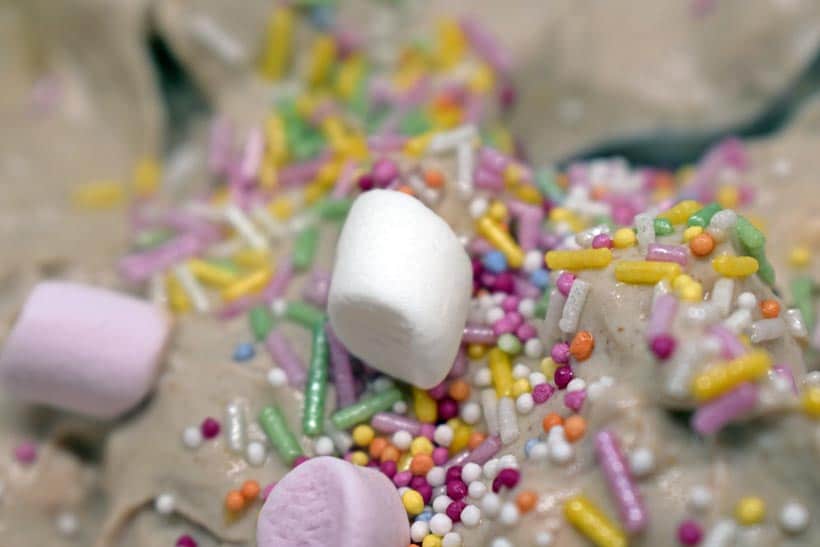 Nutrition:
The serving size is 50g, 30g of which is pure protein. Additional to the high protein content, it also contains less than 2.5g of sugar and only 3.8g of fat making the macro's look pretty damn appealing.
Macros:
Protein: 30g – 64%
Carbohydrates: 8g – 17%
Fat: 4g – 19%
Nutritionals:
Per 100g

Per Serving

*RI

Energy

1510 kJ/358 kcal

755 kJ/179 kcal

9%

Fat

7.5 g

3.8 g

5%

of which saturates

1.2 g

0.6 g

3%

Carbohydrates

15 g

7.7 g

3%

of which sugars

4.8 g

2.4 g

3%

Protein

56 g

28 g

56%

Salt

0.5 g

0.25 g

4%
It's no surprise this is described as such a healthy dessert.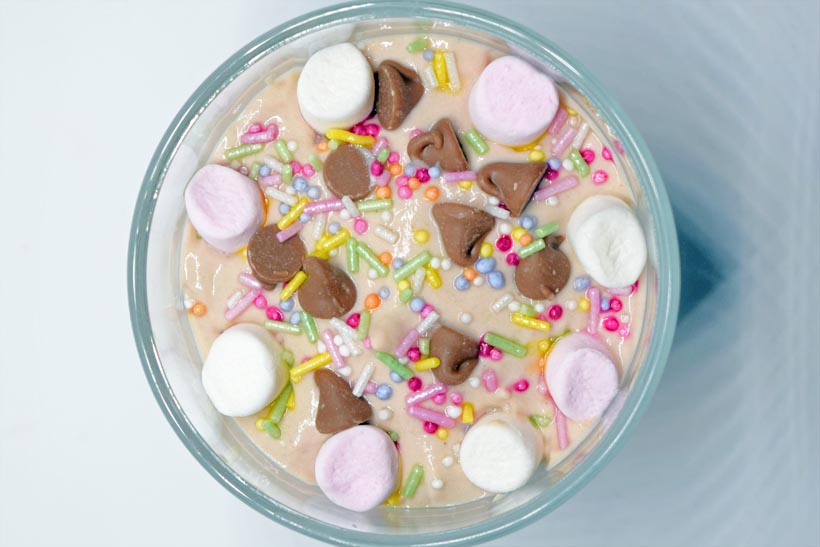 My Thoughts:
I converted to MyProteins dessert when our usual protein mousse brand decided to up their prices. Although I did love their product, I felt they were riding more on their brand and that Myprotein's, although cheaper would be pretty much the same.
It was.
The serving suggestions for this suggest mixing two scoops with water or milk and leaving it to set in the fridge. It's fine like that. BUT, I prefer mixing it with greek yoghurt and making a thick gloopy pudding.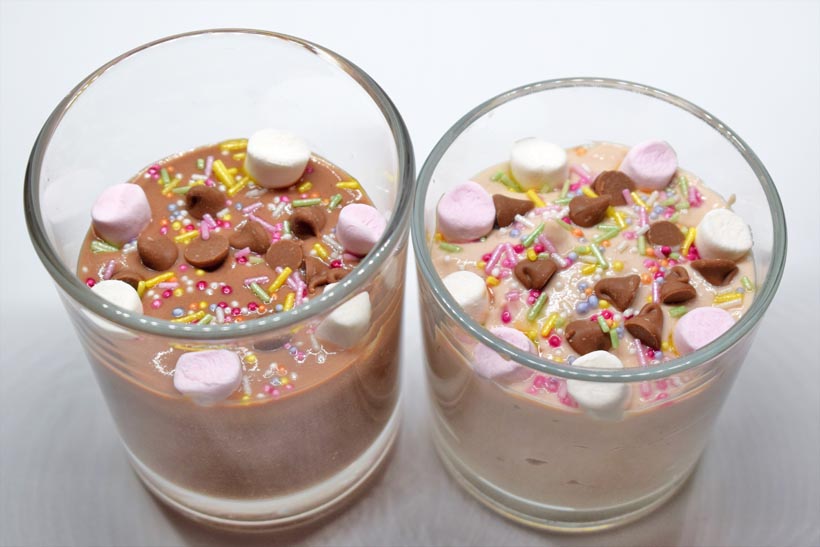 The left is made using water and powder, the right is with yoghurt and powder
That's not to say the suggested way is bad. I just think the creamy yogurt taste makes it sooooo much nicer. I also add some crunchy peanut butter to give it an even richer taste. Though this probably isn't a great idea if you're trying to lose weight.
If that's the case you should probably stick to the original suggestion, which is:
2 scoops in a shaker with 150-250ml of milk or water

Shake

Pour into a bowl and leave to set for 10 minutes +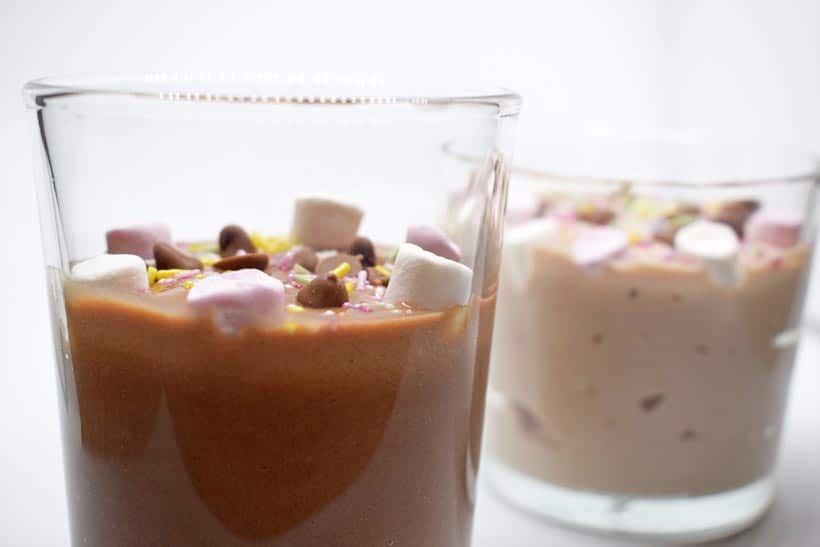 This should leave you with a lovely mousse pudding, similar to angel delight. but, make sure you don't add too much liquid because it won't set.
I currently use the chocolate peanut butter flavour which isn't as nice in mousse form as the other flavours we have tried. I definitely use that one more in yogurts, than with water.
Though, yoghurt and mousse aren't the limits – I've also used it to:
Make pancakes

In protein shakes

and create smoothie bowls
It's a pretty versatile product that can be used just the same as normal whey protein (and more…).

Price and deals:
The previous protein dessert product I used upped their prices from £10 a pack to £19 and that was only for a750g bag. To me, that is pretty extortionate especially when you use 50g a time.
**As Of Writing** MyProtein only charges £29.99 for a 1.5kg pack of protein dessert, plus they always have money off offers on to ensure you never have to pay the full price. The last time we bought this we only paid £21.59 by using the discount codes on our MyProtein page.