Musclefood Protein Pizza Review
If you're looking for a tasty treat without ruining your diet, then Musclefood have got it. Musclefood's Protein Pizza is a tasty alternative to your usual shop bought/pizza takeaway meal. Due to its high protein and low-fat macros, a slice of one of these pizzas will see you short of less than 88 calories, while a Dominos pizza slice could see you short of over 269 calories!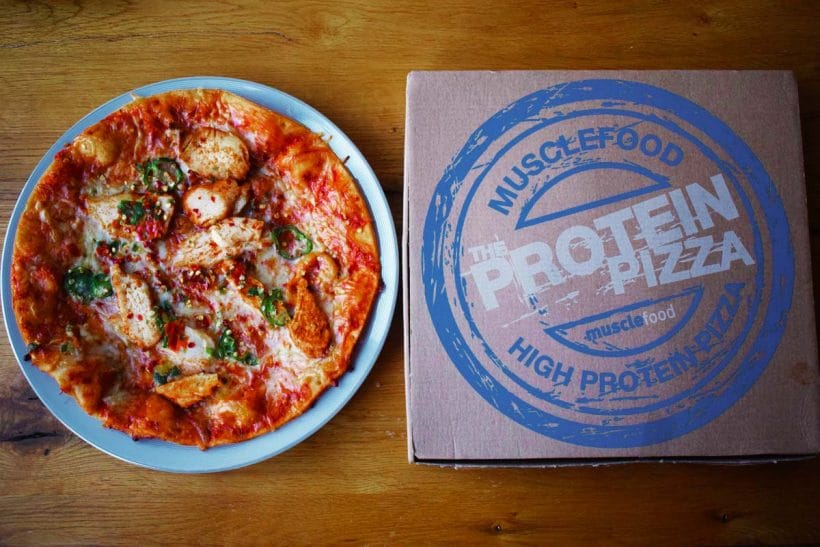 Look at it this way:

Muclefood's Hell Fire Chicken Protein Pizza (per slice)
| | |
| --- | --- |
| Energy (kj) | 314 |
| Energy (kcal) | 75 |
| Protein | 8.6g |
| Carbohydrate | 2.4g |
| of which Sugars | 0.0g |
| Fat | 3.3g |
| of which Saturates | 1.6g |
| Fibre | 0.8g |
| Sodium | 0.22g |
Dominos Medium Chicken Feast With a Classic Crust (per slice)
| | |
| --- | --- |
| Energy (kj) | 678.3 |
| Energy (kcal) | 161.1 |
| Protein | 13g |
| Carbohydrate | 18.5 |
| of which Sugars | 3.1g |
| Fat | 3.6g |
| of which Saturates | 1.5g |
| Fibre | 1.5g |
| Sodium | 0.28g |
If you've been thinking about Dominos pizza for your cheat day meals, think again. With over double the calories per slice and OVER 7times the number of carbs, your pizza could completely cripple your diet.
Because Musclefood's Protein Pizza is SO low in calories and carbs, you may be wondering just how they do it. First of all, The protein Pizza base is made from gluten-free and soy-free pea protein, which replaces the usual flour dough and secondly Musclefood use a range of nutrient filled toppings to ensure their macros are on point.
Currently available are:

Spicy Salami High Protein Pizza
The "493 Calorie" Protein Pizza
Pulled Beef Protein Pizza
Mighty Meat High Protein Pizza
Spicy Beef & Jalapeno High Protein Pizza
Hell Fire Chicken Protein Pizza
Chicken & Pepper High Protein Pizza
Hot Peri Peri Chicken Protein Pizza
Pulled Pork Protein Pizza
Lemon & Herb Chicken Protein Pizza
Ham & Mushroom High Protein Pizza
High Protein Cheesy Garlic Bread
As well as these AWESOME 12 pizza's Musclefood also have a selection of variety packs and empty bases for you to make your own.
Hell Fire Chicken Pizza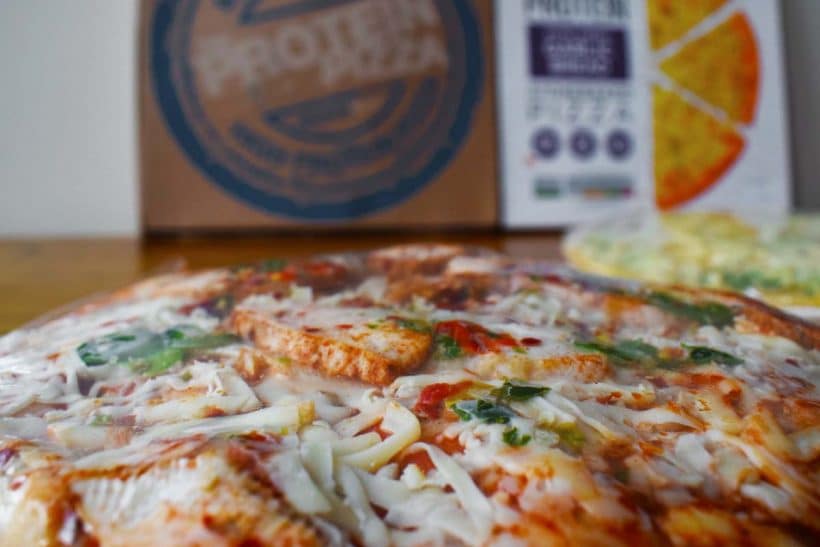 I've bought the Hell Fire Chicken Protein Pizza to try in replacement of our usual Saturday night cheat meal Pizza. We usually get a Pizza Express Pizza and a garlic bread pizza, because of the high calorie and high carbohydrate macro's in these we're hoping that Musclefood's High Protein Pizza will blow our socks off.
Value
The price of our usual cheat meal pizza ranges between £3-£5 and a takeaway pizza can range from around £7-£18 so in comparison, the £4 I've spent on the Hell Fire Chicken Protein Pizza ticks the value box with 5*****
Supermarket own pizzas may be a lower price due to their cheap manufacturing and ingredients, while Musclefood pizzas use high quality, high protein, gluten free ingredients.
Preparation and Storage
If you're going to eat this protein pizza withing 5 days then store it in the fridge until needed. Otherwise, pop this pizza straight in the freezer when received. The Protein Pizza will last in the freezer for up to a year (check the use by date).
When cooking your pizza the directions are on the box, but if you've already chucked that out in excitement then the cooking times are as follows:
12-15 minutes from fresh – middle shelf – @ 190°/gas mark 5 or 170° for fan ovens.
17-20 minutes from frozen– middle shelf – @ 190°/gas mark 5 or 170° for fan ovens
You can also defrost the pizza overnight, should you wish.
Taste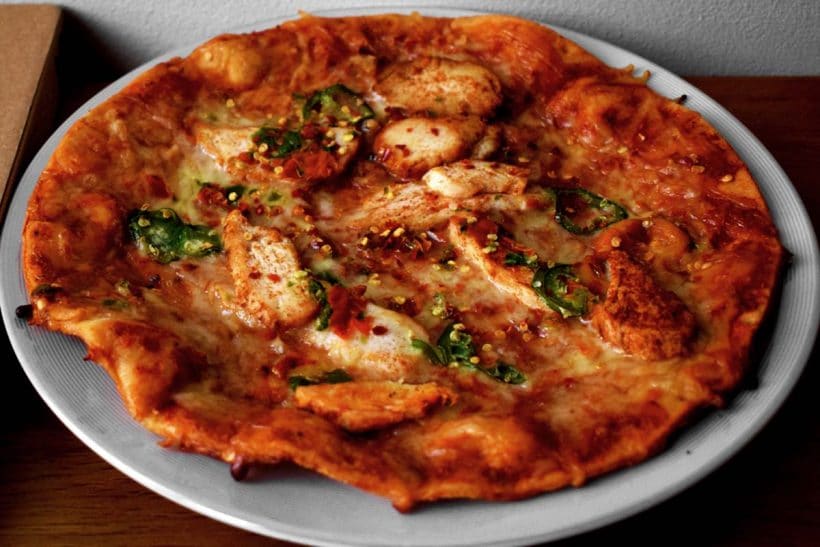 Delicious. Ok, so it's not as thick based as your usual pizza, but slightly thicker than a tortilla base. The protein pizza contains a good amount of chicken and cheese, though I felt there could have been a little bit more (but that's because I'm greedy). The hell fire chicken protein pizza was just as advertised, super spicy. Which is absolutely great for me as I love the hot stuff. You can tell just from looking at it, that it's going to be hot – It's covered in chilli seeds.
There's a definitely noticeable difference between this pizza and a normal pizza. It has a slightly powdery, lighter base, but is by no means unpleasant. However, due to it being so light, it has a tendency to stick to the oven tray, so be careful when removing from the oven.
All things considered, this is a brilliant, healthy pizza alternative and I will 100% be trying out some of the other protein pizza flavours.
How To Get Yours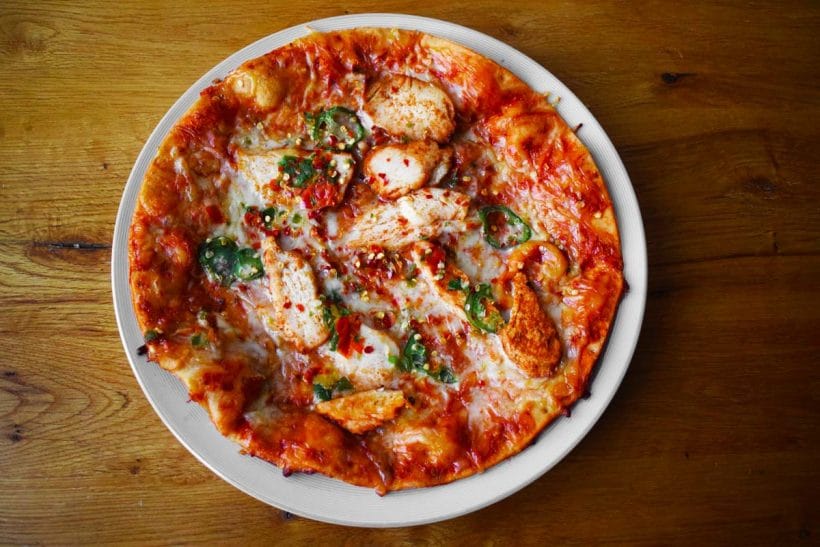 If you would like to try a Musclefood Hell Fire Protein Pizza or any of their other protein pizzas, then order yours before 7pm on Thursday to get it ready for the weekend. Musclefood deliveries are with DPD and run between Sunday to Friday, delivery is free if you spend over £75, so why not stockpile a few of the triple packs and team it with Musclefood's other meat, supplement and sports nutrition deals. If you don't want to spend that much then standard delivery is £4.95 and will be delivered by DPD–meaning you can arrange a delivery to suit you, ask the driver to leave it in a safe place, track your parcel and pick it up from a local shop.
If this is your first Musclefood purchase then don't forget to check out our guide on how to place an order and use our exclusive discount code.