Musclefood High Protein Garlic Bread and DoughBalls
They're the perfect sides to an Italian meal, be it pasta, pizza or even soup. Musclefood's High Protein DoughBalls and Protein Garlic Pizza Bread are great low-fat additions to your meal.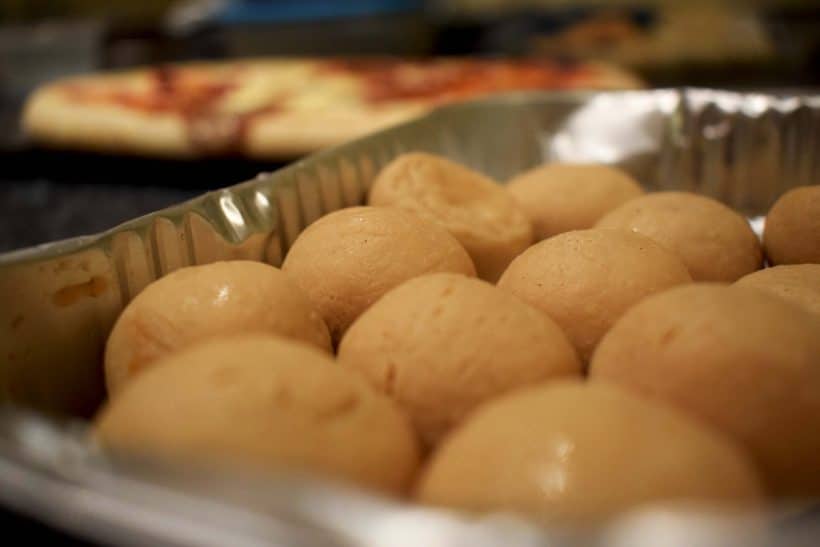 High Protein Doughballs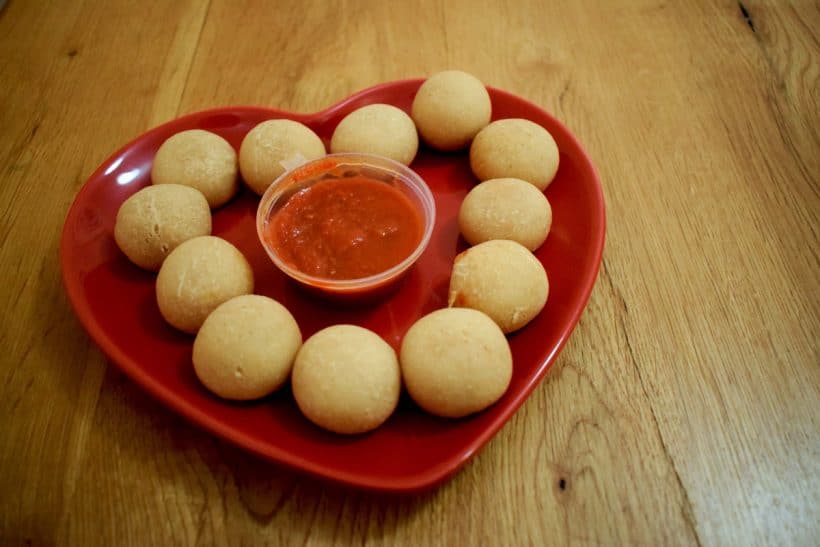 Eat them as a side, an appetiser or a snack with friends. They already come with a passata dip, but if you feel adventurous why not add some garlic butter? Due to their versatility, the possibilities are literally endless.
Making doughballs at home is pretty easy but takes a lot of time (around 2.5 hours of proving). Not only that but they are packed full of bad carbs. The same is true for shop bought mixes or ready-made packs. That's why Musclefood have ensured these doughballs are part baked. Firstly because we all love the smell of freshly cooked dough. Secondly, because nobody wants the inconvenience of baking it themselves.
Overview & Nutrition
As opposed to homebaked or shop bought doughballs, Musclefoods are low carb, thanks to them substituting flour with pea protein, which also means they are both wheat and gluten free. Certified low-fat, and Officially HIGH in natural Protein–76% MORE than a standard shop bought brand.
Per Serving
| | |
| --- | --- |
| Energy (kj) | 95.6 |
| Energy (kcal) | 22.6 |
| Protein | 2.3g |
| Carbohydrate | 2.86g |
| of which are sugars | 0.096g |
| Fat | 0.192g |
| of which are saturates | 0.024g |
| Fibre | 0.18g |
| Sodium | 0.06g |
Taste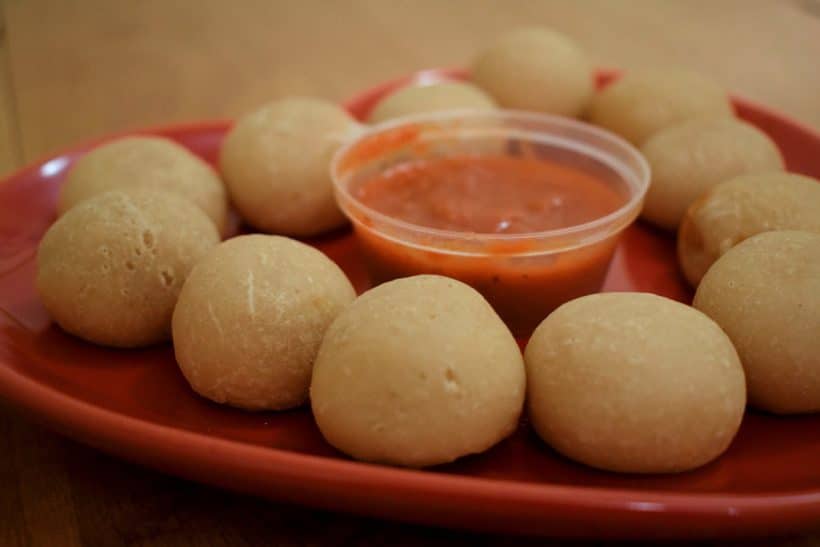 When I read that these were wheat and gluten free, I though great, these are going to taste like cardboard. Boy, was I mistaken. These little doughy balls tasted EXACTLY like a normal bread doughball would. They were bouncy enough to be soft and delicate, and the included dip was a great addition. My only complaint would be that they should do a garlic doughball alternative. As much as I loved these, I'd have killed for garlic ones.
Storage and Preparation
Unless you're going to eat these within 3 days of receiving your order, you're advised to freeze them immediately. If you plan to eat them within the 3 days, then you can keep them in the fridge, personally I'd stick them in the oven as soon as the parcel arrives–they are literally that tasty.
No prep is needed, these bad boys come in their own silver foil tray that can go straight in the oven–just remember to take out the dip first, as melted plastic's a bit of a downer. Pop them on the middle shelf on around 180 and heat for around 7-8 minutes, the doughballs should turn slightly golden and soft to touch. Make sure you don't overheat them, crunchy doughballs suck!

Value
Slightly more expensive than shop bought brands, these doughballs bring a lot more to the table. Being gluten free, wheat free and totally tasty, the extra pennies in price is compensated by the benefits. Sure, if you wanted to pay less you could get the less healthy, higher calorie, higher fat, higher carb shop bought ones, but why would you want to ruin your macros like that?
High Protein Garlic Bread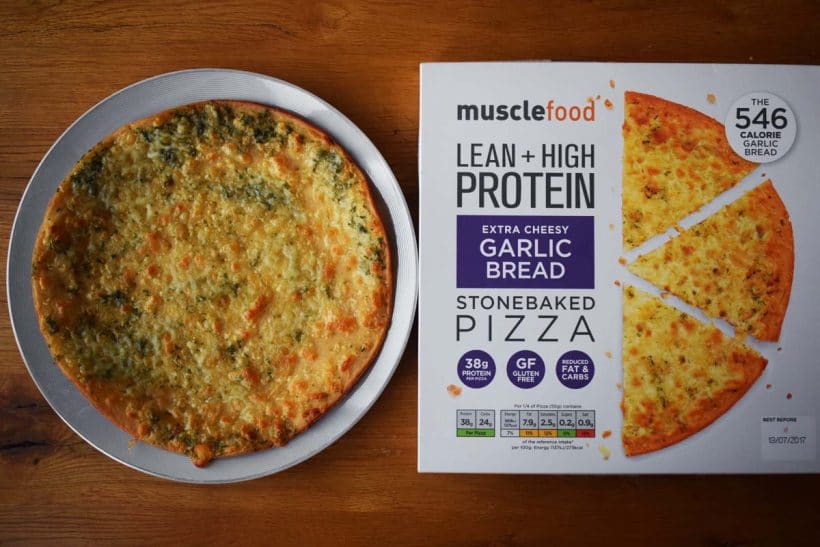 There's nothing better than the smell of garlic pizza bread cooking in the oven. The strong garlic scent flavoured with butter and cheese is phenomenal–not so much when you still smell of it the next day, but at least the vampires will keep their distance!
The issue isn't the smell, but the nutrition. Store bought Garlic bread can end up pretty calorific. In fact, our usual garlic pizza bread is a whopping 868kcals (per pizza). That's why Musclefood has developed a high protein garlic pizza bread. Using the same base as their already popular high protein pizzas, the garlic bread pizza is only 546 calories for the WHOLE thing!
The low carb, high protein content makes this the perfect snack to share with friends on cheat night.
Overview & Nutrition
This gluten and soy free, pea protein pizza base ensures the garlic bread fits in with your macros, just like the pizzas. Topped with garlic butter marinade and slathered with mozzarella cheese, proving lower calorie doesn't mean lower in taste.
With a massive 37g of protein per pizza and only 24g of carbohydrates, 4 times LESS than some store bought garlic pizza bread. Your cheat meal won't even feel like cheating.
| Nutritional Values | Per 50g Serving | Per 100g |
| --- | --- | --- |
| Energy (kj) | 569 | 1137 |
| Energy (kcal) | 137 | 273 |
| Protein | 9.4g | 18.8g |
| Carbohydrate | 6.1g | 12.2g |
| of which Sugars | 0.2g | 0.4g |
| Fat | 7.9g | 15.7g |
| of which Saturates | 2.5g | 4.9g |
| Fibre | 1.8g | 3.6g |
| Salt | 0.9g | 1.8g |
This garlic pizza bread is even a viable source of fibre!
Taste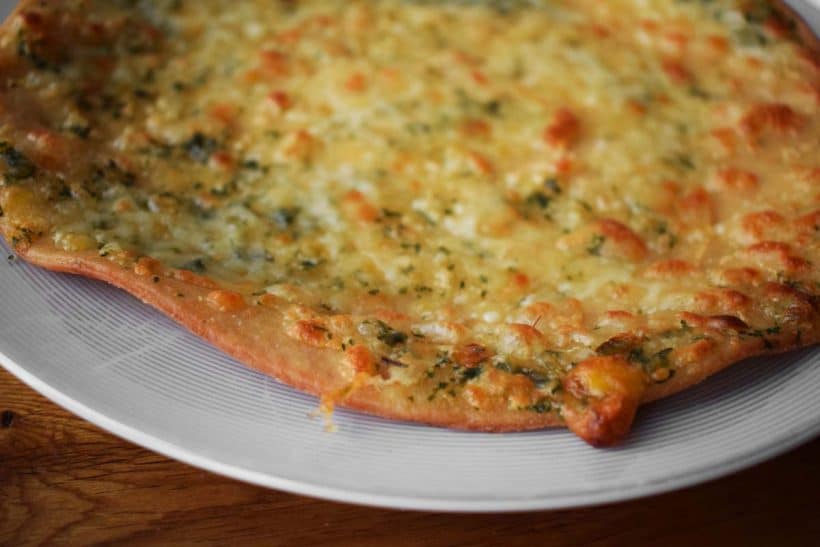 As you can see from the photos, Musclefoods High Protein Garlic Bread is quite different from your usual shop bought pizza bread. Thicker than a tortilla but thinner than your usual, the pizza base has a slightly powdery feel. Cooked to perfection, the cheese is slightly browned and crisped. The depth of flavour in this garlic pizza bread is amazing. Filling and satisfying this garlic pizza was a great way to fulfil my garlic bread needs without the guilt and shame of unhealthy shop bought brands.
We ate the High Protein Garlic Pizza Bread alongside the high protein doughballs and Musclefoods High protein Hell Fire Chicken Pizza and the trio combined made the perfect guilt-free cheat night.
Storage and Preparation
Unless you plan to eat the high protein cheesy garlic pizza within the first five days of receiving your delivery, then pop it in the freezer immediately. If not, then just keep it in the fridge. You can cook the garlic pizza bread from fresh or frozen but the cooking times will be different:
8-10 minutes from fresh – middle shelf – @ 190°/gas mark 5 or 170° for fan ovens.
12-15 minutes from frozen– middle shelf – @ 190°/gas mark 5 or 170° for fan ovens.
Value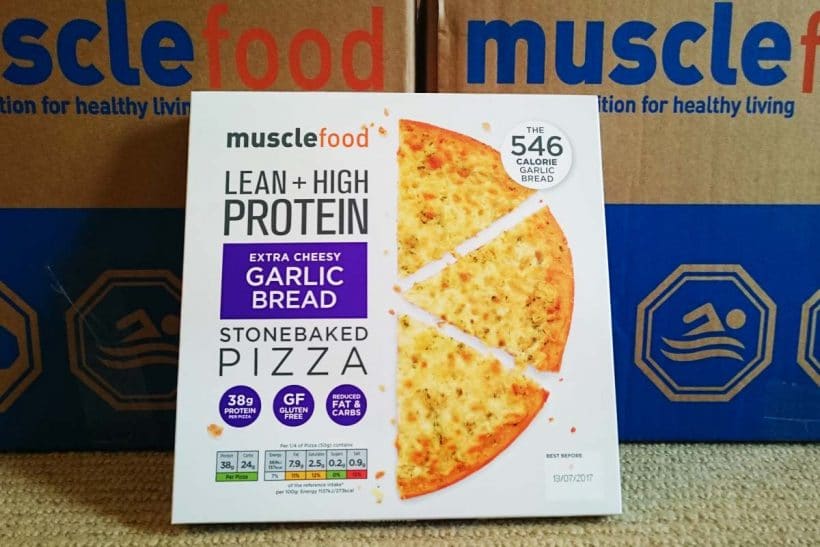 As with most musclefood high protein products, these really can't be compared to the price of shop bought products. A shop bought garlic pizza bread and Musclefoods High Protein Garlic Pizza are completely different products made with completely different ingredients. A specialist product. That's why the £3.95 price tag may seem slightly steep. But as with all Musclefood products, they have some pretty good deals, money off and flash offers so that price can be slashed. Occasionally there is an offer where you can get this high protein garlic pizza for free with your order.
How To Buy
Buying through musclefood couldn't be simpler. If you're unsure you can read our guide and take a look at our exclusive offers.
To get your hands on The High Protein Garlic Pizza Bread or The High Protein Garlic Doughballs then head to musclefood and fill your basket. Deliveries cost £4.95 but are free if you spend over £75 – so if you have freezer space why not stock up on these pizzas and doughballs. Alternatively, you could take a look at musclefoods popular meat hampers.