Musclefood Exotic Meat Taster Review
Our tried and tested review
Spending an entire week eating burgers is an absolute dream for many people, myself included. As someone who could literally eat them every day, this was one review I was definitely looking forward too. Thanks to Musclefood and their Exotic Meat Taster I spent the week eating a range of unusual, lean meats such as Kangaroo, Crocodile and even Ostrich.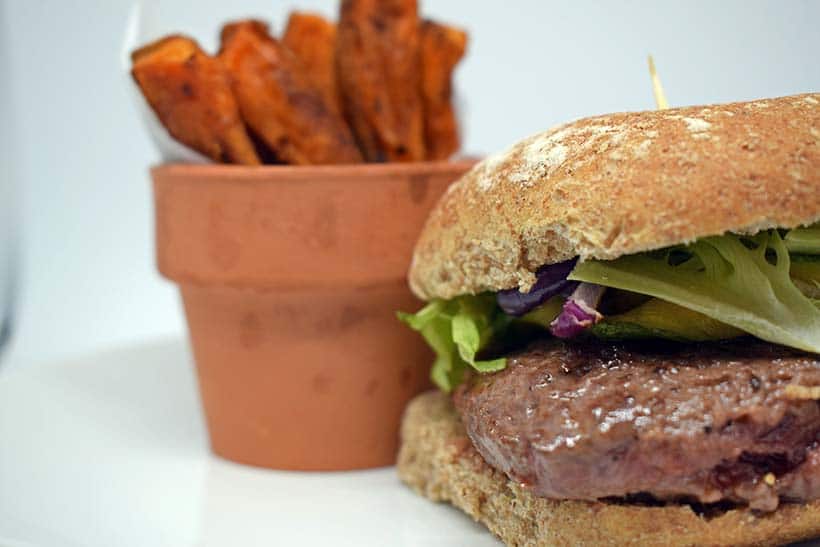 This hamper is one you don't miss out on. Here's the lowdown on exactly:
What The Exotic Meat selection is
What Is included
How it all tastes
What you need to know
The price
And how you can get an amazing deal with Protein Promo
What is it?
The exotic meat taster selection is a Musclefood hamper packed with burgers and steaks. But, It's not your usual beef rump & hamburgers. It's filled with "Exotic" meats. From Buffalos to Kangaroos, ostriches and wild boars, this selection contains a seriously unique and tasty choice.
What's in the Exotic meat selection?
2 lean crocodile burgers
2 buffalo, tomato and basil burgers
4 extra lean kangaroo burgers
4 wild boar and apple burgers
and 2 ostrich fillet steaks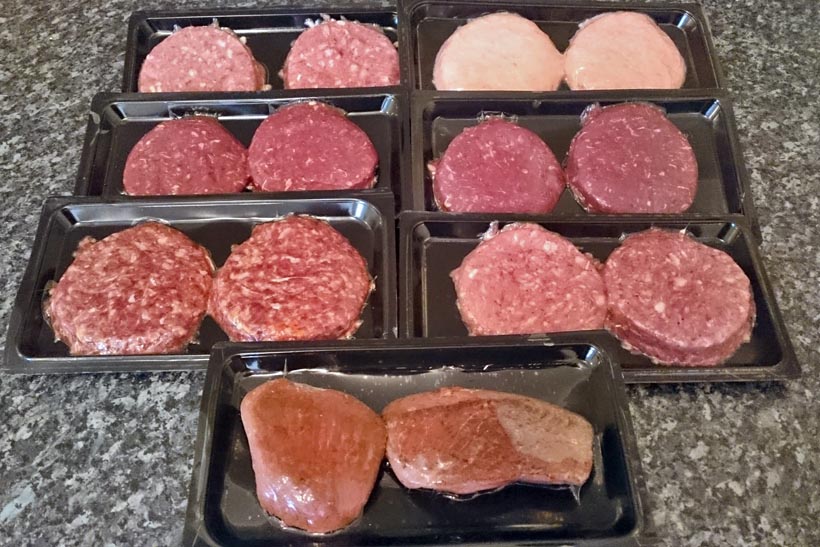 If like me your curiosity gets the better of you, then you're not going to regret it. With 12 pieces of meat, this beautifully tasting protein packed selection costs just £14. That's right, less than £2 for each piece of meat. PLUS if you're Using our exclusive £5 off discount code it's just £9. Making each item JUST 75p EACH.
Overall Hamper Review:
This hamper is an excellent choice and so well priced. I haven't tried any of the meats before this, so I was shocked to discover that they are all unbelievably tasty. The meats are all easy to cook and only need a simple fry for a few minutes each side. The ostrich even comes pre-cooked.
My only gripe is to do with the shelf life. The products have been previously frozen so if your package arrives defrosted you cannot refreeze it. Musclefood do suggest that some packages arrive still frozen, however, ours didn't.
Due to the shelf life issue, we spent Wednesday to Saturday eating just burgers for lunch and dinner. Not that I'm complaining. Eating burgers is definitely not something to complain about. Especially these burgers.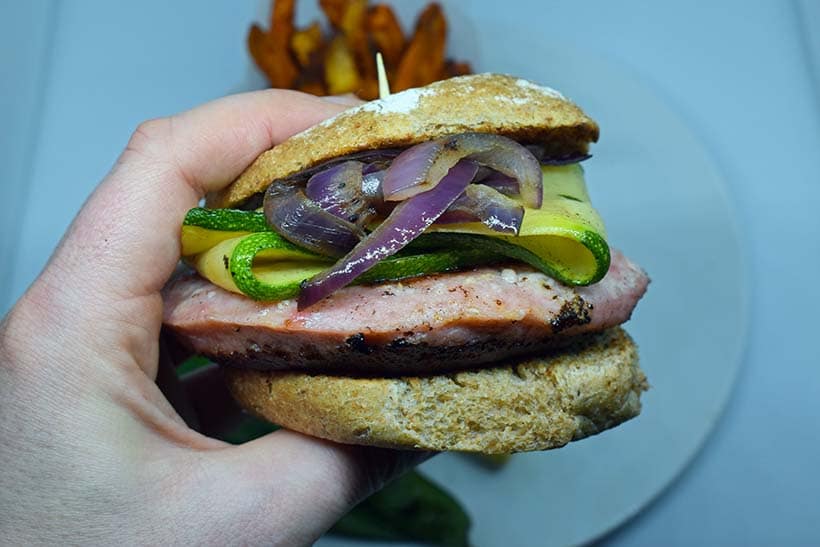 Below, I've individually reviewed each item in the hamper so you can make a well-informed decision on whether to purchase the whole hamper or just try out a few products individually.
I will definitely be buying this Musclefood hamper again as I have been more than impressed with the contents.
Prices and deals:
Buying this hamper is a lot better value than buying the products individually. Spending your money on a £14 (£9 if you use our exclusive discount) hamper would save you over £9 than if you were to buy each product alone. We created this website to help people like you save money, find the best deals and get good, quality, protein-packed products which is why our discount page is filled with up to date Musclefood deals and exclusive voucher codes, including our exclusive £5 off – helping you to get loads more for your pennies.
What's in the box
Wild boar and apple burgers:
Starting off my week of burger appreciation we decided to dig straight in with the Wild boar and apple burgers. Working in France I spent a lot of time in close proximity to Boars, one particular. His name was Barry and he was an absolute nightmare. He spent many nights rooting through bins, ripping up towels and scaring people into hiding. If I'm honest, the thought of eating a Barry, was rather satisfying.

Taste:
These burgers are exactly what you're looking for to make summer bbq's an absolute winner. Juicy, deliciously plump and meaty. There's no faulting them. Expecting a porky taste? You'll be pleasantly surprised. With fruity apple tones and a nutty, almost steak-like tasting bite. These really are incredibly tasty.
Macros per serving:
Protein – 21.6g
Carbohydrate – 6.5g
Fat – 19.5g
How to cook: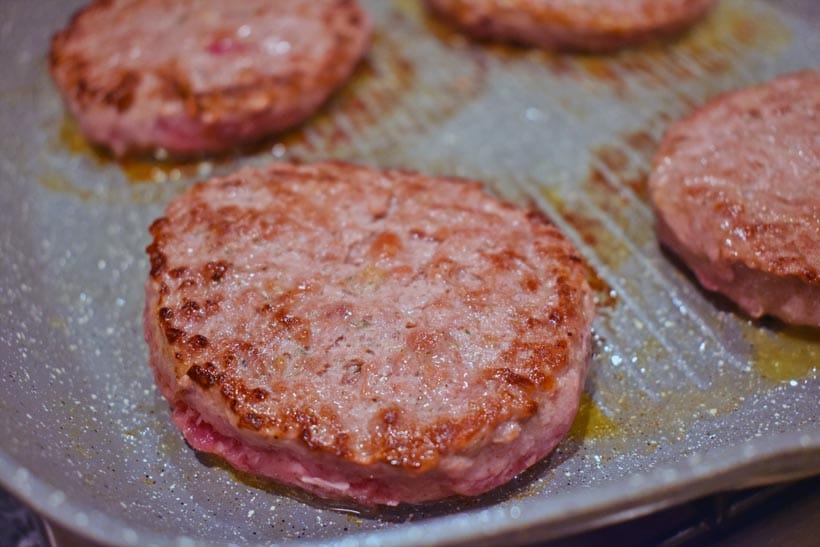 Depending on how you like your burgers cooked, we're recommending a good four minutes, each side, frying over a medium to high heat for the perfect medium cooked burger. You're then free to start teaming it up with the sides of your choice. We chose sweet potato fries, seeded baps, a touch of veg and a leafy green side salad.
Extra lean kangaroo burgers:
If you're following a slimming/diet plan then these burgers could definitely enhance your menu. They are completely syn free, for slimming world members. And thanks to their leanness they make the ideal treat, without ever actually having to cheat.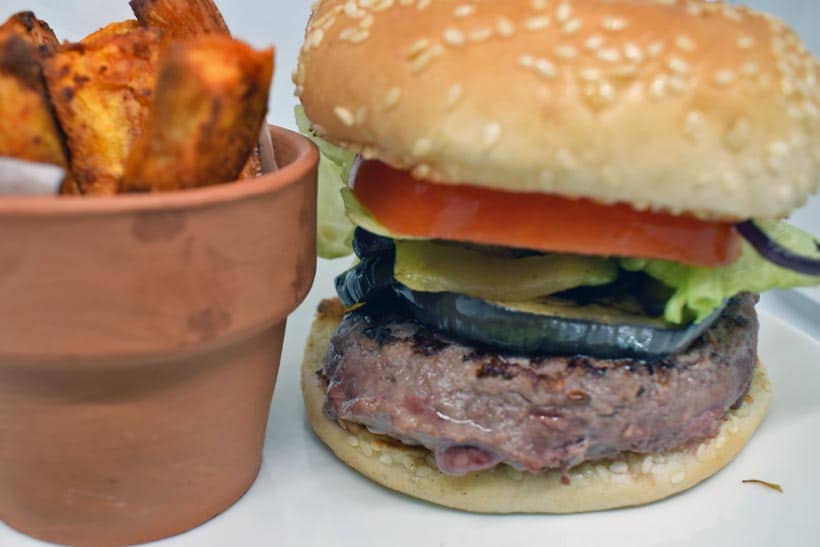 Kangaroo is renowned for being one of the healthiest meats. It's lean, packed with iron and brimming with protein. Musclefood extra lean Kangaroo steak burgers are:
Sourced in Australia
EU certified
free range
Hormone and Stimulant Free
Approved by the Australian Heart Foundation
Taste:
I wasn't looking forward to these. Lean usually means bland and tasteless. But, not these. Tasting very similar to a normal burger, they have a richer more expensive flavour to them. And, you won't believe how tender and succulent they are until you try them. I preferred them more than my partner who feels they are slightly over-seasoned.
Macros per serving:
Protein – 20.6g
Carbohydrate – 4.2g
Fat- 2.4g
Cooking tips:
Fry these on a preheated griddle for around 4-5 minutes each side for the perfect medium rare burger. I managed to undercook mine of the first attempt, so it's worth just double checking before serving. I also wouldn't bother seasoning these up to cook as they're tasty enough as they are.
Lean crocodile burgers:
These were the lightest coloured burgers in the pack. They look quite processed and a bit like a tinned pork shaped into burgers.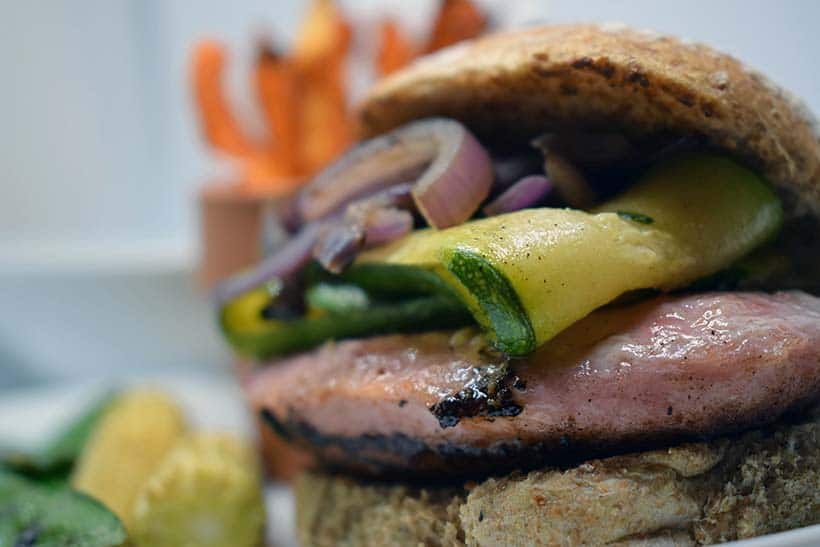 Crocodile is possibly one of the most unique types of meats I've ever considered trying (except for insects). I'm sure there are not many other types of meat which we eat, that also like to eat us. But, with them being so lean and full of protein it's no surprise really that Musclefood "snapped" these burgers up.
Taste:
Deliciously odd. At first I wasn't even sure if they were cooking properly as they didn't seem to change colour. They just stayed in between A white/pink tone. Unsure if I was about to give myself food poisoning biting into the burger, I was pleasantly surprised by the flavours.
Crocodile tastes like a mix between poultry and subtle shellfish. It's such a strange flavour, but not overly ocean like. It was very tasty and luckily, didn't give me food poisoning. I will definitely be trying them again.
Macros per serving:
Protein – 16.7g
Carbohydrate – 8.3g
Fat – 9.7g
How to cook:
Musclefood advise customers to place them on a pre heated grill pan or bbq and heat on medium to high for around 10 minutes. Although, as they don't seem to change colour much I'd cook them a little over the ten minute mark just to be on the safe side.
Buffalo, tomato and basil burgers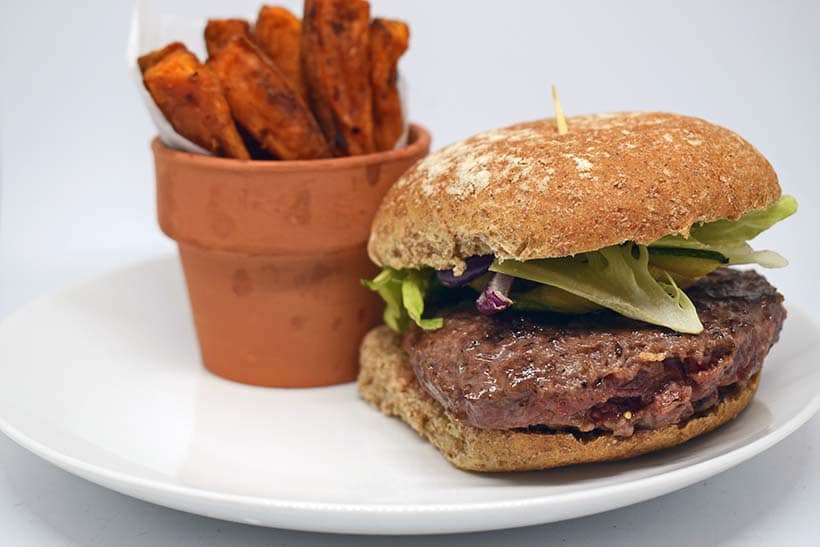 For the weeks finally we saved the buffalo burgers. They're developed by a Great taste Award Winning supplier and made using some of the finest ingredients.
We had high hopes about these as we've heard so many people discussing them and Musclefood are currently expanding their buffalo meat section to include products like:
Lean Diced Buffalo Steak
Low Fat Buffalo Sausages
Buffalo Meatballs
It must be good if there's a demand for more, right?
Taste:
Although slightly fatty in places these are very tasty burgers. flavoursome and tender the only let down was the small fat pieces. But, this wouldn't stop me buying them again. They're especially great for some summer bbq action.
Macros:
Protein – 17.9g
Carbohydrate – 2.5g
Fat – 15.7g
Cooking tips:
These are very similar to the boar burgers to cook. Cook for 4-6 minutes on each side and leave to sit for a few minutes before plating up and serving.
Ostrich fillet steaks:
It's slightly confusing that this hamper is all about the burger life, until you get to these ostrich steaks. I'm not complaining, I love steak almost as much as I love burgers and pizzas.
Ostrich steaks has recently gone on sale at ALDI so I've been told by loads of people I "have" to try it. But why spend more than I should in ALDI when I can but them for 75p each on Musclefood?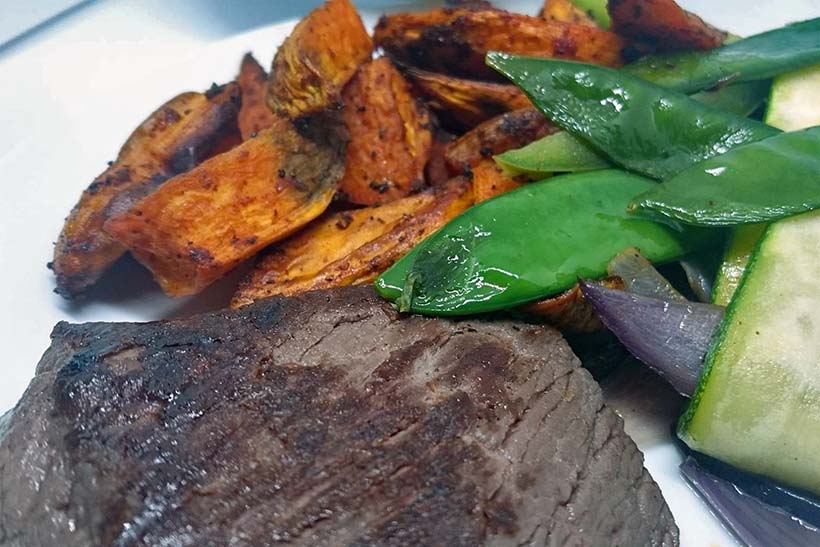 Taste:
To comply with European import laws the ostrich steak comes ready cooked. So if you like your meat pretty rare you're not in luck. That doesn't mean it will be well done, a quick 1-2 minute fry on each side to heat it up leaves you with the perfect medium steak.
Before heating, the steaks look quite tough and chewy but after tucking in I soon realise that's not the case. Really tender and flavoursome I now understand why everyone is raving about these steaks.
Comparing it to a normal beef steak and the flavours are pretty similar. The big plus for Ostrich though is that it's basically just protein and the macro profile is excellent.
Macros:
Protein – 28.8g
Carbohydrate – 0.6g
Fat – 2.1g
Cooking tips:
As these are pre-cooked they really only need to be popped on the grill pan for around a minute each side just to ensure the meat is heated through.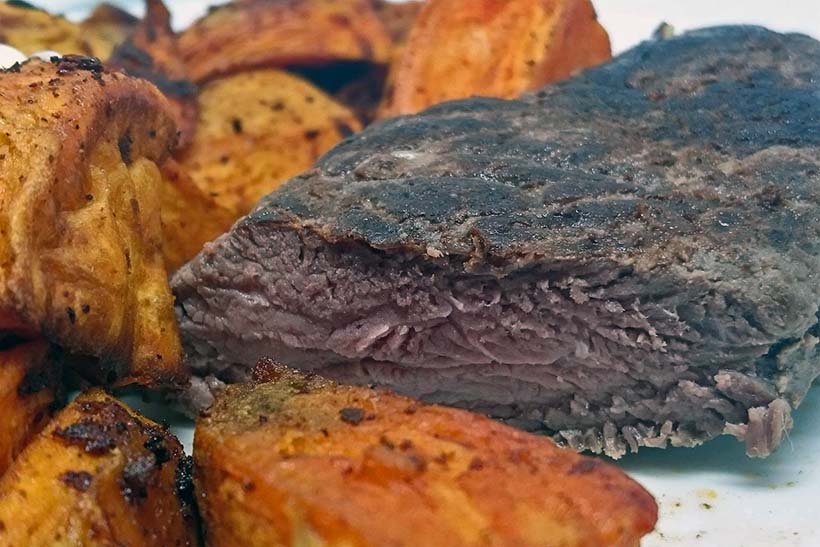 I want to buy it!
Buy the Exotic Meat Taster hamper from Musclefood today for JUST £9 using our exclusive £5 off voucher code. We will only recommend products we truly believe to be of great value to our readers, this is to maintain our integrity and also ensure we are giving our readers exactly what they want and need. So believe me when I tell you that this hamper is the absolute shiiizzzz. I know you won't disagree.