Muscle Food Premium Chicken Breasts and Fillets Review
Perhaps one of Musclefood's most well-known products is the bulk bags of chicken. Bodybuilders buy it for the protein, Slimming worlders buy it for the leanness but undeniably EVERYBODY buys it for the value. Surprisingly better value than even Aldi and Lidl, Musclefood have really taken the chicken world by storm with this.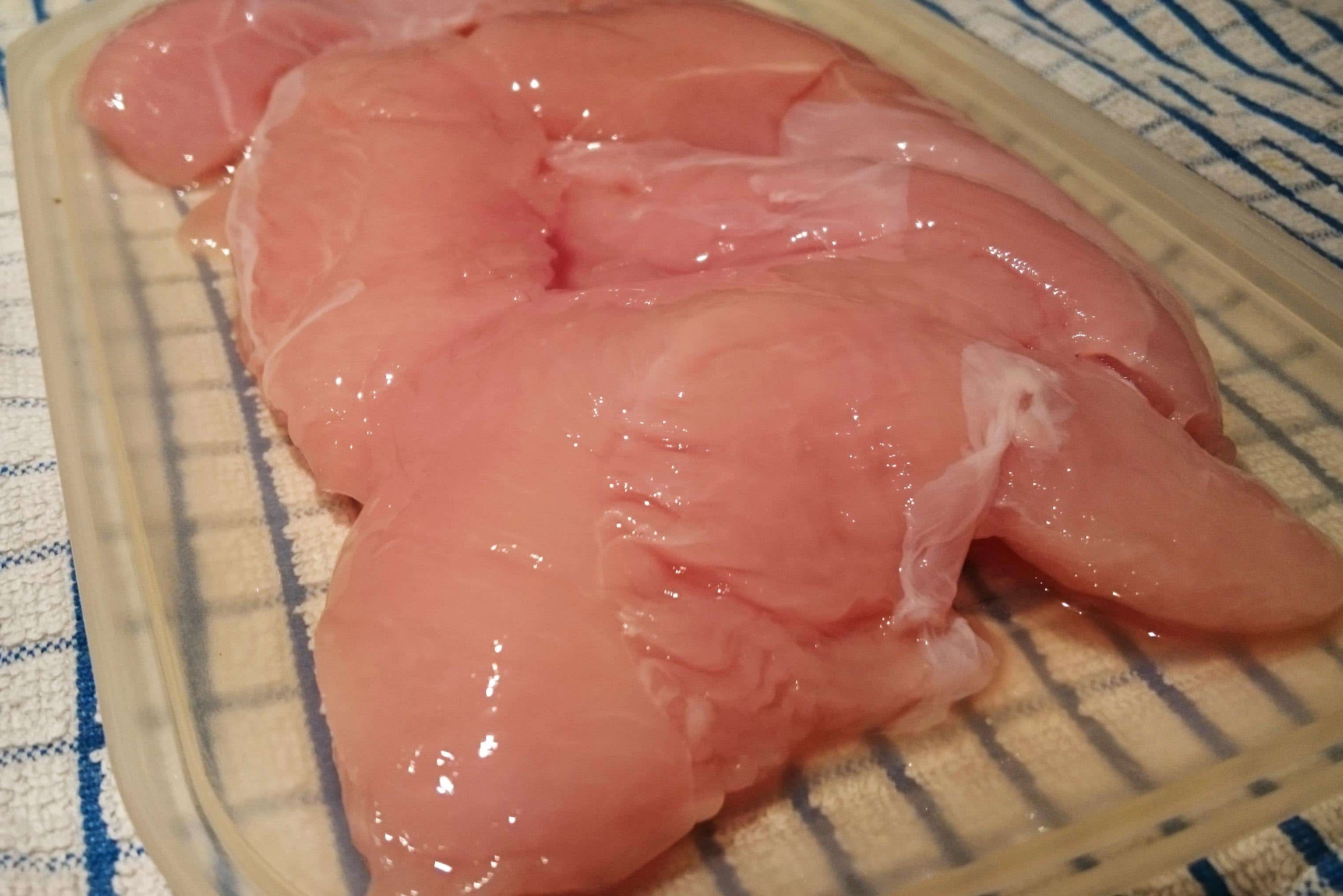 Chicken Breasts
For only £25 you can buy a 5kg bag of fresh chicken. However, you'll find, by checking our offers regularly we get an EXCLUSIVE "5kg for £19" offer – pretty often. So it's one to keep your eye on. That's £3.80 per KG which is a similar price as Aldi's frozen chicken – but remember a lot of the weight from Aldi chicken is from the ice glaze, which Musclefood chicken doesn't have. As a keen money saving shopper, I've never found anywhere better value for chicken than Musclefood.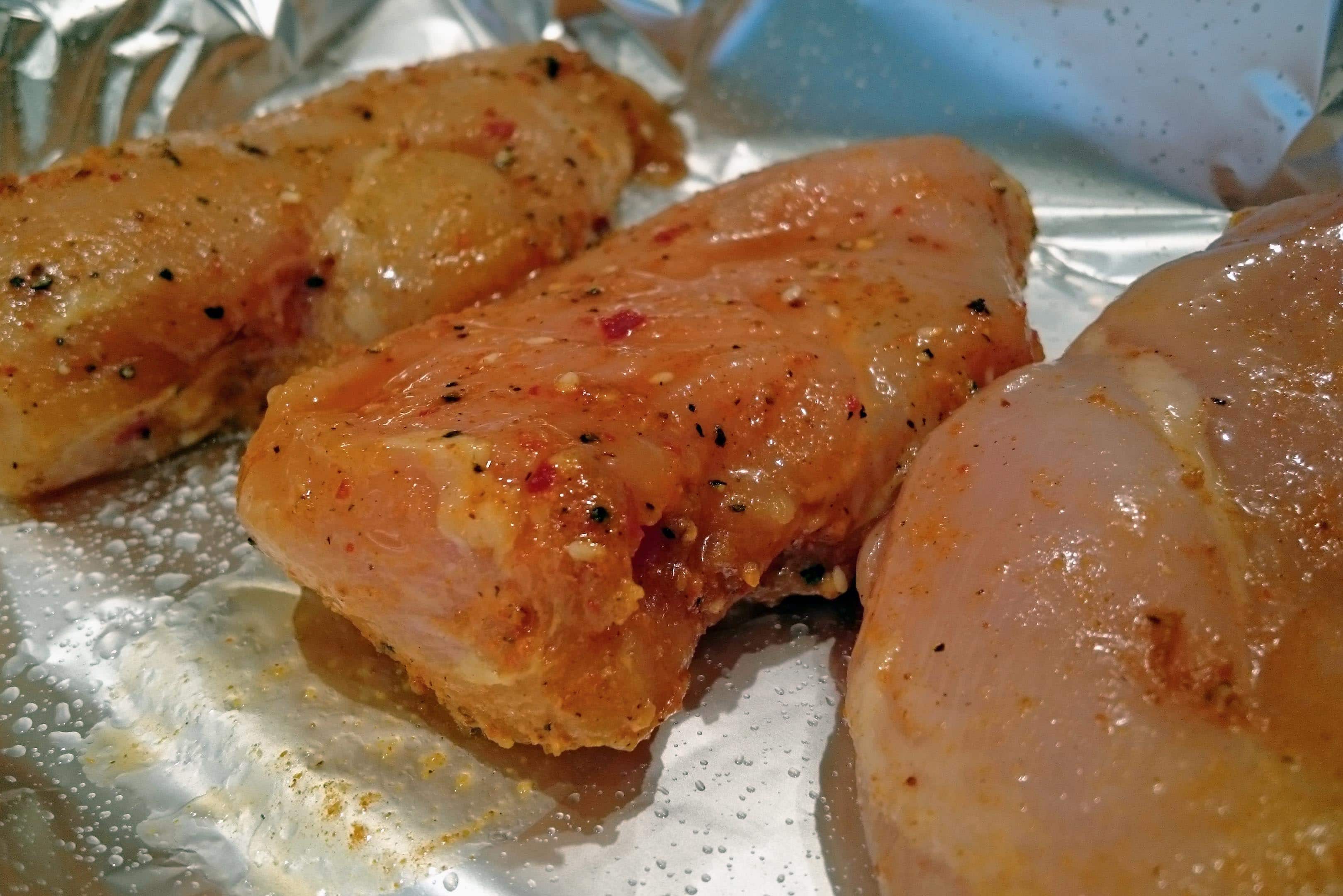 Overview and Nutrition
All the chicken breasts come from cage-free chickens which are reared in large, open space and are at least 56 days old, due to this they are much larger than standard battery chickens. Another bonus is that they contain no added salt or water and the butchers remove excess fat and blood spots before packaging so you only get pure breast meat.
| Active Ingredient | Per Serving | Per 100g |
| --- | --- | --- |
| Energy (kj) | 826.0 | 413.0 |
| Energy (kcal) | 194.0 | 97.0 |
| Protein | 44.0g | 22.0g |
| Carbohydrate | 2.40g | 1.20g |
| Fat | 0.8g | 0.4g |
| of which Saturates | 0.2g | 0.1g |
| of which Monounsaturates | 0.2g | 0.1g |
| of which Polyunsaturates | 0.2g | 0.1g |
| Sodium | 0.13g | 0.065g |
Also, Musclefood won the Great Taste Award in 2014 – so that really says it all.
Value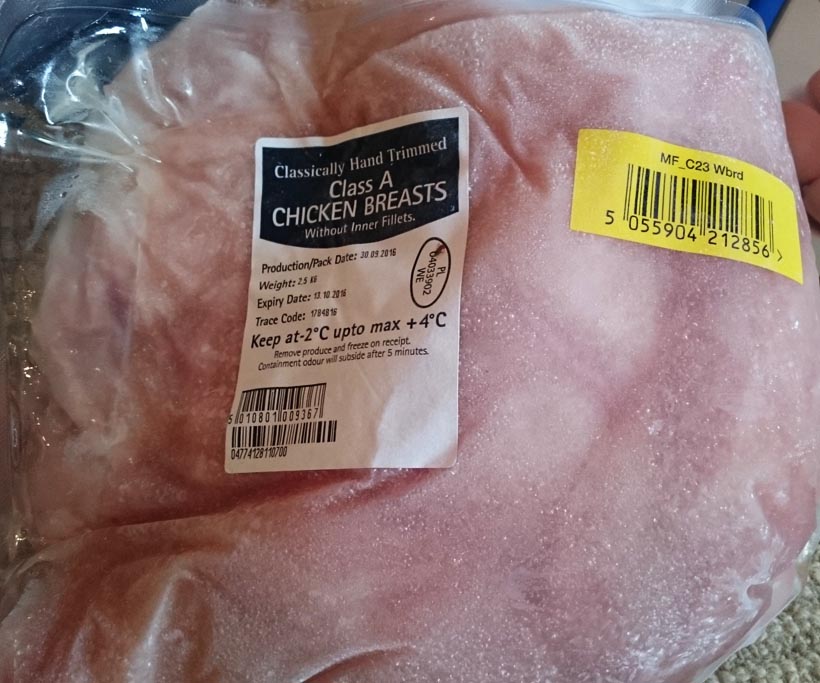 As I've already mentioned (like a hundred times) It's EASILY the best value chicken out there – unless you have your own, that is. With the 5kg packs, you're looking at around 25 breasts at 200-250g – which, depending on how many you eat per meal could last you WELL OVER a month! Much better offer than the supermarket packs which usually contain tiny breasts, meaning you need around 4 to fill your plate.
Quick Tip
Everyone knows that once chicken is defrosted it cannot be refrozen (if you didn't, now you know). Well, make sure if you are planning to freeze the chicken to separate it into easily manageable freezer bags otherwise like me you will be defrosting the whole 5kg and batch cooking it all….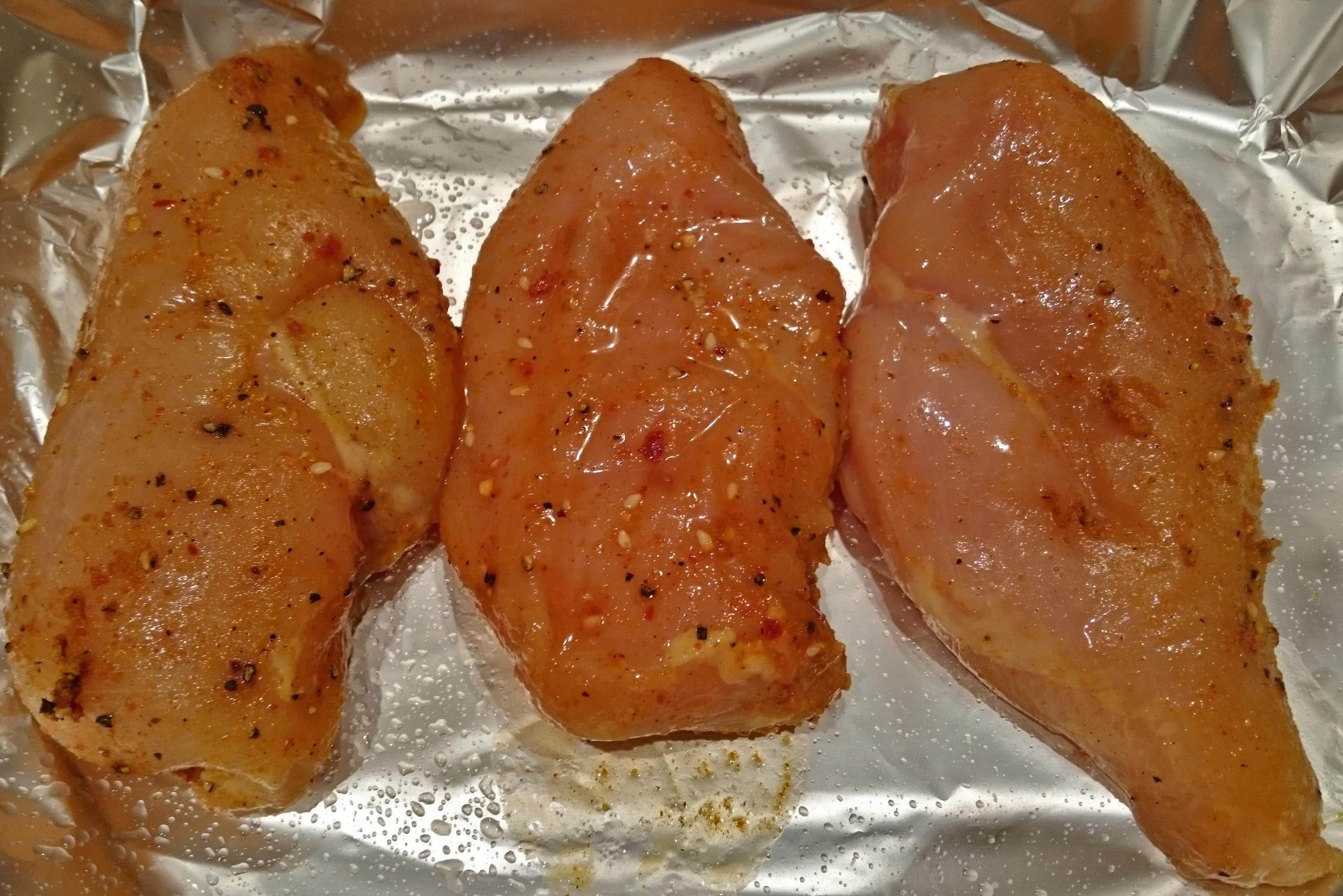 Taste
I can definitely tell the difference between this chicken and my usual frozen Aldi chicken. When I slice the chicken, there is a perfectly clean cut, whereas Aldi chicken leaves me in a tangled mess of goo and fat. There is noticeably less fat and blood (pretty much none) on the chicken breasts AND they are gigantic! When I say Gigantic, I really mean it. For 2 meals for 2 people I would normally use 5-6 Aldi chicken breasts, with Musclefood I used 3! seriously, THREE! I noticed the chicken is slightly firmer when cooked than my usual chicken, I think this is because Musclefood doesn't inject their breasts with water to pump them up like many supermarket retailers. In addition, the chicken breasts hardly shrink and there's none of that icky white stuff like the supermarket breasts. It's wholeheartedly the BEST option if you're looking for low cost, great value, award-winning, premium chicken.
Mini Chicken Fillets
There's nothing better than pre-diced chicken to save the mess and squishiness of chopping. Whether it's Mexican fajitas, bbq skewers or a Chinese style meal then these Mini Chicken fillets from Musclefood are a great option.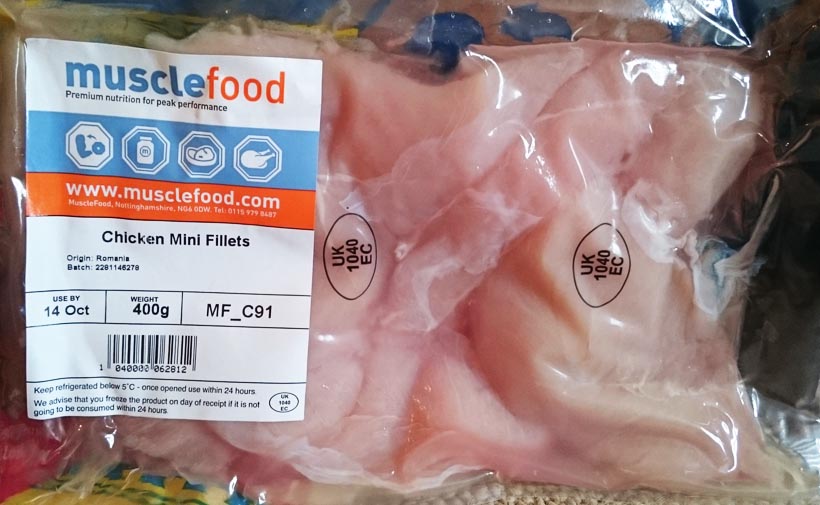 Overview and nutrition
Just like the normal chicken breasts these mini fillets have absolutely no added salt or water. You are literally getting pure plump poultry.
| Active Ingredient | Per 100g |
| --- | --- |
| Energy (kj) | 413.0 |
| Energy (kcal) | 97.0 |
| Protein | 22.0g |
| Carbohydrate | 1.20g |
| Fat | 0.4g |
| of which Saturates | 0.1g |
| of which Monounsaturates | 0.1g |
| of which Polyunsaturates | 0.1g |
| Sodium | 0.065g |
Save time on the chopping without losing the nutritionals.
Value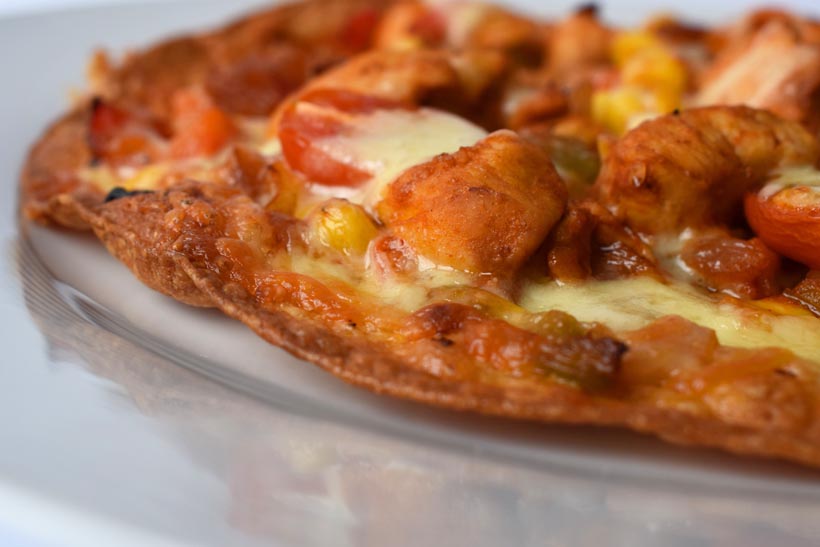 a 400g pack costs £3.50. That's two 200g servings. Not as competitively valued as the normal chicken breasts, but what do you expect with the added speed and convenience these give you. For their great quality meat, pre-chopped and removed of any excess fat, then you're going to have to compromise on something.
I know I'd rather spend less time in the kitchen chopping and more time eating.
Taste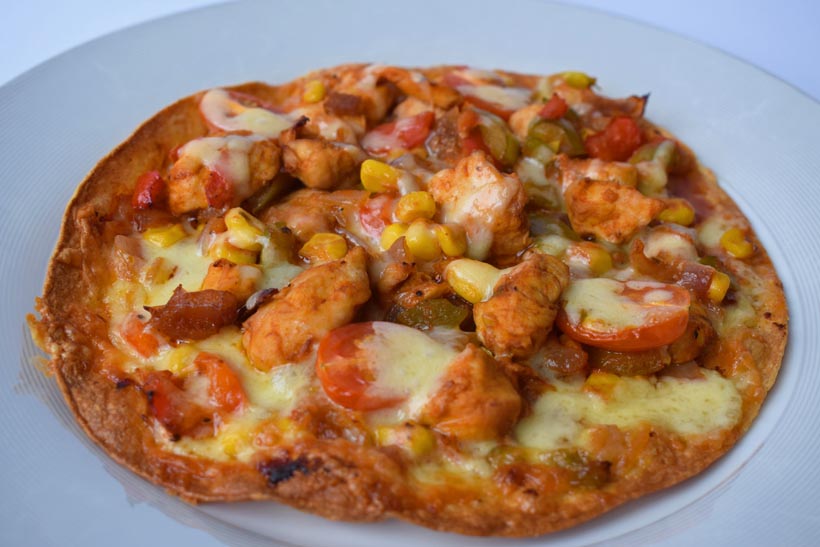 The mini fillets taste the same as the normal breasts, although maybe slightly more tender. They are the perfect size to cook and add to a sandwich or salad. I decided to chop them further and use them to top my tortilla pizza. Teamed with some onions, peppers, sweetcorn, cheese and Musclefoods low carb tortilla's these chicken fillets made the perfect meaty topping.
Storage
The chicken arrives in usual musclefood fashion, wrapped in a cool bag packed out with ice packs. If you are using it within 3 days then feel free to leave it out the fridge, if not then freeze it on the day of purchase and once defrosted DO NOT RE-FREEZE.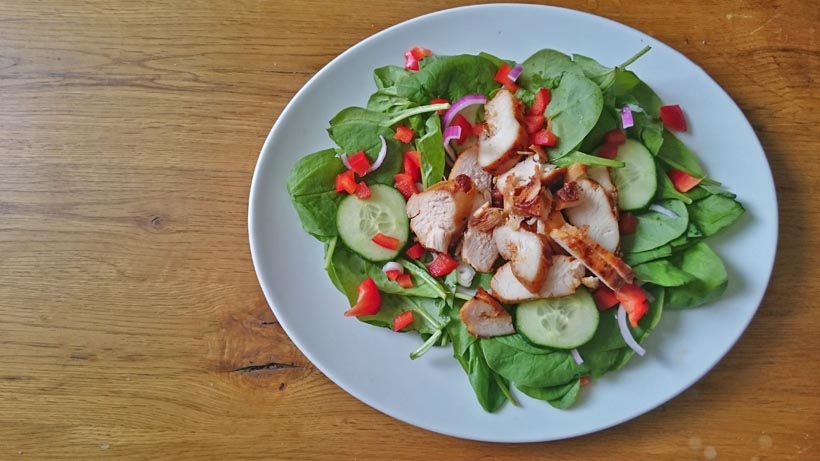 Chickens should be removed from the packaging at least 30 minutes before cooking due to Gas Flushing, A process used by supermarkets to keep products fresh. On larger products (above 500g) it has a slightly sulphuric smell, it doesn't affect the meat and does disappear after a short period.
The chicken is also vacuum packed so may take a little while to regain normal size.
How To Buy
You can buy the 5kg of chicken breasts and the mini fillets both from musclefood. Don't forget to check out our offers to get the best deal and keep an eye out for the £19 offer. Musclefood deliveries are through DPD and cost £4.95 or free if you spend over £75, so make the most of it and bulk order LOADS of meat – That's what we do to save money.