MuscleFood British Beef Meatballs Review
Wether you eat it as a solo dish, or with your spaghetti bolognese, you can't deny the tastiness of Meatballs. British Beef Meatballs to be precise. Whether you like your meatballs big and juicy. Or, you like them small and pert. Musclefood has the answer to your Meatball needs.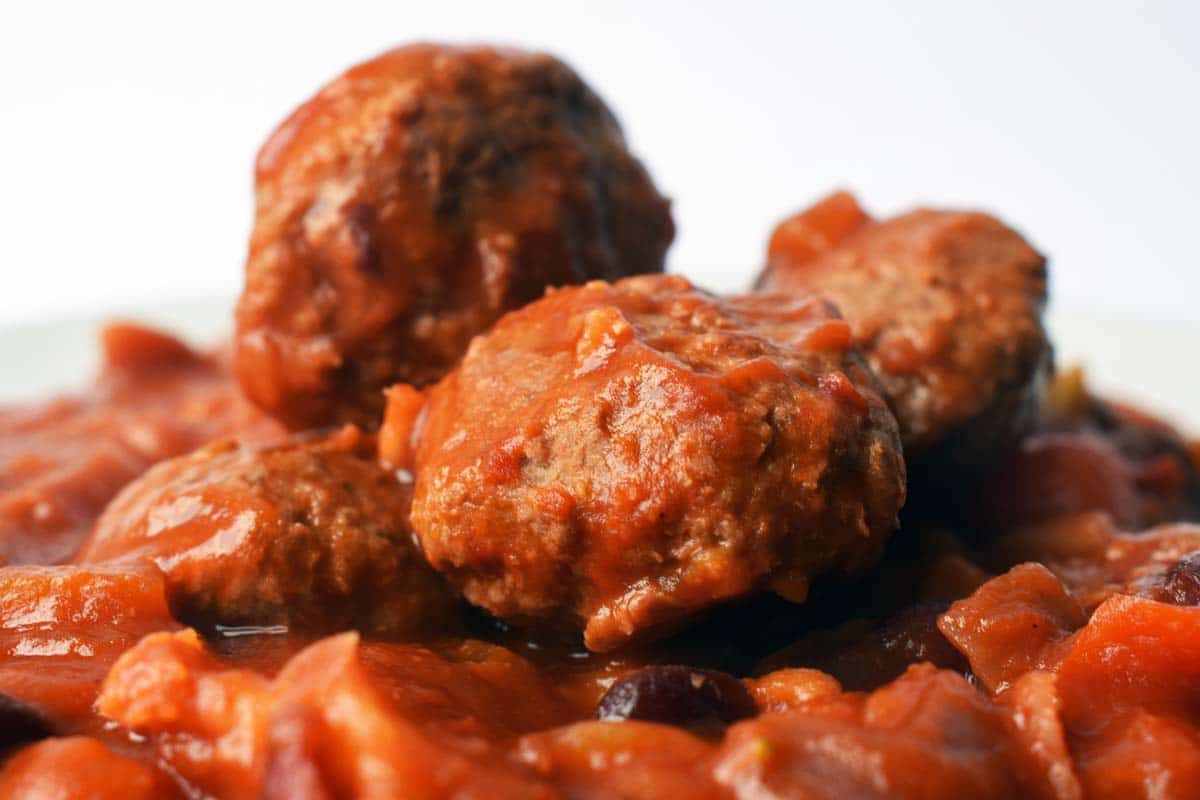 Good value?
We've brought MuscleFoods 400g British Beef Meatballs for £4.95. Sure, you may be able to head to Ikea and get some Swedish meatballs cheaper but the cheaper price most likely means cheaper quality. Musclefood prides their British Beef Meatballs on being made with 100% steak trimmings and without the usual nasty rubbish found in store bought meatballs. Believe it or not, shop bought meat can be less than 50% meat usually bulked out with fat and connective tissue. Not a nice thought, right?
Therefore, we think the value of these is pretty spot on. PLUS Musclefood usually has great deals (which you can find on our offers page) on their meat products, especially if you find them a part of a meat hamper.
Overview and Nutritional Information
Using 100% grass fed meat from Great British beef these meatballs are free-range and gluten-free. With a massive 3.8g of protein PER MEATBALL, that's an incredible 75.6g of protein per pack. Fully seasoned by Musclefood's pro-butchers these British Beef Meatballs are a treasured ball of meaty goodness.
| Nutritional Values | Per Serving | Per 100g |
| --- | --- | --- |
| Energy (kj) | 148 | 740 |
| Energy (kcal) | 23 | 177 |
| Protein | 3.8g | 18.9g |
| Carbohydrate | 1.3g | 6.50g |
| Fat | 1.7g | 8.3g |
| of which Saturates | 0.8g | 3.9g |
| Sodium | 0.155g | 0.776g |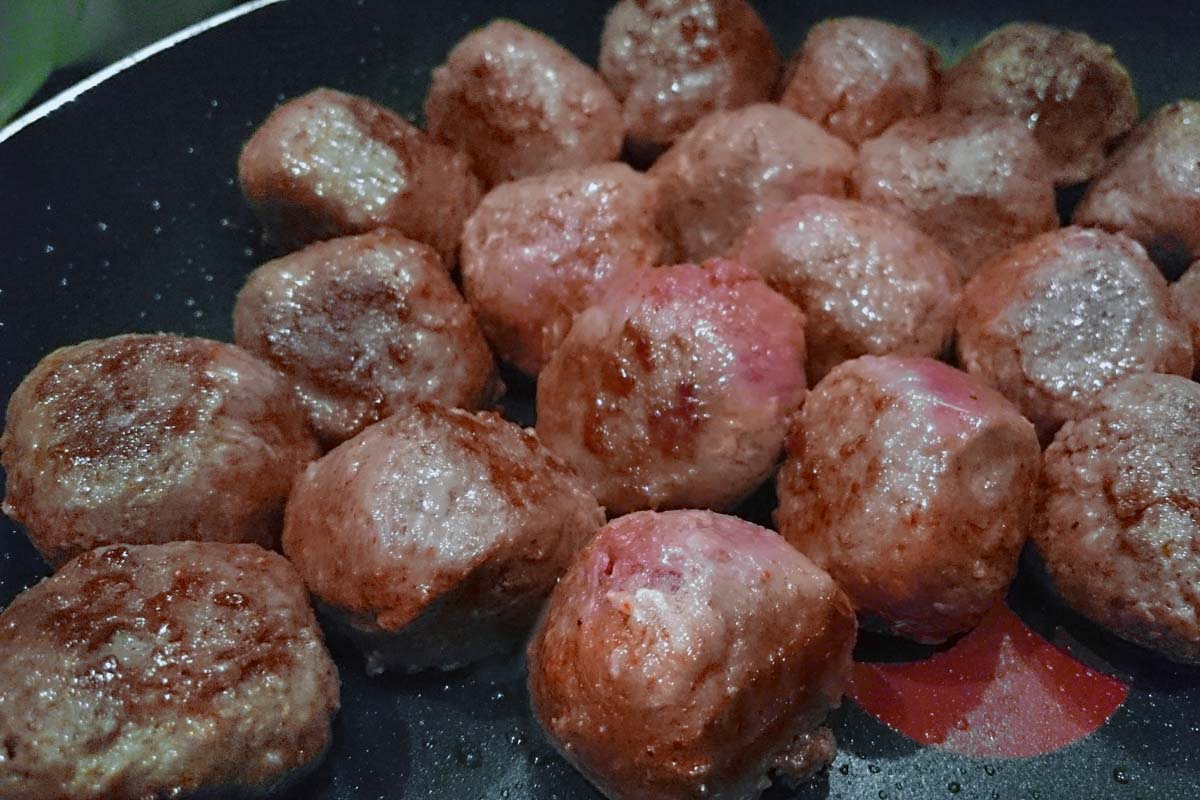 At only 1.5 syns per meatball, it seems all you slimming world fans can have a field day with these.
How To Store and Prepare
These meatballs arrive in Musclefood's standard chilled delivery packaging. Stored in a cool bag with Gel Ice Packs products stay fresh and cool for hours, so if the delivery runs late, there's no need to worry. If you're not using the meatballs on the day of delivery Musclefood advise putting them straight in the freezer.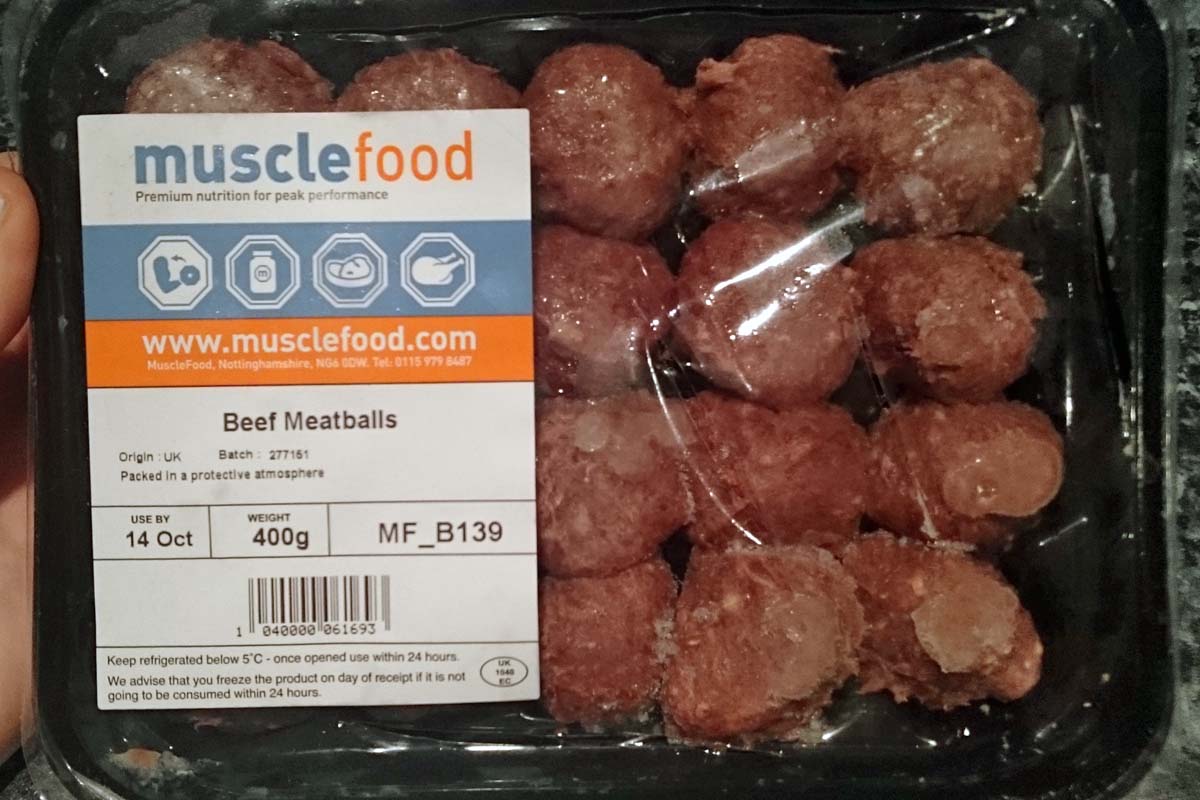 Before cooking the British Beef Meatballs, Musclefood advises to let them stand for 30 minutes out of the packaging.
Are They Tasty?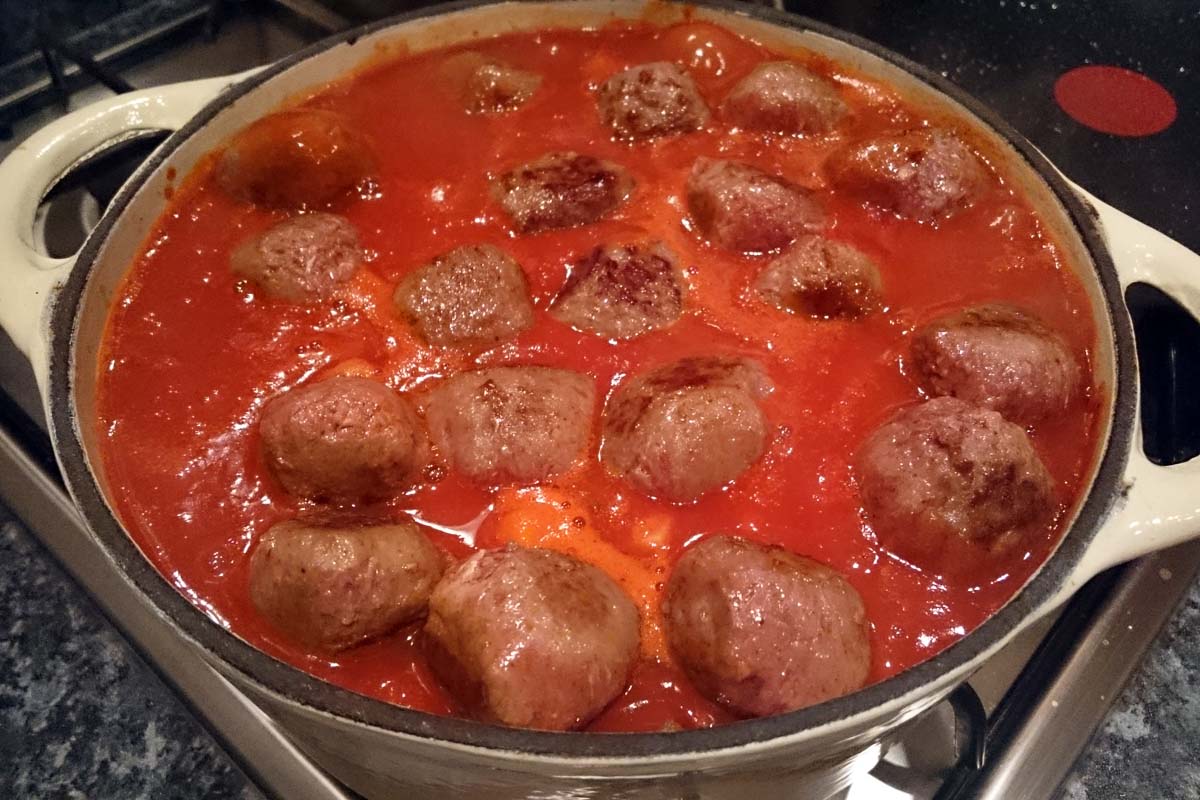 These meatballs taste just like a meatball should. Meaty! They are perfectly sized to fit in your mouth or you can chop it in half, should you wish. They're pre-seasoned so the mouth watering flavours are unique and delicious. With a soft but firm texture, these meatballs stayed perfectly bonded throughout the cooking process. If I didn't know better I would have thought these were home made.
Serving Suggestions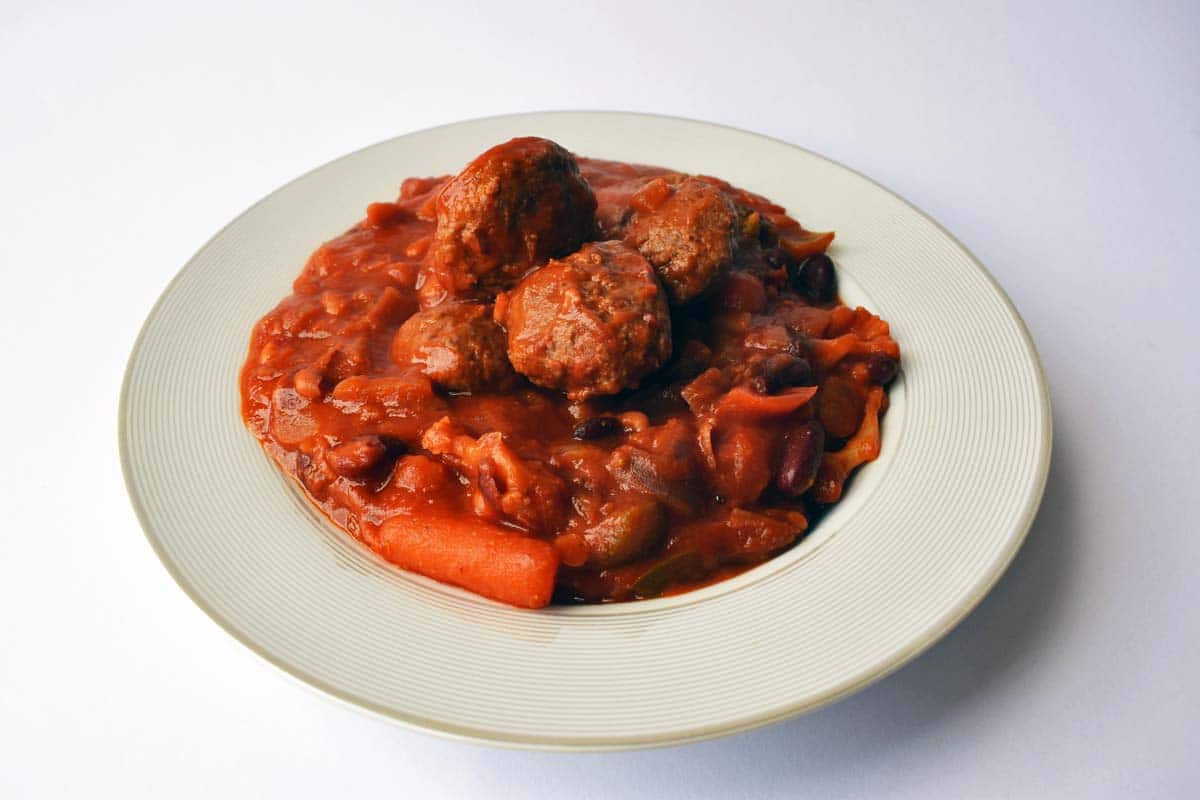 So probably not the most normal suggestion, however, our usual Thursday night chilli got slightly altered due to the fact we forgot to buy beef mince. Enter, the meatballs. Surprisingly chilli meatballs was an awesome meal and I highly recommend it – especially if you're going to use these bad boys!
However the usual suggestions, would, of course, be:
A Marinara sauce
Spaghetti Bolognaise
Swedish style
In a Subway
or in a pizza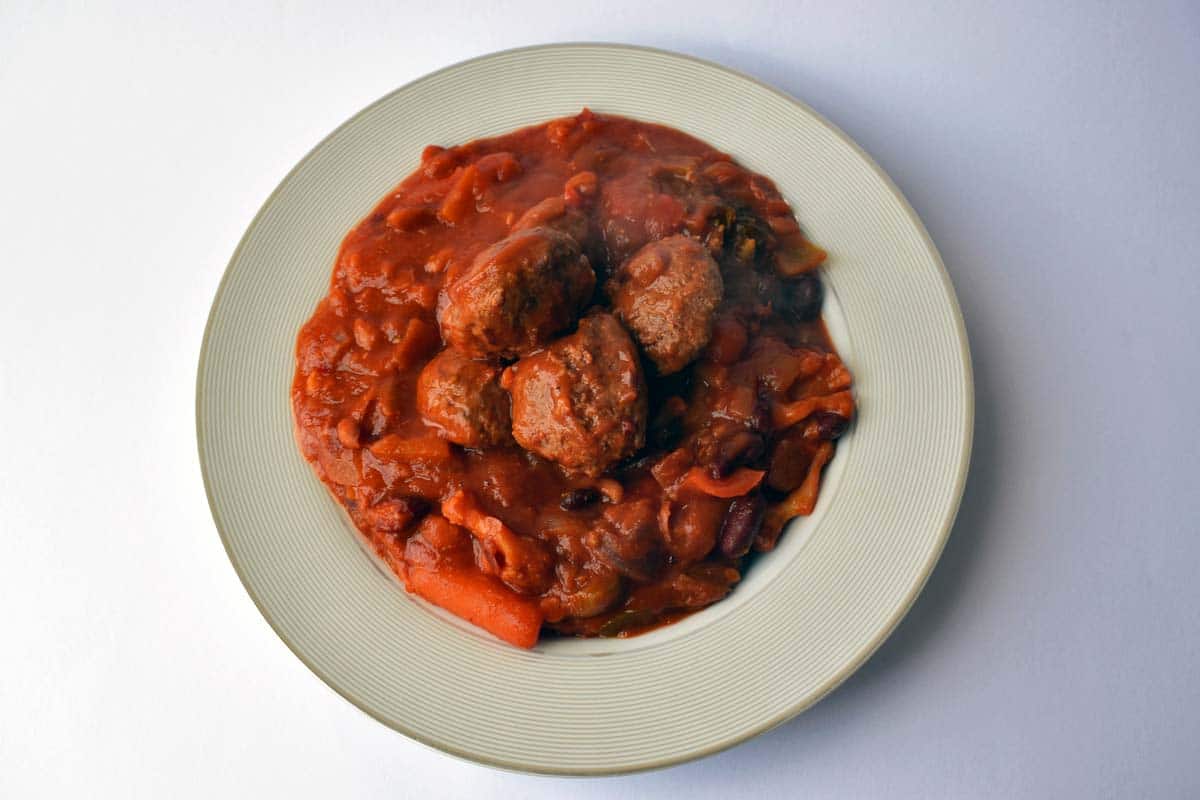 How to buy
If you want to get your hands on these British Beef Meatballs from Musclefood, it couldn't be simpler. You can either buy them on their own or as a part of many different Musclefood meat hampers – we got ours with the 46 piece lean meat hamper. Don't forget to check our offers page to ensure you get the best deal possible.